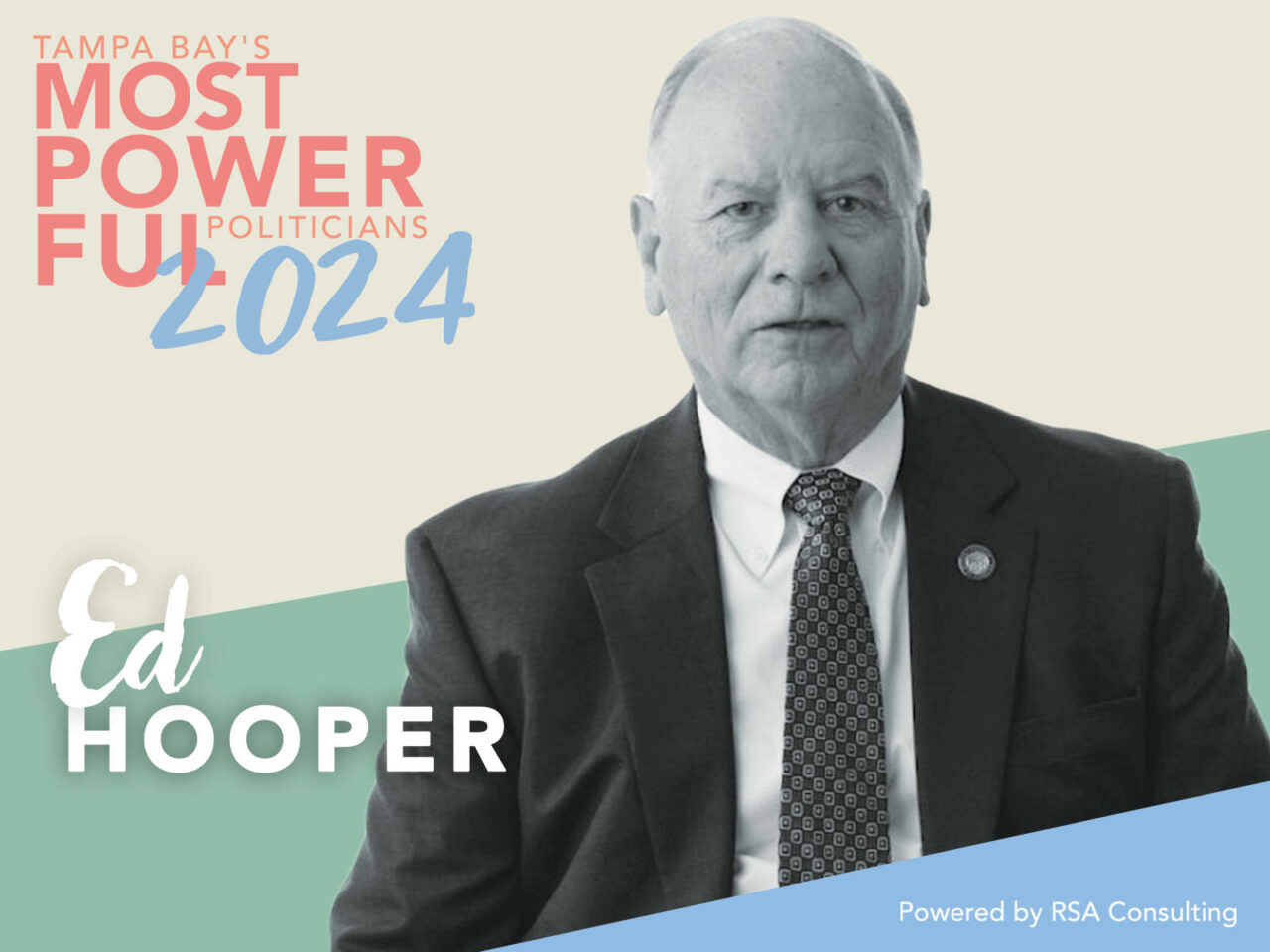 While Hooper is a strong advocate for the state's tourism industry, he also looks out for locals who should be able to enjoy all of the Sunshine State's amenities.
State Sen. Ed Hooper got a big boost this year as a regional power broker, moving from No. 21 on the list of Tampa Bay's Most Powerful Politicians, where he sat for two consecutive years, to No. 8 this year, the 10th edition. 
The new flex comes after Hooper secured re-election with an overwhelming 65% of the vote in November.
And it didn't hurt that he was named Chair of the Appropriations Committee on Transportation, Tourism, and Economic Development, a promotion of sorts after he previously served as Vice Chair. This year, he'll also serve as Vice Chair of the Regulated Industries Committee. 
While Hooper is a strong advocate for the state's tourism industry, he also looks out for locals who should be able to enjoy all of the Sunshine State's amenities, including its many parks. 
One of Hooper's token bills this year (SB 76) would open state park reservations to Florida residents one month before anyone else.
"This bill does a simple thing," Hooper said in January. "Today, when that slot opens for reservations, third-party vendors take up all the spots and resell those, usually at a profit. If you're a Floridian and you want to reserve a spot, good luck to you. All this bill does is creates a one-month window that only Florida residents might reserve a spot in one of our state parks, that all of these residents pay for."
Hooper is a retired firefighter known for his quiet but committed demeanor, not to mention his welcoming southern drawl. 
"Sen. Hooper is the epitome of a true gentleman. He's a deep listener and an eloquent communicator at the same time. His Chairmanship on the Appropriations Committee on Transportation, Tourism, and Economic Development could be a huge boon to the Tampa Bay region," The Southern Group's Mike Moore said of the longtime lawmaker. 
Hooper has long been a champion of legislation advocating for firefighters and first responders. This year, he's carrying a bill (SB 348) that would require the Governor to proclaim Sept. 11 of each year "9/11 Heroes Day," and require the day be observed in public schools along with appropriate classroom instruction.
"Sen. Hooper is an effective and thoughtful legislator whose steady demeanor and unshakeable composure lends a calming presence to the Florida Senate. True to his career as a firefighter, Sen. Hooper doesn't run from the flames, but rather tackles public policy head-on with pragmatism and public service at heart," said RSA Consulting Vice President and COO Natalie King.
Hooper is also no stranger to bolstering the state's tourism industry.
In the 2022 Legislative Session, Hooper carried a bill (SB 434) to extend VISIT FLORIDA, the state's tourism marketing arm, which Hooper has consistently fought to protect amid attacks from several lawmakers who have attempted to defund and dismantle the agency. While his version extending the agency's life eight years didn't make the cut, a five-year extension did. 
He has also been a tireless advocate for Moffitt Cancer Center, securing millions in funding for the institution during his time in the Senate. Last year, he finalized $120 million in the Legislature's budget to improve infrastructure in the area around Moffitt's upcoming Pasco County site.
Hooper started gaining more traction in the political sphere after a narrow victory against Democrat Amanda Murphy in 2018, which caught some by surprise, and helped the GOP maintain its Senate stronghold. The Clearwater swing district leans conservative, but there's a narrow gap between Republicans and Democrats.
He previously served four terms in the state House before exiting in 2014 because of term limits.
Methodology
We define the Tampa Bay region as Pinellas, Hillsborough and Pasco, but can also include Hernando, Polk or Sarasota — if the politicians from those counties impact either Pinellas or Hillsborough.
We define a politician as being in office or running for office.
Being first on a panelist's list earns the politician 25 points, second earns them 24 points and so on, to where being listed 25th earns a politician one point. Points are added and, voilà, we have a list.
Special thanks go to our experienced and knowledgeable panelists, who were essential to developing the 2023 list: Christina Barker of the Vinik Family Office, Ashley Bauman of Mercury, Ed Briggs of RSA Consulting, political consultant Maya Brown, Ricky Butler of the Pinellas Co. Sheriff's Office, Reggie Cardozo of The Public Square, Ronald Christaldi of Schumaker, Barry Edwards, Joe Farrell of Pinellas Realtors, pollster Matt Florell of Vicidial Group, Shawn Foster of Sunrise Consulting Group, Adam Giery of Strategos Group, political consultant Max Goodman, Mike Griffin of Savills, Todd Josko of Ballard Partners, Natalie King of RSA Consulting, political consultant Benjamin Kirby, Merritt Martin of Moffitt Cancer Center, Mike Moore of The Southern Group, Ron Pierce of RSA Consulting, J.C. Pritchett, pastor of St. Pete's Faith Church, Darren Richards of Tucker/Hall, Preston Rudie of Catalyst Communications Group, Amanda Stewart of Johnston and Stewart, Bemetra Simmons of the Tampa Bay Partnership, Alan Suskey of Shumaker Advisors and communications consultant Janelle Irwin Taylor. With Michelle and Peter Schorsch.