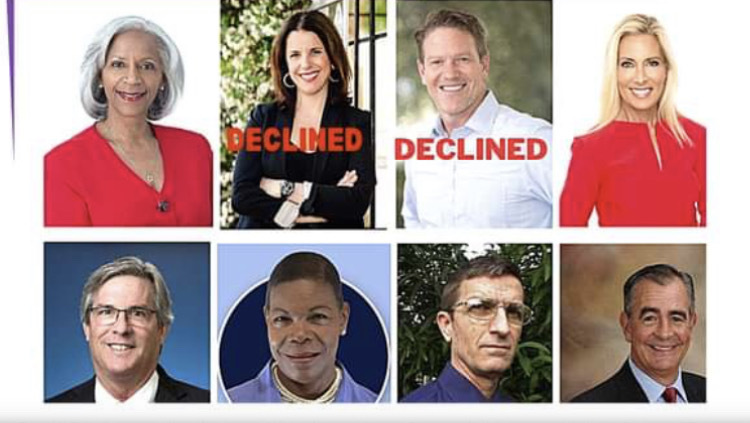 LeAnna Cumber and Daniel Davis no-showed the event.
Republicans LeAnna Gutierrez Cumber and Daniel Davis were absent from the D.W. Perkins Bar Association's forum, but six others weighed in on a variety of issues in front of the longstanding group of African-American lawyers.
Among the topics at hand were affordable housing, homelessness and budget priorities.
Democrat Audrey Gibson noted not everyone who seemed to be homeless actually was, including "seasonal visitors who do come to Jacksonville" during warm winters. Gibson also stressed the importance of mental health issues.
Republican City Councilman Al Ferraro urged policymakers to "watch out" for attempts to build affordable housing on "contaminated lands."
"As a Mayor, I want to see what's working," Ferraro said, with an eye toward keeping "communities and families together."

Democrat Donna Deegan stressed the importance of "listening to the community," noting that she has held weekly meetings and town halls to get opinions on what people want to see.
"We can only move this community forward when we're all involved in it," said Deegan. the front-runner in all public polling of the mayoral race so far.
Deegan also warned against "out of state developers coming in and jacking up the prices," while urging the city to allocate more budget to affordable and workforce housing.
"We need to create more affordable housing in certain parts of town," Deegan said.
"As a leader, we need to pull the trigger and make the tough calls," added independent candidate Omega Allen, who suggested revamping abandoned schools to become combination apartment complexes and centers for wraparound services.
"We give away a lot of money and incentives," Allen said.
Accessibility was also a matter of interest to moderators.
Allen vowed an "open door policy as much as my time would allow."
"I will not be locked on the fourth floor of City Hall where you can't reach me," the repeat candidate pledged.
Deegan promised to continue town hall meetings if elected, and also to rectify "homogenous" boards that see the same familiar names recycled over and over.
"My No. 1 priority here is to bring the people into city government," Deegan pledged.
Ferraro pointed to his tenure as City Councilman as proof he would be "accessible," noting that different areas have different needs.
"If we're not hearing the problems you're having in your area of town, then we're not able to solve it," the second-term Republican said.
A member of the audience argued Ferraro was not accessible when asked about a measure he sponsored to ban panhandling, leading to a moment of spirited cross-talk.
Gibson likewise said she'd been "accessible" for her "entire career," and that she believed the "office of Mayor should be open to the public." Quarterly meetings, including outside of City Hall, would be part of her agenda.
Write-in candidate Brian Griffin urged voters to "definitely contact" him, noting that incumbent Mayor Lenny Curry blocks Twitter replies from people not on his friends list.
Republican Frank Keasler Jr. said his wife asked him when he was a lawyer "why (he) gave away so much of (his) time," showing that "accessibility" was important to him. He pledged to have a meeting quarterly in each of the five at large districts.
Asked about budget priorities, Keasler wanted an audit of the current budget to "find out" where money was being spent. Griffin also pushed for an audit.
Ferraro said he wanted a division devoted to septic tank phaseout, a recurring rhetorical priority that moves slowly. The division "would employ our own kids" and "actually show them a trade" that would "go on for a couple of decades."
Deegan stressed big-picture items, including infrastructure such as bridges, roads, and drainage, and resiliency.
Allen promised to convene "some of the best minds" to "re-budget" to ensure budgeting is "functioning as designed."