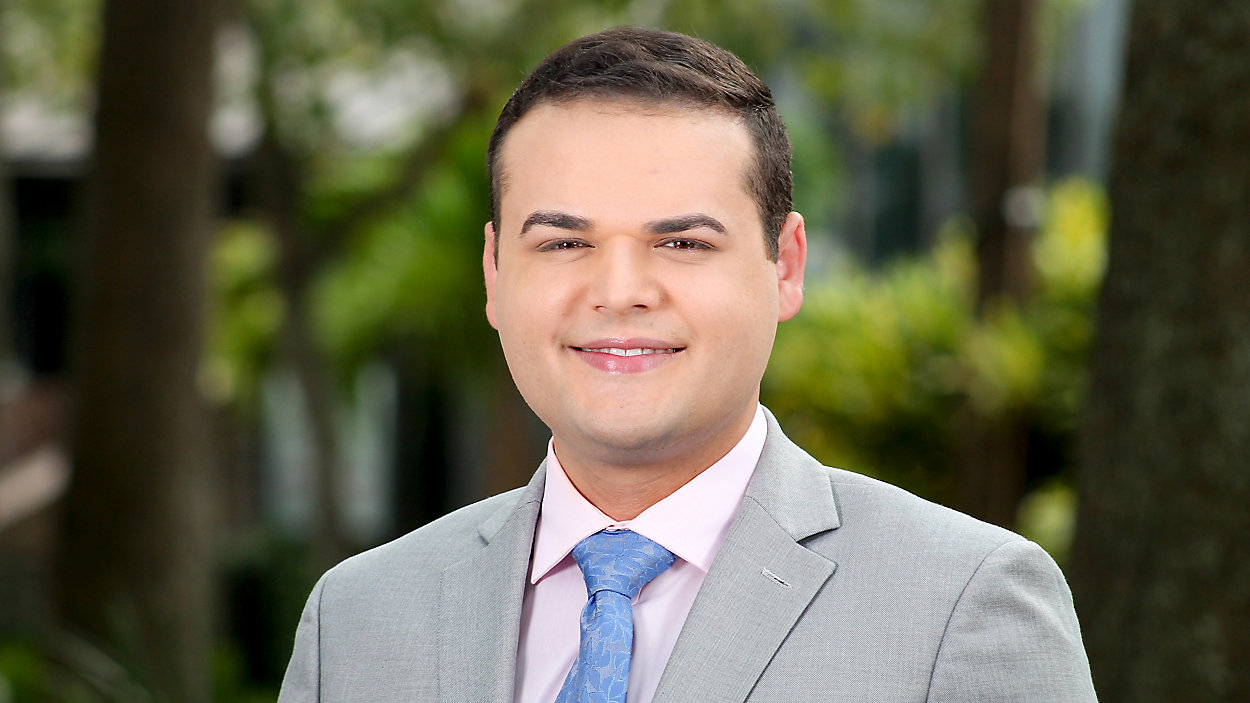 Photojournalist Jesse Walden remains hospitalized.
Spectrum News 13 journalist Dylan Lyons died in an Orlando shooting. The news outlet disclosed the reporter's name early Thursday, a day after he and Spectrum News 13 photojournalist Jesse Walden were shot while covering a story in Pine Hills.
The same day, a 9-year-old girl was shot and killed in a separate shooting Orange County Sheriff's Office investigators believe was connected.
Lyons, 24, graduated from the University of Central Florida with a degree in journalism and political science, according to his staff biography. He reported and anchored at the UCF Knightly News, a student-run station. He previously worked for WCJB, an ABC affiliate in Gainesville, and he won a Florida Association of Broadcast Journalists award in 2020 for "Politics/Elections Series."
The Sheriff's Office has arrested Keith Melvin Moses, 19, in connection to Lyons' murder, the 9-year-old's death and a shooting of a 20-year-old woman earlier in the day, Sheriff John Mina said. Lyons and Walden were covering the woman's shooting at the time of the second shooting.
The child's mother was also shot and remains in the hospital, as does Walden.
Spectrum News 13 Anchor Greg Angel tweeted that the reporters were in an unmarked news car when they were shot. The incident happened before the shooter reportedly walked into a home and killed the child and shot her mother. He also posted that his injured co-worker has spoken to law enforcement at the hospital.
U.S. Rep. Kat Cammack, a Gainesville Republican, praised Lyons' work.
"Sending my condolences to Dylan Lyons' family & friends this morning," she tweeted. "I worked with Dylan for several years and knew him to be professional, kind and hardworking. He covered our campaign, major announcements and was a regular fixture in our community. He'll be missed."
U.S. Rep. Maxwell Frost, an Orlando Democrat, released a statement about the shooting.
"Tonight, my heart is with the victims of this senseless tragedy and the families mourning the inexplicable pain that comes with losing a loved one to gun violence. Our Central Florida community has once again been devastated at the hands of a gun," Frost said.
"Tonight, an innocent person who was simply trying to do their job doesn't get to go home. Tomorrow, a 9-year-old child won't get to wake up because someone with a gun decided their life had to end. Our children are literally dying in our streets, while leaders like Ron DeSantis stall and offer nothing but thoughts and prayers only to turn around and push through permitless gun carry bills that will make shootings like this an everyday reality.
"When will the loss of life be enough for us to take meaningful actions? When will this stop being our new normal? Tonight, alongside Central Florida, my heart aches."
The White House also addressed the tragedy.
"Our hearts go out to the family of the journalist killed today and the crew member injured in Orange County, Florida, as well as the whole Spectrum News team," tweeted White House Press Secretary Karine Jean-Pierre. "Our hearts are also with the other shooting victims today, their families, and the entire community. Too many lives are being ripped apart by gun violence."
Polk County Sheriff Grady Judd also released a statement.
"We are stunned and heartbroken hearing the news out of Orange County that three people were fatally shot, and two others are fighting for their lives, at the hands of a violent criminal who was on a murderous rampage today," he said. "A 9-year-old child and a Spectrum 13 journalist lost their lives during these senseless and brutal acts, along with another victim who was killed this morning. Our prayers are with all of the families affected by this horrific event.
"We would like the news media who report in Polk County to know that if you ever find yourselves in a situation or an area where you feel unsafe, to please call us and we will send deputies out to your location to protect you. We appreciate the jobs that you all do, and we will always be here to ensure you are safe while doing them."
A GoFundMe page has been established for funeral expenses by Lyons' sister, Rachel Lyons.
"I am Dylan Lyons' big sister," she wrote. "I am trying to raise money for my (little) brother's funeral. He was a reporter for Spectrum News and was ambushed and murdered while covering a story in Orlando, Florida. He was an acting father to his niece and nephew who he loved so much. He loved his fiancé and was a devoted son to his mother and father. Dylan would have been 25 years old in March. He was a happy soul and wonderful person in life. My brother was our baby. He was taken too early from us."