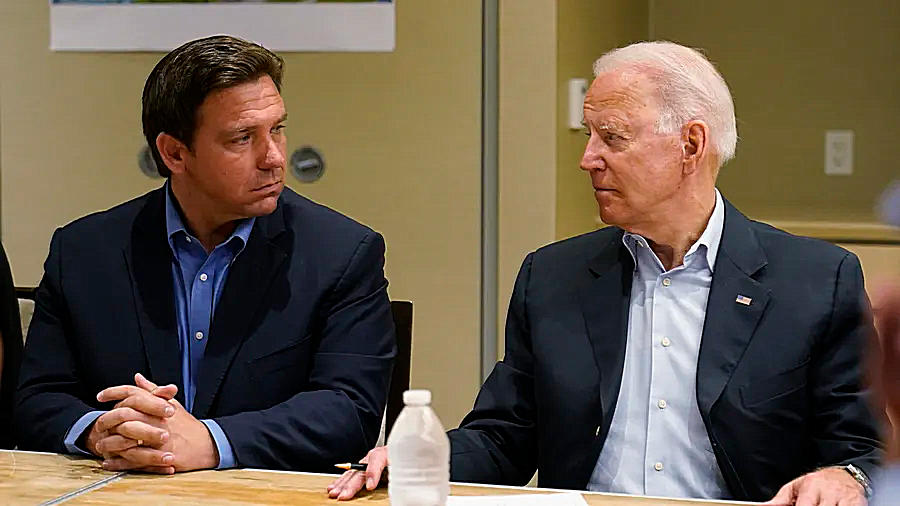 DeSantis would beat Biden by double digits in Florida.
Florida voters love America's Governor but not America's President, according to a new poll from the Florida Chamber of Commerce.
The Chamber poll asked more than 600 Florida voters for their opinion on Gov. Ron DeSantis, and 55% said they approve of the job the recently re-elected Republican is doing.
His supporters include 81% of Republicans and 59% of NPAs. More than half of Hispanic voters (51%) also approve of the Governor, compared to 46% who find him lacking.
Meanwhile, the Florida Chamber says President Joe Biden's approval rating in the state has "plummeted."
The polling shows 56% of Florida voters disapprove of the President. His naysayers include 87% of Republicans and 55% of NPAs. Additionally, Biden has a minus-14 approval rating among Hispanic voters, with 41% approving and 55% disapproving of his performance.
The Chamber also asked voters who they would vote for if Biden and DeSantis were the candidates at the top of the ticket in the 2024 presidential race.
Again, DeSantis comes out on top.
The Governor and likely GOP presidential candidate enjoys an 11-point lead over the incumbent, 49%-38%. DeSantis benefits from 85% support among Republicans and 54% support among NPAs. Biden earns 39% support from NPAs.
DeSantis also holds a 2-point lead among women, 47%-45%, and an 11-point lead among Hispanic voters, 52%-41%.
The strong poll numbers for DeSantis come as Florida continues to redden as it has for the past couple of years.
A Chamber analysis of Florida voter registration numbers, including alongside the poll, shows there are now approximately 5.3 million registered Republicans in the state compared to about 4.9 million Democrats — a GOP lead of 416,896 in raw voter numbers.
Voter registration data shows Republicans' registration advantage is growing by roughly 30,000 voters every month. Over the last two years, the net registration gap between Republicans and Democrats in Florida has swung by more than 500,000 voters, going from a slight Democratic advantage to a clear GOP lead.
Still, no-party voter registrations are outpacing the major parties. NPAs, as well as Republicans, have seen their share of the electorate grow in every Florida county. Democrats, meanwhile, have backslid in 56 of the state's 67 counties.
The Florida Chamber of Commerce poll was conducted via live telephone interviews by Cherry Communications Feb. 10-19. It has a sample size of 608 voters, including 245 Democrats, 256 Republicans and 107 no- and third-party voters. It has a margin of error of +/- 4 percentage points.