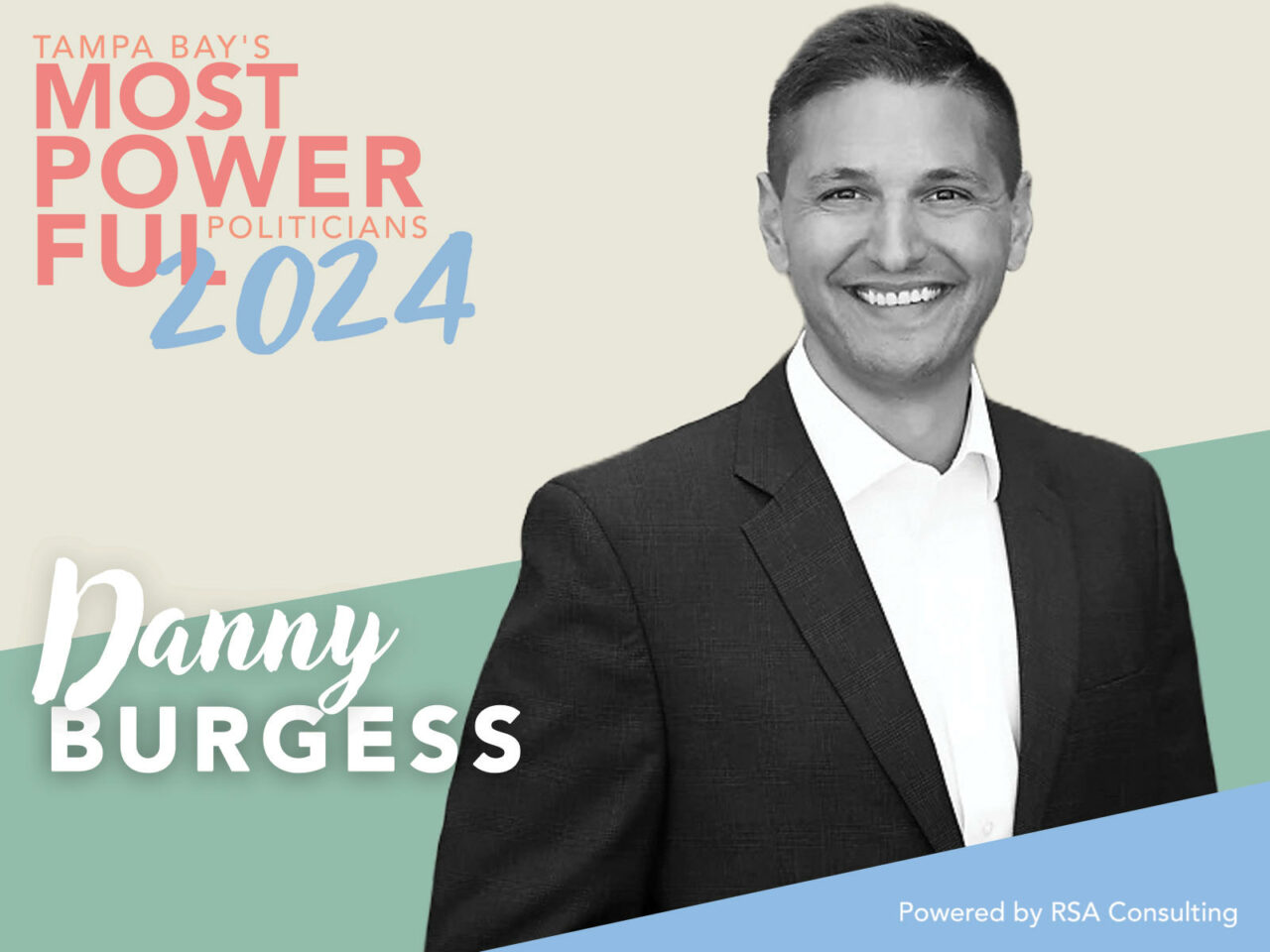 First elected to office while still in College, the Zephyrhills leader continues to grow as a state leader.
State Sen. Danny Burgess is nothing if not affable. The Zephyrhills Republican projects happiness whether through the lift of his voice in every meeting or his beaming Crest ad smile, making friends across the political spectrum with every interaction.
With that charisma has come a significant amount of influence in Tallahassee. Whether during his tenure in the state House, his leadership within Gov. Ron DeSantis' administration or his continuing rise within the Florida Senate, Burgess continues to inspire more allegiances.
"Simply put, Sen. Burgess is one of the most likable people you will ever meet. His energy is infectious, and he exudes a positive influence that can lighten up even the most politicized of rooms," said RSA Consulting President and CEO Ron Pierce. "Despite immense legislative success, he remains humble and never loses sight of his No. 1 priority: his family. Public service runs in his DNA, and he has a bright future ahead of him."
Burgess started his political career with his election to the Zephyrhills City Council while still in college.
"Danny is a born leader who has made public service his life's work," said Senate President Kathleen Passidomo.
"From being elected Mayor of his hometown while still a teenager, to serving our country in the Army Reserves, to notable service in the House, and then as the Executive Director of the Department of Veterans Affairs, Danny brings to the Senate a wealth of life experiences and perspective far beyond his years."
Passidomo this year named Burgess as Chair of the Senate Ethics and Elections Committee. She said as someone who went through the vetting process to be part of DeSantis' administration, the move made sense.
"As a former gubernatorial appointee himself, I thought he would be the perfect person to lead the Senate Committee on Ethics and Elections, overseeing the process of executive confirmations as we begin this new term," she said.
It also puts Burgess in the position arguably of serving as a moral compass for the Legislature. That's a role those close to him say Burgess has the character to hold.
"Military man. Husband. Father. Those are the three descriptors you need to know to know Danny Burgess," said Anthony Pedicini, a consultant who has long worked with Burgess.
"From being his hometown Mayor to DeSantis appointee to state Senator, Burgess continues his service to his state and nation through politics — but he doesn't see it that way."
Pedicini doesn't think Burgess is someone in pursuit of personal power, but one with more pure motivations.
"Danny has a huge heart and has a passion for doing what's right only matched by his ability to get controversial and major pieces of legislation safely through 'The Process,'" the consultant said.
Burgess coasted to a second term in November, winning more than 63% of the vote over Democrat Mike Harvey.
During his time in the Senate, Burgess carried priority legislation for DeSantis regarding COVID-19 lawsuit protections for businesses. He also pushed to budget a catastrophe fund for the state.
Last year, Burgess played a critical role in redistricting, heading up the creation of legislative maps that should govern the Senate over the next decade.
He also fought for a number of local appropriations wins through the years, whether that was $65 million to extend State Road 56 and connect Wesley Chapel and Zephyrhills or pushing for the widening of State Road 52 in Pasco County.
That's a way Burgess' abilities in the Florida Capitol helped to literally transform Pasco Bay's infrastructure and the way people move all through Tampa Bay.
In the upcoming Legislative Session, Burgess serves as Vice Chair on the Senate Education Pre-K-12 Committee, and he also has a voice on Senate Appropriations and subcommittees involving criminal justice and health care. Expect his influence only to grow.
Pedicini credited Burgess' solid family values for much of his success.
"There's no doubt he would be half the legislator, without his loving wife, Courtney, at his side," Pedicini said. "Together, the Burgess clan is unstoppable and have tirelessly worked to keep Tampa Bay at the forefront of political leadership of the state."
Methodology 
We define the Tampa Bay region as Pinellas, Hillsborough and Pasco, but can also include Hernando, Polk or Sarasota — if the politicians from those counties impact either Pinellas or Hillsborough.
We define a politician as being in office or running for office.
Being first on a panelist's list earns the politician 25 points, second earns them 24 points and so on, to where being listed 25th earns a politician one point. Points are added and, voilà, we have a list.
Special thanks go to our experienced and knowledgeable panelists, who were essential to developing the 2023 list: Christina Barker of the Vinik Family Office, Ashley Bauman of Mercury, Ed Briggs of RSA Consulting, political consultant Maya Brown, Ricky Butler of the Pinellas Co. Sheriff's Office, Reggie Cardozo of The Public Square, Ronald Christaldi of Schumaker, Barry Edwards, Joe Farrell of Pinellas Realtors, pollster Matt Florell of Vicidial Group, Shawn Foster of Sunrise Consulting Group, Adam Giery of Strategos Group, political consultant Max Goodman, Mike Griffin of Savills, Todd Josko of Ballard Partners, Natalie King of RSA Consulting, political consultant Benjamin Kirby, Merritt Martin of Moffitt Cancer Center, Mike Moore of The Southern Group, Ron Pierce of RSA Consulting, J.C. Pritchett, pastor of St. Pete's Faith Church, Darren Richards of Tucker/Hall, Preston Rudie of Catalyst Communications Group, Amanda Stewart of Johnston and Stewart, Bemetra Simmons of the Tampa Bay Partnership, Alan Suskey of Shumaker Advisors and communications consultant Janelle Irwin Taylor. With Michelle and Peter Schorsch.