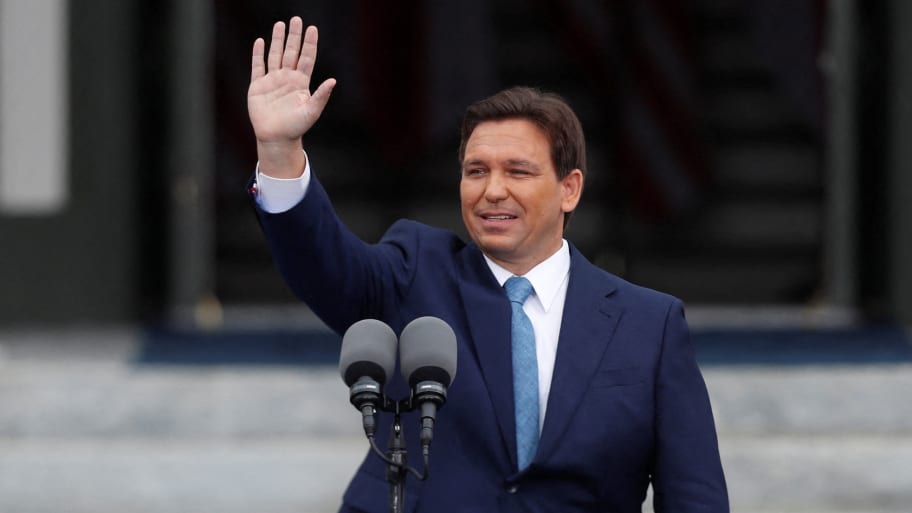 Described as 'stilted,' it is an open question if the Governor can handle 'retail politics' in the 2024 race.
The early reviews on Gov. Ron DeSantis' conference at the Four Seasons in West Palm Beach confirm that he is a serious player if he runs for President.
And they also confirm that questions remain about whether he has the temperament to successfully run in 2024, at least according to reporting in the Washington Post and POLITICO.
One major query, spotlighted by Hannah Knowles and Josh Dawsey in the Post writeup, revolves around the Governor's people skills, which are still in doubt among those speaking on background.
"People who have met with DeSantis in recent weeks say he remains stilted in one-on-one conversations and sometimes struggles to make small talk or appear enthusiastic while engaging in retail politics critical to winning states such as New Hampshire, Iowa and South Carolina. Trump's team has recently ramped up his retail stops including at restaurants when he visits states, saying it shows a sharp contrast from DeSantis," the Post reporters contend.
In addition to remaining "stilted," questions also reportedly remain about whether the Governor has a glass jaw, a fatal flaw that would be exposed in New Hampshire and Iowa and the "retail politics" in play in those early states.
""DeSantis has really worked the culture wars, really worked Fox News, and he is the known quantity right now to people who are being polled," Republican consultant Susan Del Percio told the Post.
While offering that read, "she criticized his debate performance last fall and questioned if he has the temperament to handle pushback."
Despite those qualms, the on-record quotes were glowing at the Governor's "WELCOME TO THE FREEDOM BLUEPRINT" event.
"As long as he's in the race, I'm right beside him," Walter Buckley, Jr. told the Post. "This guy is special."
DeSantis has drawn some big names to his event, including Wisconsin Sen. Ron Johnson and Iowa Gov. Kim Reynolds. However, POLITICO notes that neither are endorsing DeSantis preemptively.
Though DeSantis is making all the moves someone would make in the final months of exploring a Presidential run, he's still attempting to maintain the fiction that he's not an active candidate, and his on record remarks seem to reflect that dichotomy.
During a friendly confab with Fox and Friends last week, the Governor stressed that he has things to do before he runs, including selling books and getting through Sine Die.
"Well, I've got two big things coming up. One, I have a book coming out on Feb. 28 and you can see it at DeSantisBook.com. It's called 'The Courage to be Free.' It talks about Florida's blueprint for American revival," DeSantis said.
"So we're going to go on a tour on that. We're going to sell some books, we're going to spread the message of Florida. And then on March 8, I have our Legislative Session that's kicking off," DeSantis added.
"You ain't seen nothing yet. This is going to be the most productive Legislative Session we have had across the board and I think people are going to be really excited," DeSantis said. "So those are what we're going to be doing over these next few months as we get beyond that, then we can decide from there."
DeSantis advocates, including former George W. Bush advisor Karl Rove, laud the Governor's slow walk toward a formal announcement.
"Gov. DeSantis has a Legislative Session going on. He's been traveling a little bit around the country laying out a message. He can sort of lay behind the log and talk to a lot of people and basically say, 'I'm thinking about running, what do you think if I do?' And that's an important part of the dance that people are involved in," Rove said last week.
But while DeSantis continues to lay behind the log, former President Donald Trump continues to bash his "enemy" in the skull with it, advancing a series of poison memes that neither DeSantis nor his online fan club are willing to address in kind. Among those toxic tropes is a false claim that leftist billionaire George Soros backs DeSantis in the Republican Primary.
The Governor has attempted to invoke Ronald Reagan's "11th commandment," saying he doesn't spend his time trying to "smear other Republicans." But while he plays the waiting game, questions remain as to whether DeSantis can go all the way, or if he will indeed peak in polls before the Primaries begin.