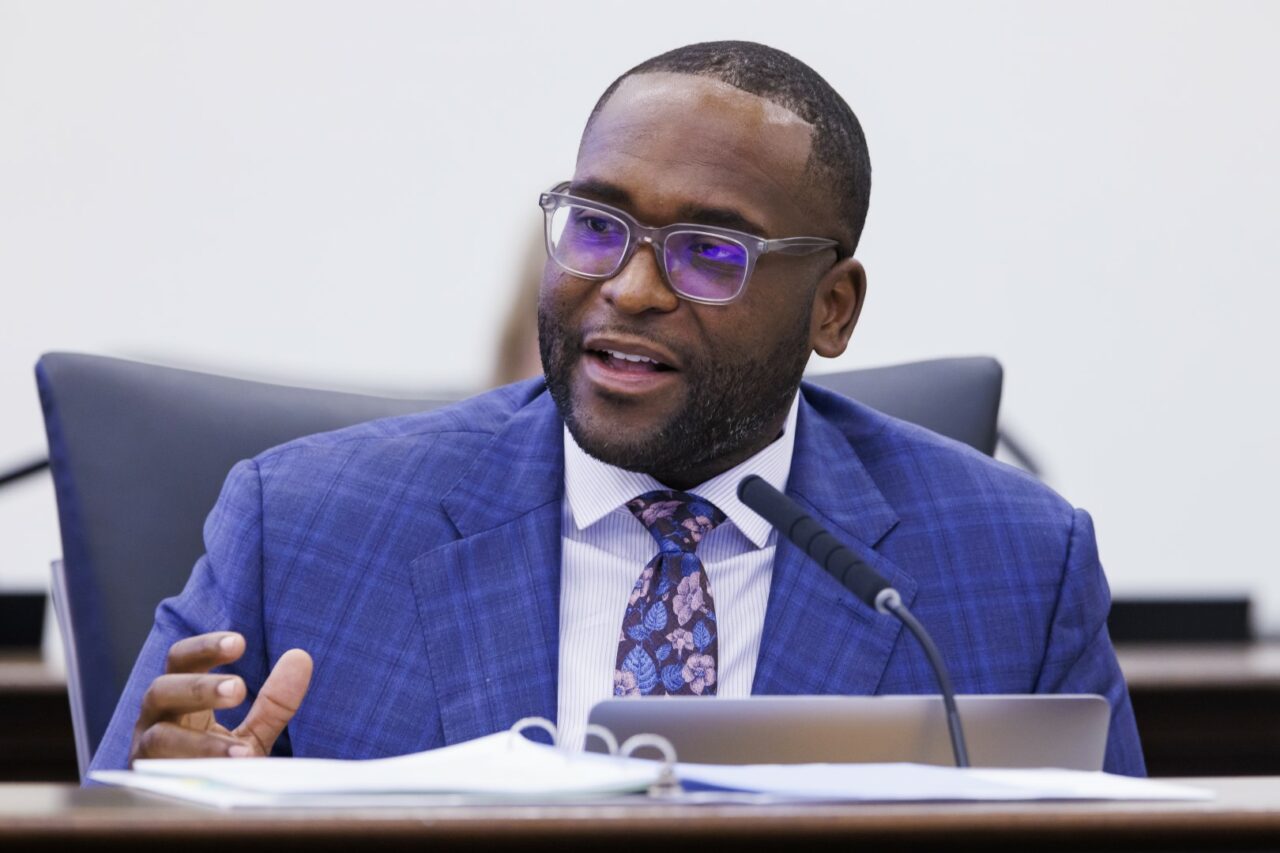 Jones is bringing back several benevolent bills that hit roadblocks in prior years.
Lawmakers show their true priorities not by what they say but through the policies they propose each year. For Democratic Sen. Shevrin Jones of Miami Gardens, his goal is to improve and save Florida lives.
Atop Jones' list of legislative priorities this year is a measure he's again submitting for consideration that would make the Sunshine State's criminal justice system more compassionate toward expectant mothers.
The bill (SB 730) is called "Ava's Law," named for a newborn who died in August 2021 after being born in an Alachua County jail. It would enable judges during the sentencing period to stay the incarceration of a pregnant prisoner for up to 12 weeks so she can nurse and bond with her newborn.
Democratic Rep. Dianne Hart is again running a companion bill in the House (HB 779). Both versions of the measure await a committee hearing.
"The bill basically gives pregnant women who are incarcerated the ability to have their child with dignity," Jones told Florida Politics.
SB 730 is Jones' second bill aimed at improving conditions for incarcerated women. In 2019, Gov. Ron DeSantis signed legislation Jones sponsored requiring prisons to provide feminine hygiene products, toothbrushes and toilet paper to inmates at no cost.
It would add language to Florida Statutes giving female arrestees held for more than 72 hours the right to a pregnancy test. Upon a conviction, a judge could grant a woman time to give birth, recover and care for her child. The judge would have to consider several factors, including the severity of the crime and the offender's criminal record, before making a decision and provide their reasoning in writing.
Notably, a judge could — at their discretion — consider the time the mother spent with her child as time served. And the bill would require the Department of Corrections to offer postpartum treatment to the mother within 10 days of when she turns herself in for incarceration.
Women are the fastest-growing segment of America's prison population, according to the Vera Institute of Justice and the ACLU. They need better protections, Jones argued.
"We as a state have to continue putting parameters ensuring our women are safe," he said of the new bill. Last year's version cleared the Senate before stalling out in the House.
"I hope to get it across the finish line this year."
Jones is teaming up with Democratic Rep. Robin Bartleman on legislation (SB 290, HB 223) he ran during the 2022 Legislative Session to better support young students with disabilities.
While Jones is carrying the bill alone (so far) in the Senate, Bartleman's version — which has already undergone changes in committee — enjoys bipartisan support from Democratic Rep. Anna Eskamani and Republican Reps. Alina Garcia and Alex Rizo, who are co-sponsoring the measure.
The bill would require public schools — with the consent of parents — to establish comprehensive plans, designed by an "individual education plan team," for the progression of students with disabilities beginning in prekindergarten. Such plans would have to include intensive reading interventions to ensure students are keeping up.
Students with disabilities already "get a great deal of support," Jones said. "But we need to make sure we have enough parameters around those students so they don't fall through the cracks as they matriculate through our education system."
Also targeting educational upgrades, Jones filed SB 196, which would allow students who are awarded high school certificates of completion to enroll in programs at district career centers and other such schools.
Republican Sen. Travis Hutson co-introduced the measure, which is set for its first committee hearing March 6.
"A lot of the time, students who graduate with these certificates of completion — it can sometimes be (an obstacle to their) postsecondary education," he said. "We're trying to make postsecondary open to them, because not everybody is going to college."
Democratic Rep. Kristen Arrington is running a companion bill (HB 141) with co-sponsorship from Democratic Reps. Eskamani, Dan Daley, Jervonte Edmonds, Yvonne Hinson, Johanna López and Kelly Skidmore. It has yet to go before a committee.
"Some go through different things after graduation from high school. They might not get their GED, but they completed the requirements to get out of high school," Jones said. "They still need to graduate, but now that they're adults, the gap students have between them being able to work or go into a program to get their GED support or further education is sometimes blocked. This will open it back up to them."
Another bill Jones filed but is still pending a listing on the Senate website is a repeat of legislation he proposed during Session last year to require Florida officials to continue protecting vulnerable species even after the federal government removes their designation as "endangered" or "threatened."
The bill's most pressing objective, Jones said, is to protect Florida's manatees, which are dying in record numbers years after being removed from the endangered species list.
In 2021 alone, more than 1,000 manatees died — a loss of roughly 10% of the population. The death rate has eased in early 2023, according to the Florida Fish and Wildlife Conservation Commission, but Jones insists safeguards are still more than warranted.
"It's important," he said. "Our natural wildlife is one of the reasons so many people flock to Florida, and we should protect them at all costs."
Despite the significant losses Florida Democrats suffered during the 2022 Midterms and their severe disadvantage in the Legislature, Jones is optimistic about the prospects of his legislation this Session.
New Senate President Kathleen Passidomo and new House Speaker Paul Renner are receptive to good proposals regardless of their source, Jones said, and that should bode well for his bills.
"I don't think we could have asked for two more stand-up individuals to be leading both the House and Senate. Of course we disagree on policies, but both Speaker Renner and President Passidomo have shown they are open to listening and they're open to ideas," he said.
"It's the Governor (DeSantis) who interferes with a lot of the bipartisan work that can and should take place, because he's made things so divisive. That makes it harder for us in the chambers, but I'm hoping Speaker Renner and President Passidomo can just continue to be who they've been over the last 11 years that I've known them."