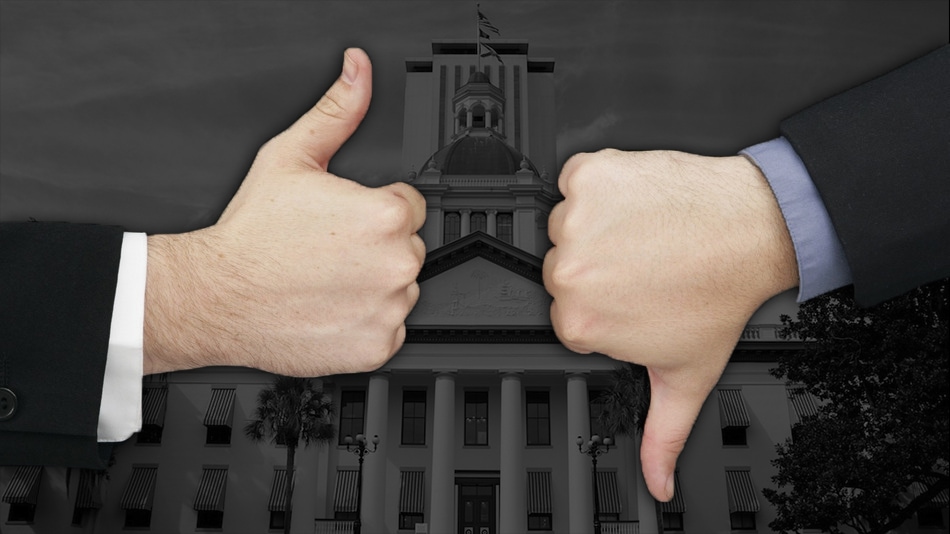 Is Monique Worrell's job in jeopardy?
Gov. Ron DeSantis hasn't formally announced his entry in the 2024 presidential field, but he just made a move that may signal he's ready to make the plunge. And it has nothing to do with courting donors, or traveling the country, or pushing more culture war legislation to appeal to the conservative base.
No, the newest sign DeSantis is likely ready to enter the race: He just committed his first major policy flip-flop.
Democrats and Republicans in Washington have been engaged in a back-and-forth over whether Republicans are seeking to cut Social Security or Medicare funding for months. That battle peaked during President Joe Biden's State of the Union address, when he lobbed that accusation at Republicans and was met with jeers from lawmakers who argued he was twisting their words.
We've covered that fight before. But amid that fight, reporters uncovered a 2012 video from the Governor advocating for cutting government spending on those two social programs by privatizing Social Security or Medicare, in part.
Having a Republican at the top of the ticket in 2024 who made such a push on the record would certainly complicate their assertion that Biden is misstating their position. Well, DeSantis apparently got the memo this week, when he was confronted with his 2012 comments.
"Well, you know, Biden when he was in the Senate, I mean, he took a lot of positions that would have reduced Social Security benefits for current recipients. He wanted to freeze Social Security payments, which is, you know, if you have inflation, would cause seniors to lose ground," DeSantis said, pointing out Biden's own shifting views of those programs before moonwalking away from his own previous positions.
"Look, I have more seniors here than just about anyone as a percentage," the Florida Governor said. "You know, we're not going to mess with Social Security as Republicans. I think that that's pretty clear."
Even former President Donald Trump was ready to go after DeSantis on the issue. So DeSantis' about-face is a way to try and shield himself from attacks both from Biden and Trump.
Why would DeSantis so publicly back away from his previous position if he wanted to just sit in the Governor's Mansion for four more years? Well, he likely wouldn't. It's definitely a move he needed to make to prepare for a White House run. And it lets him join a long list of politicians who flip-flopped hard in pursuit of a higher office.
Of course, that decision itself probably just gave Biden and Trump some extra ammo as well.
Now, it's on to our weekly game of winners and losers.
Winners
Honorable mention: Blaise Ingoglia. Ingoglia sought to troll Democrats and the media this week by introducing a stunt bill that would "cancel" the Florida Democratic Party. To that end: mission accomplished.
The measure would force the Division of Elections to decertify any party that has "previously advocated for, or been in support of, slavery or involuntary servitude." The Democratic Party did so in a now-obsolete version of the party which existed at and before the Civil War 150-plus years ago.
Now, no one should believe the Legislature will sign off on creating a dictatorial, one-party state, though the hysterical reactions came in nonetheless. Ingoglia winked at the ultimate purpose of the bill in a statement, framing it as a commentary on cancel culture.
"For years now, leftist activists have been trying to 'cancel' people and companies for things they have said or done in the past. This includes the removal of statues and memorials, and the renaming of buildings," Ingoglia said. "Using this standard, it would be hypocritical not to cancel the Democratic Party itself for the same reason."
Even if the bill is passed (no chance) and critics' worst fears come true, the measure still allows the Democratic Party to re-register with the state, though the party's name must be "substantially different from the name of any other party previously registered." That means there's no one-party system coming soon, even in the worst case, though any serious attempt to pass a bill like this would obviously merit plenty of criticism.
So Ingoglia got what he wanted: a few histrionic articles and even more angry tweets for a bill that's never passing. In a normal world, that would be that, and those inclined to do so could enjoy a good laugh at the theater of it.
But we should note one point of caution here: In the fragmented media reality we live in, it's very easy for stunt proposals like this to get talked up in an echo chamber for months or years before otherwise "serious" people do start floating this for real. After all, that's essentially the argument conservatives are making, framing the mainstream Democratic Party as embracing previously wacky ideas previously pushed only by the leftiest lefties.
So I hope that while we yuck it up over this stunt, we can also agree that it's just a stunt and will speak up if any serious proposal like this comes down the pike.
Ingoglia seems committed to the act, releasing a new statement trolling Democrats further on Friday. "I don't put up a piece of legislation I'm not serious about," he said. "It'd be real interesting to have this bill heard in committee."
"Heard in committee" is a far cry from "passing" though. And one of his House colleagues, Republican Rep. Ralph Massullo, is giving up the game despite Ingoglia's protestations otherwise.
"I don't think he's serious about that. He's just making a point," Massullo said. "I don't think people should be held responsible for what happened 150 years ago."
Almost (but not quite) biggest winner: Sabina Covo. Covo came out on top of a massive, 13-person Primary to take the District 2 seat on the Miami City Commission in a Special Election Monday.
Covo ended with just shy of 30% of the vote, followed by Eddy V. Leal at just under 22%, James Torres at 15% and the heavily funded and supported Martin Zilber at 12%.
The win was an impressive one for Covo, who came into the Special Election with a good chunk of support as well. Covo previously worked at the Department of Agriculture and Consumer Services under former Agriculture Commission Nikki Fried, who endorsed Covo's bid. Former Commissioner Ken Russell, who Covo was vying to replace, also backed Covo as his preferred successor.
Covo will only sit in the seat for a few months before facing a re-election contest on Nov. 7 for a full term. She's already said she will seek re-election.
Nevertheless, navigating a jam-packed field in a low-turnout election (just 13% of registered voters participated) is worth a tip of the hat.
"I am truly humbled by the support I received from the voters of District 2. They sent a resounding messaging that it's time to get to problem-solving and getting things done for our community," Covo said in a statement.
"We need to push past the disarray and differences seen at times, and unite as one city focused on our residents. We have many challenges and equal opportunities to put solutions forward that will put our City on a roadmap to success. As a longtime resident of District 2, a working mom and wife, I know our best days are ahead and I am truly ready to get to work."
The biggest winner: Elected officials with a side hustle. Those looking to lobby while still in office got a green light this week, when a judge struck down part of a newly effective state law banning the practice.
That means, for now, sitting elected officials are able to lobby. Judge Beth Bloom kept in place a portion of the law banning lobbying for officials who have departed office.
Filing the lawsuit were Miami-Dade County Commissioner Rene Garcia, Palm Beach County Commissioner Mack Bernard, Leon County Commissioner Bill Proctor and South Miami Mayor Javier Fernandez. Lawyers for the group convinced Judge Bloom to throw out the portion of the law which applies to sitting lawmakers.
She found that the restrictions were not content-neutral, as it only applied to lobbying on "policy, procurement and appropriations." Judge Bloom also found the restrictions "reach more broadly than is necessary to protect legitimate (governmental) interest."
Garcia runs a business consulting firm, New Century Partnership, and also pushed to have the six-year ban on lobbying after an official leaves office thrown out.
"This six years, it's a very long time," Garcia said. "That in itself is where we have to try to strike that balance. I don't think people are inherently corrupt just because they lobby a body that they left."
Because the group of officials had not yet left office, however, Bloom ruled they did not have standing to challenge that portion of the law.
Losers
Dishonorable mention: Jeff Greene. The spoiler in the 2018 Democratic gubernatorial Primary is now spoiling a new University of Florida (UF) campus that had been planned in West Palm Beach.
Greene and UF have gone back and forth over the proposed campus. Greene owns land that UF needs to build a campus focused on tech. Greene argues the two sides had a deal set which involved donating the land in exchange for naming the campus after him. Greene said he then offered to sell the land to UF, but UF balked at the steep price.
"Given some regrettable divisions in the local community, the University of Florida is pausing deliberation about a possible West Palm Beach campus. As Florida's flagship university and a land-grant institution, UF is committed to being a unifying presence throughout the state and does not want to divide communities we aim to serve," UF said in a statement.
"The university has an obligation to the public to take a fresh look at any possible South Florida graduate campus. Discussions about the feasibility of a West Palm Beach project will now be folded into our larger, six-month strategic review of UF's programmatic priorities and opportunities."
Now, Jacksonville may be making a push for the campus instead.
Greene, on the other hand, walked back his intransigence a bit late last week, saying he was willing to compromise on a potential deal. But this whole thing has looked poorly for the community, for which the Legislature already allotted $100 million to help bring the campus to life. If a deal truly doesn't get done because of Greene's holding out, that's a big loss for West Palm.
Almost (but not quite) biggest loser: Matt Gaetz. Gaetz is once again using BS arguments to oppose U.S. aid to Ukraine to assist in its defense against Russia, and this time Gaetz got called out directly to his face.
Gaetz went back and forth with Under Secretary of Defense for Policy Colin Kahl at a hearing Tuesday, where he attempted to confront Kahl with evidence the U.S. may inadvertently be supplying a far-right military group in Ukraine.
"Is the Azov battalion getting access to U.S. weapons?" Gaetz asked.
"Not that I'm aware of. But if you have information," Kahl replied, before Gaetz interrupted, ready to drop the hammer, or so he thought.
"I intend to enter into the record The Global Times investigative report that talks about training. It's from the Atlantic Council's Digital Forensics Research Lab, citing that the Azov battalion was even getting stuff as far back as 2018."
One problem: The Global Times is a known propaganda outlet of the Chinese government. At least, that's according to the Donald Trump administration, which classified the outlet and two others as "foreign missions" due to their ties to Beijing.
But this wasn't a matter where Gaetz slipped up and got fact-checked two days later. No, Kahl was ready to respond right to Gaetz's face.
"Any reason to disagree with that assessment?" Gaetz asked.
"I'm sorry, is this the Global Times from China?" Kahl replied.
"No, this is," answered Gaetz, trailing off as he again looked over his notes and realized his error.
"That's what you read," Kahl said.
"Yeah, it might be, yeah. Would that be a reason (to disagree)?" Gaetz responded.
"I, as a general matter, I don't take Beijing's propaganda at face value," Kahl answered.
But in his haste to continue undercutting support for U.S. aid in Ukraine, the Congressman rushed his research and fell for propaganda from a country has waged a rhetorical war against repeatedly.
Gaetz eventually backed down and said he "would agree" such a report should not be taken at face value. Maybe don't bring it into a congressional hearing then?
The biggest loser: Monique Worrell. The Orange-Osceola State Attorney is under fire after a man shot and killed a Spectrum News 13 journalist, a 9-year-old girl and another woman last month, as some Republicans are arguing the alleged shooter should not have been out on the streets at all.
Two of the biggest critics have been Gov. DeSantis and U.S. Sen. Rick Scott.
Scott began the pressure campaign to have Worrell's job looked at with a statement on Feb. 24.
"Every prosecutor that chose to give this young criminal a pass should be fired TODAY, and State Attorney Worrell must immediately account for how her office failed to protect the community from a violent criminal and outline what she's changing to ensure it doesn't happen again," the statement read in part.
Whether intentional or not, that put pressure on the Governor to release a similar statement, which he followed with this past week, asking Worrell's Office for details on the suspect's prior record.
Now to be clear, Worrell is not on this list because it's clear her mishandling wrongly let the suspect free. For one, several of his previous run-ins with law enforcement came under Worrell's predecessor, Aramis Ayala.
And Mark NeJame, the attorney for the families impacted by this latest shooting, accused DeSantis and Scott of politicizing the tragedy to go after Worrell. NeJame also argued the shooter would have been free "months before the murders happened" had he faced more serious charges following a charge of misdemeanor marijuana possession in November 2021.
But Republicans argue the scene of that November 2021 incident could have led to more charges, which may have kept the suspect behind bars for longer.
How these facts shake out may be beside the point. Gov. DeSantis has the authority to suspend Worrell, as he did previously with Andrew Warren. Scott has now moved to officially pushing for such a move, and DeSantis may oblige if he feels the political winds at his back.
So whether Worrell was in the wrong or not here, she has to be feeling the pressure of a possible suspension from the Governor. We are very much in a "narrative first, facts second" world, and that may come to bite Worrell in the end.
And if it's proven she actually did let this suspect off easy after that 2021 incident? She can all but kiss her job goodbye.