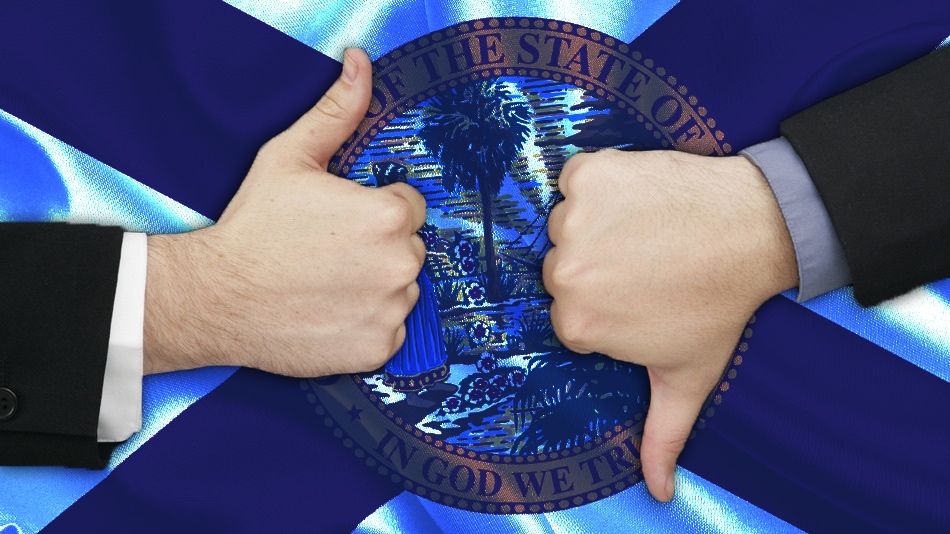 Gov. Ron DeSantis got what he wanted in this week's Special Session. But did his 2024 prospects take a hit?
The verdict is in on the dissolution of Disney's governing district, and whether it's a happy ending for Disney largely depends on how much Gov. Ron DeSantis pushes his newfound control over the governing board.
When lawmakers played tough last year, voting to (eventually) dissolve Disney's Reedy Creek District entirely due to the company's pushback against the state's parental rights bill, most expected the move was a bluff. Axing the governing structure entirely left incredibly difficult questions about where Reedy Creek's debt would go, how the area's employees would be paid, and other issues.
So it was unsurprising this week when the GOP backed off the plan — sort of.
"This is not a repeal of the Reedy Creek District," said Republican Rep. Fred Hawkins, who sponsored the House version of the bill.
Instead of dissolving the district entirely, it will now get a new name — the Central Florida Tourism Oversight District — and the Governor will be able to appoint all members to the governing board, once he signs the measure.
That certainly gives DeSantis plenty of power. One need only look at how he's exerted influence over the New College of Florida board to see how quickly things can change.
But a mammoth like Disney is certainly an entirely different animal than a small institution like New College. That means rapid, large-scale change is unlikely. If DeSantis were to seek to truly upend Disney World's governing structure, that would likely take time.
And therein lies the catch. How much time does DeSantis really have here, especially if he runs for President in 2024? That would necessitate kicking off a campaign in just a few months. Is this really the battle he'll choose to pick in his last year-plus in office?
And once DeSantis is gone, the new Governor may not be so gung-ho about reshaping every institution that slightly steps out of line. Giving the authority over Disney's governing board to Generic Republican Governor X is likely not any sort of existential threat.
That likely means good news in the end for Disney, but it still ultimately depends on how much DeSantis wants to push things. But with Bob Iger back in place as CEO, he's likely wise enough to see the light at the end of the tunnel, and avoid poking the bear any further so as to protect his Central Florida-based cash cow mouse.
Now, it's on to our weekly game of winners and losers.
Winners
Honorable mention: Marco Rubio. Rubio is flexing the bipartisan bona fides which originally saw his star rise in the Senate, pairing with Senate Intelligence Committee Chair Mark Warner to get consequential concessions from the Justice Department on national security issues.
As spotlighted in a Punchbowl News email blast, the two are working together to press the Joe Biden administration on answers regarding the President's storing of classified documents and the handling of the Chinese spy balloon, which floated over America's skies.
Warner has said his partnership with Rubio, the Intelligence Committee's Vice Chair, has led to a meeting with the Justice Department where Warner said he expects answers regarding the controversies and how much America's national security may have been impacted.
The moves led Punchbowl to dub Rubio and Warner "the Senate's most prominent — and effective — bipartisan duo."
"I certainly think that (Warner) is a very jealous guardian of the committee's role and is pretty tough on administrations, Republican or Democrat, who are not forthcoming," Rubio said in comments to Punchbowl News. "It just begins with the fact that he's a good person to work with. He's professional, serious, operates with an interest in the good of the country."
Rubio has often taken on a more combative, party-line posture during the Donald Trump era. But his efforts in the early days of this Congress shows Rubio still knows how to reach across the aisle and get results, even earning accolades from other Senate Democrats.
"Both of them understand that this is a uniquely challenging time," U.S. Sen. Ron Wyden of Oregon said of Rubio and Warner. "They both do what I think is the key to good intelligence policy. They are trying to think (about) what it means for the long-term."
Almost (but not quite) biggest winner: Hurricane victims. Lawmakers are continuing their efforts to assist victims of Hurricanes Ian and Nicole, slotting in an additional $700 million in aid during this past week's Special Session.
This is the second time since the storms hit that legislators used a Special Session to send money to the victims. Sen. Ben Albritton and Rep. Mike Giallombardo carried the respective measures in the Senate and House.
The measure, if signed, will ship $650 million from general revenue to the Emergency Preparedness and Response Fund, which lawmakers set up last year. The bill also creates the Local Government Emergency Bridge Loan Program within the Department of Economic Opportunity, which will facilitate another $50 million from general revenue.
"The hurricane directly went right over my house. Myself and my family spent 12 hours in our home as a hurricane passed through," Giallombardo said. "That devastation was just terrific around the area, especially the barrier islands."
Credit to lawmakers for continuing to direct money toward the victims, many of whom are still in recovery mode months later.
The biggest winner: Gov. DeSantis. As for the rest of the Special Session, the Governor largely got what he wanted.
Cleaning up legislation allowing the Governor to rerun his migrant relocation stunt, even for migrants who aren't even in Florida? Check.
Setting up a statewide prosecutor to pursue election crimes to appease the election-denial wing of the GOP, even though so far several recent prosecutions have been a complete fail? Check.
Heck, Republicans also cleaned up the state's name, image and likeness law to put college athletes on a more even playing field with other states, where the lack of regulations have left it resembling the Wild West. That, like the hurricane relief bill, earned unanimous approval in the House and Senate, giving DeSantis another bipartisan win he can tout amid the red meat for the base.
If DeSantis does pull the trigger on a 2024 run (more on that later), he would certainly like to keep his legislative momentum going to give him more to tout during a potential run. Republicans in the Legislature, armed now with a supermajority, appeal more than ready to play ball and give the Governor what he wants. It's another sign of DeSantis' tight hold on all of state government during his tenure.
Losers
Dishonorable mention: Matt Gaetz, Anna Paulina Luna. There is certainly room for a neutral policy discussion about how much aid the U.S. should be sending to Ukraine, and what the implications of those actions are.
The most recent legislation from U.S. Reps. Gaetz, Luna, Andy Biggs and Paul Gosar of Arizona, Lauren Boebert of Colorado and Marjorie Taylor Greene of Georgia ain't it.
That star-studded group of leading foreign policy minds were some of the 11 co-sponsors signing on to the "Ukraine Fatigue" resolution. That resolution calls for the U.S. to end its military and financial aid to Ukraine — full stop — and urges all combatants to "reach a peace agreement," as if world leaders had just happened to forget that was an option up until now.
But it was a quote Gaetz provided in an email blast supporting the act which showed just how transparently he and others are acting in bad faith in pushing for change here.
"President Joe Biden must have forgotten his prediction from March 2022, suggesting that arming Ukraine with military equipment will escalate the conflict to 'World War III,'" Gaetz (wrongly) contended.
"America is in a state of managed decline, and it will exacerbate if we continue to hemorrhage taxpayer dollars toward a foreign war. We must suspend all foreign aid for the War in Ukraine and demand that all combatants in this conflict reach a peace agreement immediately."
That latter segment is certainly, at least in part, dependent on the beginning of Gaetz's statement being true. Except that's not at all what the President said.
Here is what President Biden said, in full (emphasis ours).
"The idea that we're going to send in offensive equipment and have planes and tanks and trains going in with American pilots and American crews, just understand, and don't kid yourself, no matter what you all say, that's called 'World War III.' OK? Let's get it straight here, guys."
And that there is the key distinction. Sending in American troops is certainly an escalation in the conflict, and would be more likely to increase aggressions in the war. But by clipping out Biden's mention of troops, it appears that even the President is conceding that sending in any sizable amount of American support, via equipment or cash, is inviting World War III.
This entire catastrophe is one in which the U.S. and the rest of the world needs to navigate carefully. And it's unclear whether Vladimir Putin will see something short of American troop involvement as a reason to escalate this war. He very well may.
But when you're leading your case to have America abandon the fight here and let Russia steamroll Ukraine by straight up lying about what the President said, that's more than enough reason to ignore the clattering coming out of the Rabble-rouser Caucus.
Almost (but not quite) biggest loser: DeSantis 2024. DISCLAIMER: We are not listing DeSantis's 2024 aspirations here to say he can't win. Far from it. Polling has been a mixed bag at times, but DeSantis has gotten more than enough solid numbers in key states to show he has a shot.
Instead, DeSantis' 2024 bid lands here this week because we just saw how intense things are going to get.
Last week's column focused on the DeSantis-Donald Trump feud intensifying. This week saw Trump straight up get into the gutter, amplifying ugly attacks on DeSantis by reposting a photo of DeSantis' time as teacher at a college prep academy, reportedly showing DeSantis socializing with young students.
"That's not Ron, is it? He would never do such a thing!" Trump responded sarcastically to one picture, accusing DeSantis of "grooming high school girls."
Yikes.
So did DeSantis finally come out and try to land a counterpunch on Trump? Nope. He continued responding without naming Trump, and tried to take the high road by invoking Ronald Reagan's 11th Commandment.
"I spend my time delivering results for the people of Florida and fighting against Joe Biden," DeSantis said. "That's how I spend my time. I don't spend my time trying to smear other Republicans."
Oh, smearing Republicans is bad, you say? Tell that to every GOP candidate Trump steamrolled during the 2016 election. Taking the high road worked out great for them.
Look, maybe the political climate has changed enough, and maybe there is more appetite for an anti-Trump alternative now that Trump has shown himself to be a perpetual electoral loser. Maybe DeSantis is making the right play here.
But this week's soap opera showed how nasty things are going to get, and put forward the difficulty DeSantis has in emerging from a divisive GOP Primary unscathed. Pair with that a new poll which shows Nikki Haley — who is prepping a 204 announcement this upcoming week — sapping some support from DeSantis among anti-Trump GOP voters, you can see the challenge this will be, even for someone riding as high as DeSantis among the GOP base.
It doesn't mean he can't win. But it does mean he's in for a long fight.
The biggest loser: Rick Scott. Another week, another reason for Scott to be put in the "loser" column.
This week, it was President Biden referencing Scott's plan to sunset all legislation every five years during his State of the Union address. Biden discussed the plan specifically regarding Medicare and Social Security sunsetting. That led to loud jeers from Republicans in the chamber, but also allowed Biden to respond in what was seen as one of his stronger moments during the address.
"As we all apparently agree," Biden said, referring to Republicans' apparent disdain for insinuating they are alright with the programs sunsetting. "Social Security and Medicare is off the books now," the President added.
Enter Scott, who then tried every trick in the book to somehow insist he wasn't looking to sunset Social Security and Medicaid.
Scott pointed to Biden's time as a Senator, when he made a similar push. While it's fair to point fingers back at Biden, that failed to counter the fact that Scott was pitching a similar sunset plan.
The Senator then repeatedly flubbed the facts in a contentious CNN interview, where he tried to flip the script on the new network while, again, failing to explain how his plan to sunset all programs every five years did not sunset Social Security and Medicare every five years.
Then, ah, of course. Scott argued, well, he doesn't want Social Security and Medicare to go away. After all, his plan stated that if a program deserved to be renewed, as he argued Social Security and Medicare do, then Congress can simply reauthorize it!
Yes, the same Congress that is now threatening to bring the U.S. to financial default over already incurred debts. That Congress! Sure, we can definitely trust that Congress will always act in the nation's objective best interests and get right on reauthorizing two of the largest entitlements in the country, no questions asked.
It's quite a set of mental gymnastics to think people can't see through the nonsense of that argument. And Scott's full court press aiming to explain how he was in the right all along only invited more jabs from the President, a new mocking ad from the Lincoln Project and more side-eye from Senate Minority Mitch McConnell.
Scott can't seem to avoid stepping in it week after week as he trudges toward a re-election bid in 2024.