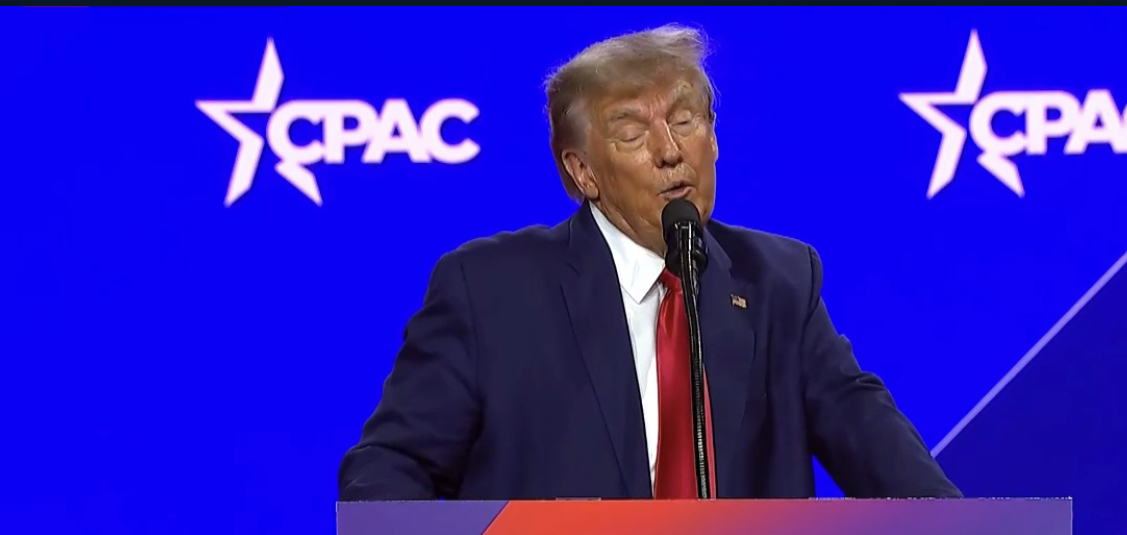 The Florida Governor skipped this year's event.
Ron DeSantis no-showed the Conservative Political Action Conference, but Donald Trump ensured he was not forgotten in his absence, even if he didn't mention him onstage by name.
Trump, who had reportedly workshopped new nicknames for DeSantis before keynoting the final day of proceedings Saturday, offered a series of seeming allusions to the Florida Governor, who finished second in the CPAC straw poll for President and Vice President alike. But he did not offer the sort of withering putdowns that he has for months on his Truth Social platform.
Trump, who defeated DeSantis 62% to 20% in the straw poll, called that seemingly preordained outcome a "beautiful straw poll" and a "great win."
"We're leading every Republican by massive numbers," Trump said, regarding the polls writ large. "People are tired of RINOs and globalists, they want to see America First."
Trump, of course, has called DeSantis both a RINO and a globalist.
Trump didn't go in on DeSantis directly, vowing to "expose and appropriately deal with the RINOs" and saying the Republican Party would not go back to "the party of Paul Ryan, Karl Rove and Jeb Bush," three men who Trump continues to contend are supportive of DeSantis.
He then promised not to "go back to people who want to destroy our great Social Security system, I wonder who that might be" and "cut Medicare to a level that it would not be recognizable," yet another veiled reference to DeSantis.
Trump also referred to governors who are "all talk" as he again said he wanted same day, paper ballot elections, which diverges from Florida's early voting and vote by mail.
"All Republican governors should immediately go for paper ballots, one day voting and voter I D. And the problem we have is we have governors and some of them we like and some of them we don't, but they're all talk, think of it. They control the state. And we have a lot of governors, they should go for that paper ballots, same day voting."
Trump talked DeSantis with reporters ahead of the speech in more low key remarks, including saying he didn't regret endorsing the Governor in 2018 "because the alternative would have been very bad."
Democrat Andrew Gillum "was a disaster as it turned out and the alternative would have been very bad. Now, Florida is doing well. Florida has done well for a long time and I'm very happy about it."
He noted that he had a "great relationship with Ron," but added "it's much too early to talk about" whether DeSantis would make a good Vice Presidential running mate.