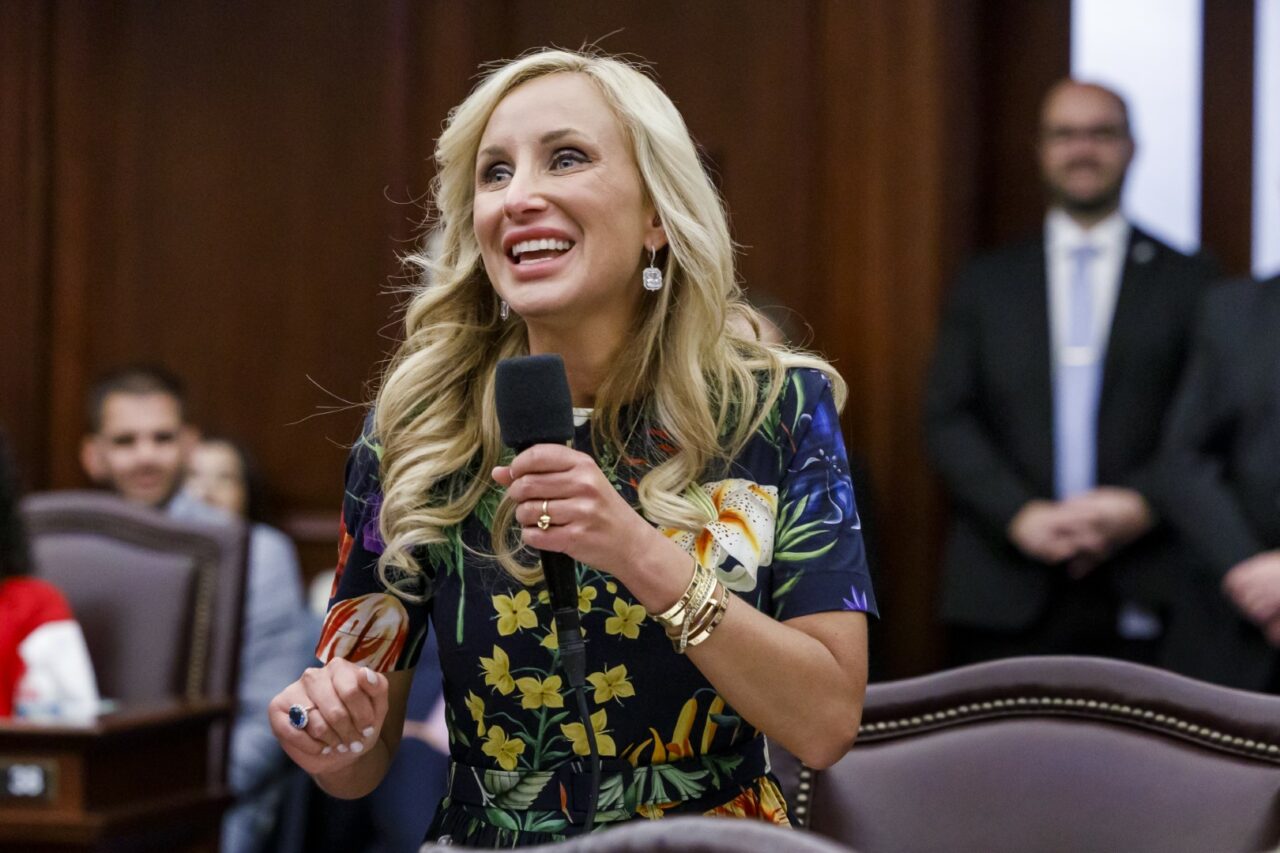 While Republicans are 'engaging in more culture wars,' Democrats 'are working on issues that affect everyday Floridians.'
Senate Democratic Leader Lauren Book is leading her party in the Florida Legislature's upper chamber during a time of marked disadvantage.
After a disastrous midterm that saw Democrats lose seats in traditionally liberal strongholds, Republicans hold supermajorities in both the House and Senate. Democrats hold no statewide elected office.
It's a tough spot to be in for any leader in the Democratic Party of Florida. But if it's affecting Book's resolve, she's not letting it show.
"We're just battening down the hatches and getting ready for what I know is going to be a very exciting Legislative Session," she told Florida Politics.
"People are having to make decisions about putting food on the table, paying for prescriptions and paying their rent or mortgage, and yet the GOP is engaging in more culture wars to help the Governor run for President and not doing anything to help everyday Floridians. That's not what we're here to do. Democrats are working on issues that affect everyday Floridians to make sure they're getting what they need to live their version of the Floridian and American dream."
In addition to a passel of bills Book is backing from other Senators, she highlighted a few she hopes will become law later this year.
One (SB 864) is called the "Death With Dignity Act" and would allow doctors to prescribe medication enabling terminally ill Floridians, including inmates, to self-euthanize in a humane and dignified manner.
Book said she was inspired to file the bill after hearing of a January incident where a 76-year-old woman shot and killed her terminally ill husband at a Daytona Beach hospital in an alleged suicide pact. The woman now faces first-degree murder charges.
The bill borrows heavily from an identically named proposal former Boca Raton Sen. Kevin Rader filed more than a decade ago. This version, which Book filed Feb. 16, has support by way of a comparable bill (HB 1231) Rep. Darryl Campbell filed last month.
"I have family members who have had truly horrific experience with death and dying," Book said. "When we're having these culture clashes in our Legislature, why don't we have some real dialogue that can help real Floridians and give people and their families peace of mind toward the end of their lives? It's something I care very deeply about."
Book also hopes to close a loophole in a law meant to prevent human trafficking at hotels, motels and inns.
Lawmakers in 2019 passed a law to require more of public lodging businesses in the fight against human trafficking, including posting information helpful to curb the activity and additional employee training.
But because of the way it was written, businesses have been able to exploit a provision in the law to avoid having to pay fines for noncompliance. To date, there have been more than 14,000 violations of the law by 6,669 hotel and public lodging establishments, and not one received a fine, according to a Sun Sentinel investigation.
Book's bill (SB 692) would fix the oversight.
"These are repeat offenders who did not do the things they needed to do and did not follow the spirit of the law, and this would make sure that you don't just get … a get-out-of-jail-free card," she said. "This law was passed to make sure establishments are doing all they can to end human trafficking and protect women, girls, young boys and men who are being trafficked in our state."
There's also SB 334, known also as the "Learning with Dignity Act," which Book again refiled this year.
The bill's title is a reference to legislation Gov. Ron DeSantis signed in 2019 mandating that menstrual products be provided free to Florida's female inmates. This bill, to which Rep. Kelly Skidmore filed a House copy (HB 389) would require similar provisions at public schools, including charter schools.
The issue of "period poverty" — a lack of access to menstrual products, hygiene facilities, waste management and adequate education — is "really special and important," said Book, who has carried the legislation for years.
"A period should end a sentence, not an education," she said. "There are young girls in our state who have to decide between paying for lunch or buying feminine hygiene products. We can — and we need — to do better."
As her party's leader in the Senate, Book is also responsible for being a steward and champion for policy proposals fellow Democrats proffer each year.
"My job as the leader is to certainly represent my community but also to highlight the work of my caucus and the bills they're working to pass," she said, adding that there's no shortage of good legislation to get behind this time around.
Among them: "Greyson's Law," a bill (SB 130) by Sen. Lori Berman meant to safeguard children from parental harm. The bill, of which Rep. Hillary Cassel is sponsoring a House version (HB 97) is named for a 4-year-old Broward County boy named Greyson Kessler who was killed by his father in a 2021 murder-suicide.
Filed previously for the 2022 Legislative Session, the measure would require courts to consider several additional factors when deciding parental custody and visitation arrangements, including whether either parent believes he, she or the child is in danger.
Current law provides shared custody of a child if no threat or abuse is directed toward the child, regardless of whether threats, abuse or other dangerous behavior was committed toward a parent.
Book also spoke of a similarly intentioned bill (SB 544) by Sen. Jason Pizzo, named for 11-year-old Anthony Reznick, a Sunny Isles Beach boy who died after being hit by a car while crossing the street in 2021.
The bill, which Book is co-sponsoring, would stiffen punishments for aggressive and careless driving.
Another proposal by Sen. Tina Polsky (SB 164) would decriminalize fentanyl test strips to prevent overdoses. The test trips are currently banned because Florida law classifies them as drug paraphernalia.
Rep. Christine Hunschofsky is backing a twin bill (HB 165) in the House.
Sen. Shevrin Jones is continuing to do "truly incredible work in the education and community spaces," Book said. This year, that includes a bill (SB 290) to require public school progression plans for students with disabilities and another bill (SB 196) allowing students with high school certificates of completion to enroll in programs at district career centers.
Reps. Robin Bartleman and Kristen Arrington are running companion measures (HB 223, HB 141) in the Legislature's lower chamber.
"There are a lot of bills out there by the caucus and myself to make the lives of Floridians better," Book said. "We've done some incredible work, and we're going to continue to fight on, because it's why our constituents sent us here."
The 2023 Legislative Session runs March 7 to May 5.