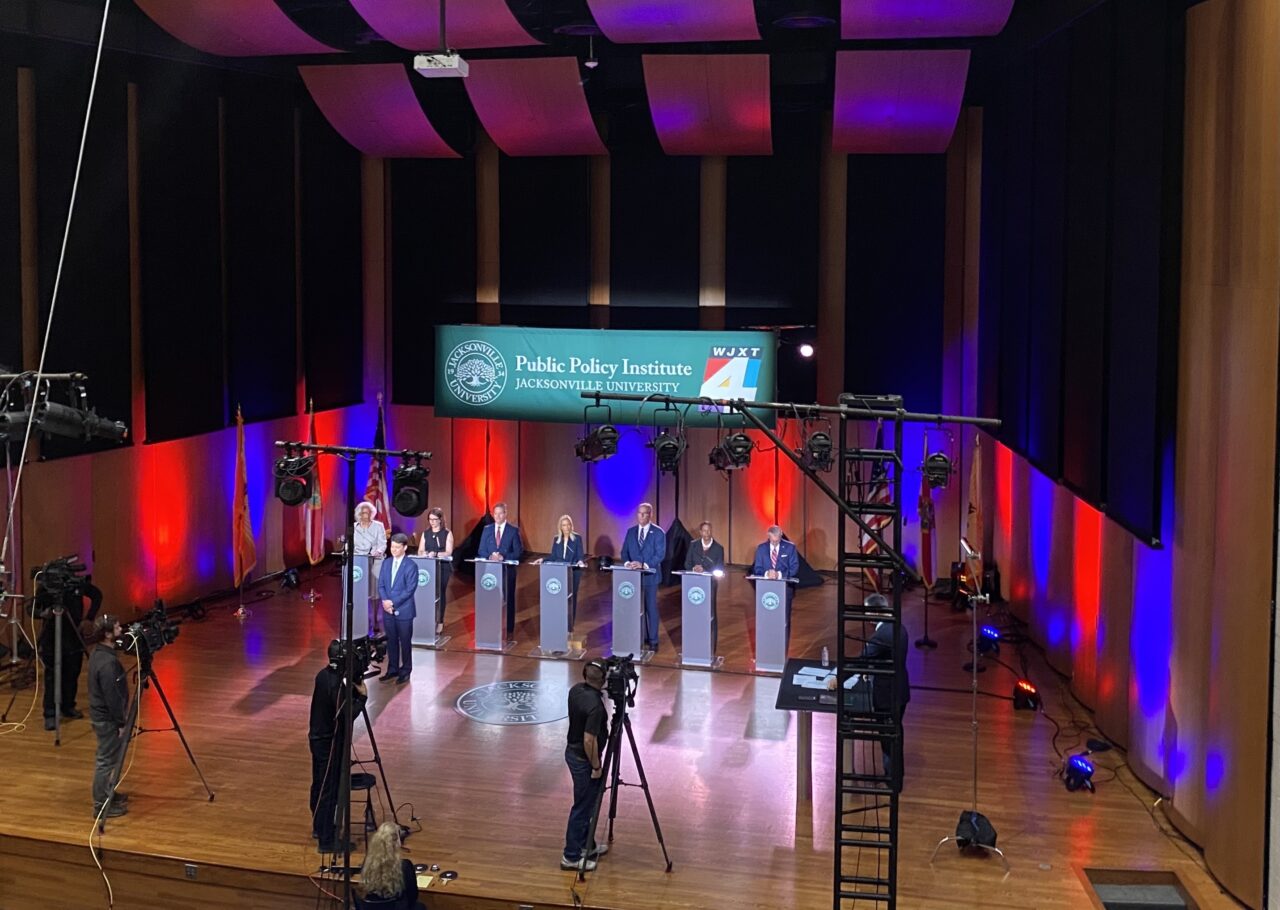 Seven candidates stuck to issues, policy in the hour long program.
With early voting underway in the Jacksonville mayoral race, seven candidates battled in the only debate before the First Election in 13 days.
This was ultimately an antiseptic program full of big-picture answers to burning questions of the day.
No-party candidate Omega Allen, Republicans LeAnna Gutierrez Cumber, Daniel Davis, Al Ferraro, and Frank Keasler Jr., and Democrats Donna Deegan and Audrey Gibson spent an hour under the lights at Jacksonville University, addressing questions from moderator Kent Justice of WJXT on a variety of matters.
Polling from the University of North Florida Public Opinion Research Lab shows Deegan and Davis are likely to advance past the March 21 election to the May 16 runoff, lending a sense of urgency to the rest of the field, with the clock quickly counting down to the counting of the votes.
The candidates took questions on a variety of issues, including Jaguars' stadium renovations, infrastructure in underserved neighborhoods, the homicide rate, a lack of downtown development, and the St. Johns Riverfront.
On the issue of a city contribution for the NFL stadium, the candidates urged caution.
"This is a long-term commitment that we have to talk about," said Davis, vowing to get "the best deal possible." He would not raise property taxes to get the deal done though.
Deegan said the Jaguars were a "very important part of this city," though she didn't "want to negotiate a deal on the stage." 
"We can't just have an open checkbook," she advised, adding that she wouldn't raise property taxes to get the deal done, but would be open to borrowing money.
Ferraro noted that he voted against the Lot J proposal, likewise saying the city can't have an "open checkbook." He ruled out a tax hike, saying the funding is available, but "it means taking it away from something else."
Gibson pointed to "return on investment" and wanted assurances the team would stay in Jacksonville past 2029 and that "home games wouldn't be in London" every year. She added that a property tax increase would punish not just homeowners but renters.
Cumber noted "taxpayers" had not been at the negotiating table, and promised the Jaguars would make "significant" commitments monetarily and to stay in town. She also ruled out a tax hike.
Turning to infrastructure, Ferraro proposed a division in concert with JEA to fulfill the commitments over a long period of time regarding drainage and other longstanding woes.
Gibson pitched bundling infrastructure projects for "similarly situated" neighborhoods built in the middle of the 20th century, and leveraging federal matching funds, as well as drawing down state funds for the purpose, to ensure "less cherry-picking."
Allen echoed Gibson, vowing to "draw down" federal and state funds and "reallocate dollars" to fill those needs. Cumber also spoke to the importance of "leveraging federal and state funds" while focusing local funds on "potholes," street lights and trash collection.
Keasler said southern and eastern Duval County have seen "billions of dollars" of capital influx, at the expense of older neighborhoods, vowing to redress that imbalance.
"Government can often lose its way," said Davis, who vowed to "make the city of Jacksonville's government smaller" to, paradoxically, "put more police officers on the streets."
"We've got to make sure we're not spending money in a frivolous way," Davis cautioned.
Deegan noted promises of consolidation were not kept in the core city, leading to "deterioration" especially on the Northside and Westside. 
"Nobody wants to come to a city that's falling apart," the Democrat said.
Turning to the city's murder rate, candidates all agreed it was too high.
Gibson vowed to "work with our Sheriff," who has endorsed Davis, but stopped short of committing to an "automatic bump up in the JSO budget."
Keasler called for a "21st-century sentinel model and net over our city," a "whole new concept" that would seem to overstep the independently elected office of sheriff in the local charter.
"Fighting crime is not a mayoral function but it is a serious mayoral concern," Allen said. She urged an examination of the sheriff's budget to probe for "ineffective" use of money.
Cumber urged a "fully funded" sheriff's office that addresses crime "proactively," noting her own work on the City Council against sex trafficking and toward a nuisance abatement board, as well as the city's increasing the "stripping age" to 21.
Davis pointed to endorsements from the Sheriff and previous sheriff John Rutherford as well as his work on the Jacksonville Journey, promising "new police officers on the street" and putting "the bad guys in jail."
Deegan noted the city's homicide rate quadruples that of New York City, adding that the "underlying causes of poverty and crime" must be addressed to quell the murder rate.
Turning to the city's perpetually struggling downtown, all candidates advanced theoretical solutions to issues that have dogged mayors since Hans Tanzler in the 1970s.
Cumber contended a "vibrant downtown is critical to our city," saying that one solution is to ease the burden of development, including permitting.
"We have made it exceedingly difficult," the Republican City Council member said, pointing to her endorsement by Associated Builders and Contractors as proof.
Davis, the head of the Jacksonville Chamber of Commerce, said activating the riverfront and revitalizing downtown are important.
"Rooftops are what cause retail and restaurants to thrive," he said.
Deegan noted 80% of buildings downtown have been demolished since the 1980s, saying that it was important to bring businesses and "people of every economic type" downtown, to make the area a "centerpiece."
Ferraro noted people "feel unsafe."
"There's people walking, they're sleeping all over the streets," the Councilman said, pointing to "mental illness" and worries about "being robbed" as reasons people don't go downtown currently. 
Gibson said tourism, "high-end shopping," and "cultural venues" could help with a "vibrant downtown."
Riverfront activation was also addressed in the debate.
Cumber noted a lack of boat launches, saying it was key to "build up marinas and piers downtown."
Davis stressed the importance of activating the riverfront with "development that invites people to enjoy the river, not shuts them off from it."
Deegan noted that "connected parks," already being implemented, would help spur development.
"It's only about 30% funded though, and you know how things go in this city," the former newscaster cautioned.
Ferraro spoke to a holistic view of the river beyond Downtown, stressing accessibility throughout the city.