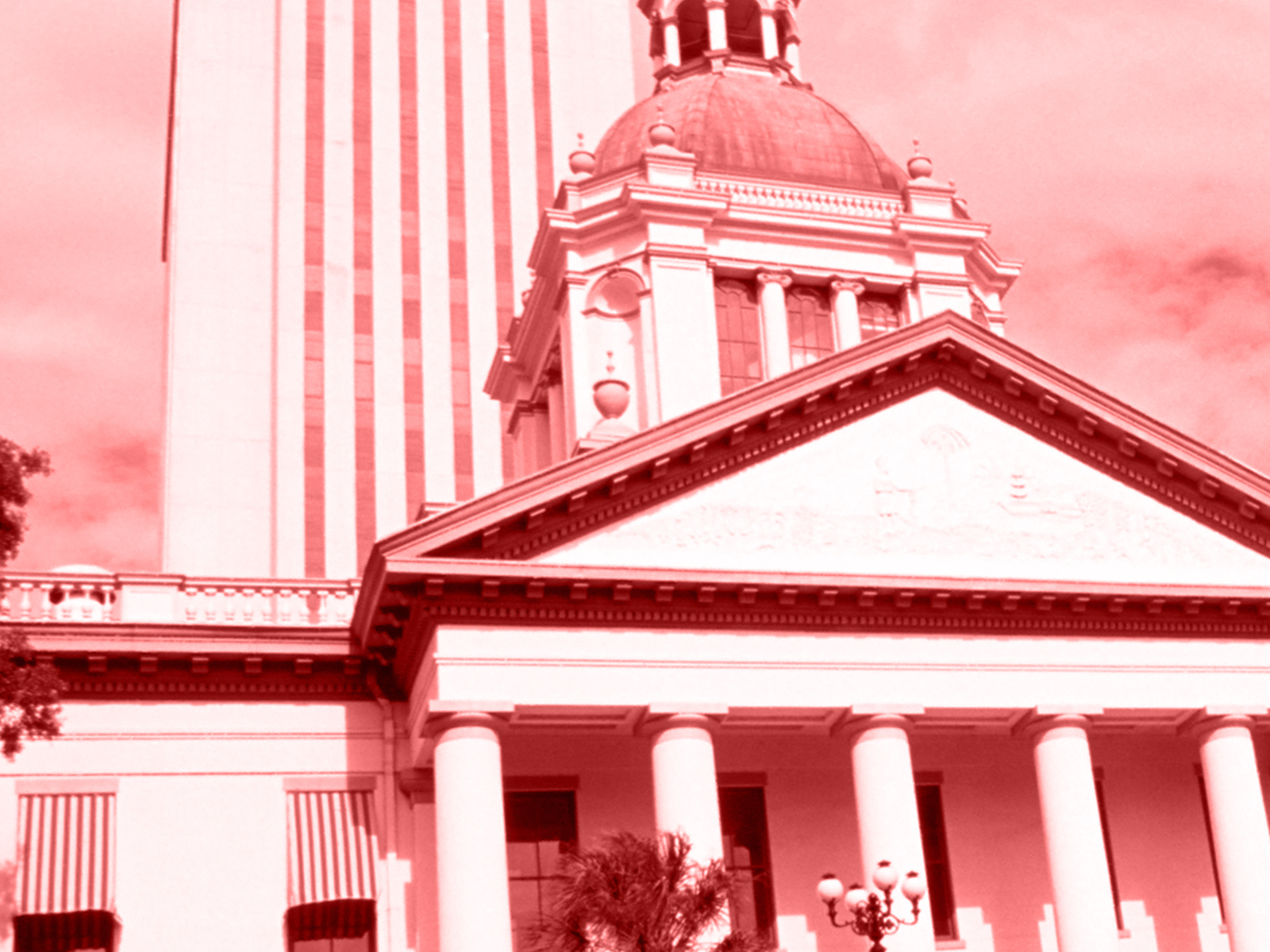 What's inside? All things Session.
Sixty Days — A prime-time look at the 2023 Legislative Regular Session:
The Last 24
It's full steam ahead for legislation that would expand school voucher eligibility to all students, regardless of their family's income. The proposal is a top priority for House Speaker Paul Renner and the bill (HB 1) is awaiting a full vote in the chamber. On Wednesday, the Senate Appropriations Committee on Education advanced the companion legislation (SB 202) on a 9-4 party-line vote. It now heads to the full Appropriations Committee, after which it will be ready for the Senate floor. Here's your nightly rundown.
Fiction section: Gov. Ron DeSantis held a news conference slamming a "false narrative" by some media outlets reporting on books banned in Florida schools.
R  D: Florida voters could get the option to make School Board races partisan again, after a bill (HJR 31) to place the question on the 2024 ballot cleared its second stop in the House.
Mix it up: A bill (HB 179) to regulate the sale of kratom, a consumable plant that affects some of the same brain receptors as morphine, is heading to a full vote by the House.
Tax-free tix?: Florida TaxWatch released a new report itemizing all 281 sales tax exemptions in statute. The total cost to the state: $17.6 billion.
Clean it up: All of Florida's impaired waterbodies would become eligible for state grant assistance with a bill (HB 827) addressing septic tank pollution that's making its way through the Legislature.
New path: Legislation (HB 19) creating a new path for parents of children with disabilities to stay involved in their children's education without going through the step of legal guardianship is advancing in the House.
Go back to Cuba: DeSantis is outraged over the Cuban Ambassador visiting Tampa earlier this month, saying "they should go back to Cuba where they belong."
Quote of the Day
"The Florida Department of Education does not ban any books. That's a lie. It's never been true."
— Education Commissioner Manny Diaz Jr., in a news conference addressing the 'false narrative' surrounding school book bans.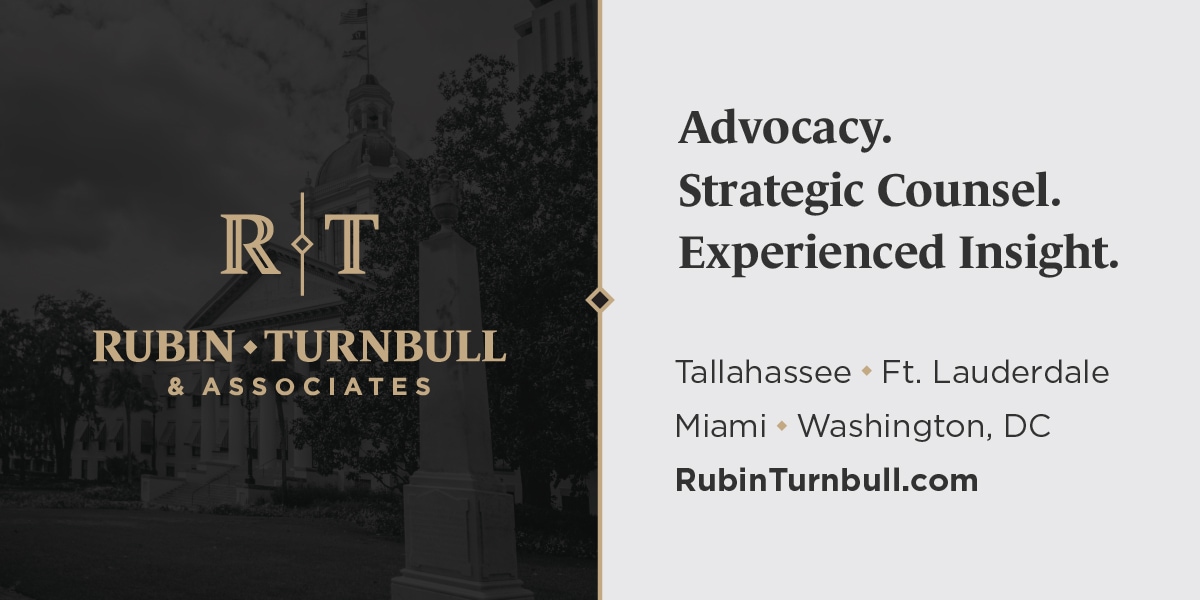 Bill Day's Latest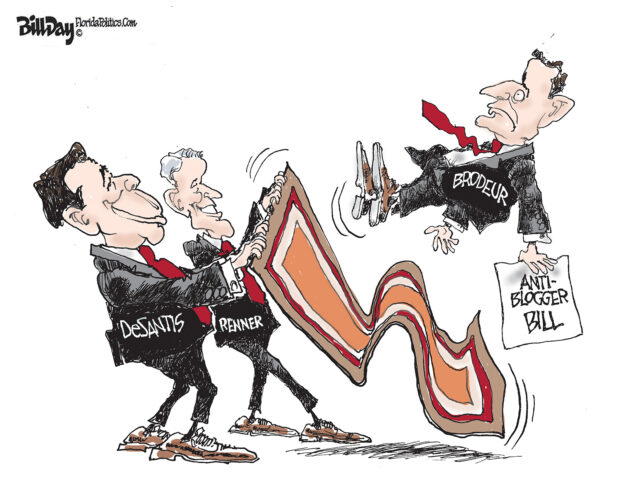 3 Questions
During a news conference about tax breaks for farmers, Agriculture Commissioner Wilton Simpson and Sen. Jay Collins addressed two highly watched bills filed for the 2023 Legislative Session. One (SB 264), a Simpson priority, would block adversarial countries from certain land purchases in the state. The other (SB 1256) would prohibit local governments from establishing or enforcing restrictions on major appliances, including gas stoves.
Q: Where is the foreign ownership of land proposal in the process?
Simpson: Today we have our foreign enemies around the world that are buying land around the state of Florida, which is what our concern is, but all over this country around our military bases. And the bill started out being that you can no longer buy land — agricultural land — in the state of Florida or around our military bases. We expect that bill to pass this year. I know the Governor has been very supportive of that bill. And I think we're expanding a few of those opportunities. So, we're not just talking about China and Russia, we have many enemies. And if they own land here currently, which they do, they'll have to be surplusing that lane over the next few years.
Q: Are you expecting it to drop soon?
Simpson: The bill has actually been moving through the process.
Collins: Yes. That bill is moving through the process. I'm carrying that in the Senate. So that bill will continue to move and we should be in committee here shortly; we're just waiting to see where it's assigned.
Q: The gas stoves bill, can you give some context on that?
Collins: Those of you who know me know that I come from a pretty unique background — military, but I also work in the nonprofit sector. We focus on barbecue. I don't think the government should be able to outlaw gas stoves. You have the right to cook how you want to cook, I stand up for our right to do that. I think it's pretty straightforward.
Simpson: And when you think about the energy supply in this country, we are the largest producer of natural gas and propane products in the world. Why would we not be utilizing our own resources that are much cleaner?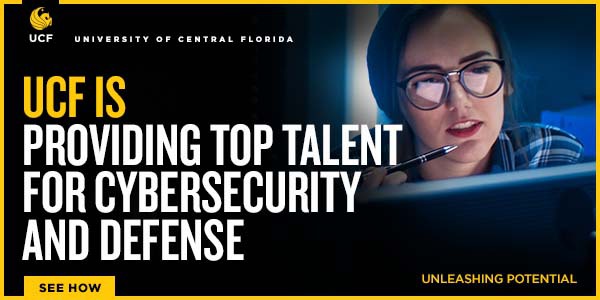 Lobby Up
The firm founded by former Rep. Travis Cummings and former Sen. Rob Bradley is picking up lobbying contracts.
Bradley and Cummings, both Fleming Island Republicans, left office in 2020 due to term limits and launched Oak Strategies in 2021 as a side project — Bradley still works as an attorney at the Bradley Garrison & Komando law firm and Cummings is an executive at The Bailey Group, an employee benefits company.
Cummings told Florida Politics last year that the firm's plan was "to grow responsibly and see how it goes."
Records show it's going well.
The pair only recently became eligible to lobby the Legislature due to state rules blocking former lawmakers from the profession until they have been out of office for two years. In the three months since they came off the sidelines, Oak Strategies has inked 15 contracts, many with interests from their home base in Northeast Florida.
They include The Arc Jacksonville, Boys & Girls Clubs of Northeast Florida, Clay Behavioral Health Center, Gateway Community Services, Jewish Community Alliance, KIPP Jacksonville, the North Florida Land Trust, Operation New Hope and the University of North Florida.
Beyond their home turf, Oak Strategies has lobbying deals with the Florida Association of Health Plans and the Florida State Fraternal Order of Police.
Additionally, Bradley and Cummings are working on behalf of Orlando law firm Diez-Arguelles & Tejedor on a claims bill seeking $795,000 for Latricia Mitchell and her family. Mitchell was having a difficult pregnancy in 2008 when a misdiagnosis at South Broward Hospital District led to fetal distress and a stroke for the baby, Jamiyah Mitchell, according to the bill.
Rep. Demi Busatta Cabrera (HB 6015) and Sen. Joe Gruters (SB 16) are sponsoring this year's claim bill effort.
Oak Strategies also includes former Rep. Jayer Williamson, though he is relegated to local advocacy for the time being. He becomes eligible to lobby the Legislature in November 2024.
Breakthrough Insights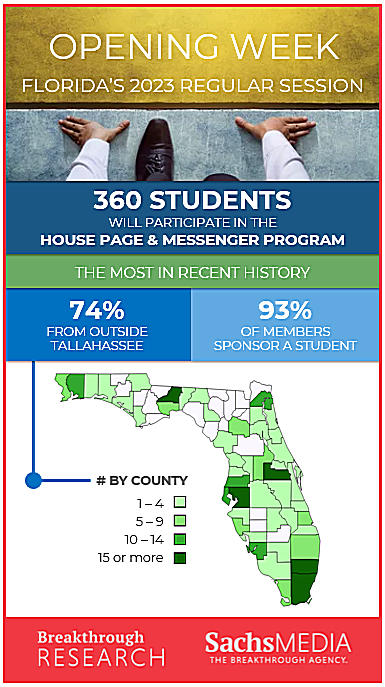 The Next 24
8 a.m. — The House Choice & Innovation Subcommittee will consider a bill (HB 379) that would ban students from accessing social media on public school networks and require public schools to teach social media safety with materials provided by the Department of Education. Room 102, House Office Building, The Capitol.
­8 a.m. — The House Civil Justice Subcommittee will take up a bill (HB 813) that addresses the support of dependent adult children. Room 404, House Office Building, The Capitol.
8 a.m. — The House Insurance & Banking Subcommittee will consider legislation (HB 337) that would expand workers' compensation benefits for emergency 911 dispatchers and crime scene investigators to include post-traumatic stress disorder treatments. Room 17, House Office Building, The Capitol.
10 a.m. — The Senate will hold a floor Session. Senate Chamber, The Capitol.
11 a.m. — A statewide nursing advisory council formed by Keiser University will host a news conference to announce recommendations developed to address Florida's nursing shortage. Recommendations are expected to include Linking Industry to Nursing Education (LINE) funding, child care assistance for nurses, nursing salary bonuses and grants for additional preceptors. Third Floor Rotunda, The Capitol.
11:30 a.m. — The House Children, Families & Seniors Subcommittee will take up a bill (HB 97) that would require courts to consider several additional factors when deciding parental custody and visitation arrangements, including whether either parent believes he, she or the child is in danger. Room 102, House Office Building, The Capitol.
1:30 p.m. — The Senate Fiscal Policy Committee will consider four bills, including legislation (SB 150) to remove the requirement to get a permit to carry a concealed firearm. Room 412, Knott Building, The Capitol.
2 p.m. — The House Healthcare Regulation Subcommittee will take up legislation (HB 33) that would authorize Florida to join the Psychological Interjurisdictional Compact (PSYPACT), which would allow psychologists in participating states to provide telepsychology or face-to-face counseling for up to 30 days a year. Room 102, House Office Building, The Capitol.
2 p.m. — The House PreK-12 Appropriations Subcommittee will consider a bill (HB 223) that would require public schools — with the consent of parents — to establish comprehensive plans, designed by an "individual education plan team," for the progression of students with disabilities beginning in prekindergarten. Room 17, House Office Building, The Capitol.
2 p.m. — The House Regulatory Reform & Economic Development Subcommittee will take up a bill (HB 221) that would prohibit credit card companies from giving weapons and ammunition sales a specific code to identify their purchases. Room 212, Knott Building, The Capitol.
Also, the following committees will meet.
8 a.m. — The House Infrastructure & Tourism Appropriations Subcommittee meets. Room 314, House Office Building, The Capitol.
11:30 a.m. — The House Agriculture, Conservation & Resiliency Subcommittee meets. Room 404, House Office Building, The Capitol.
12:15 p.m. — The Senate Special Order Calendar Group meets. Room 401, Senate Office Building, The Capitol.
2 p.m. — The House Constitutional Rights, Rule of Law & Government Operations Subcommittee meets. Room 404, House Office Building, The Capitol.
5:30 p.m. — The House Rules Committee meets. Room 404, House Office Building, The Capitol.
Full committee agendas, including bills to be considered, are available on the House and Senate websites.