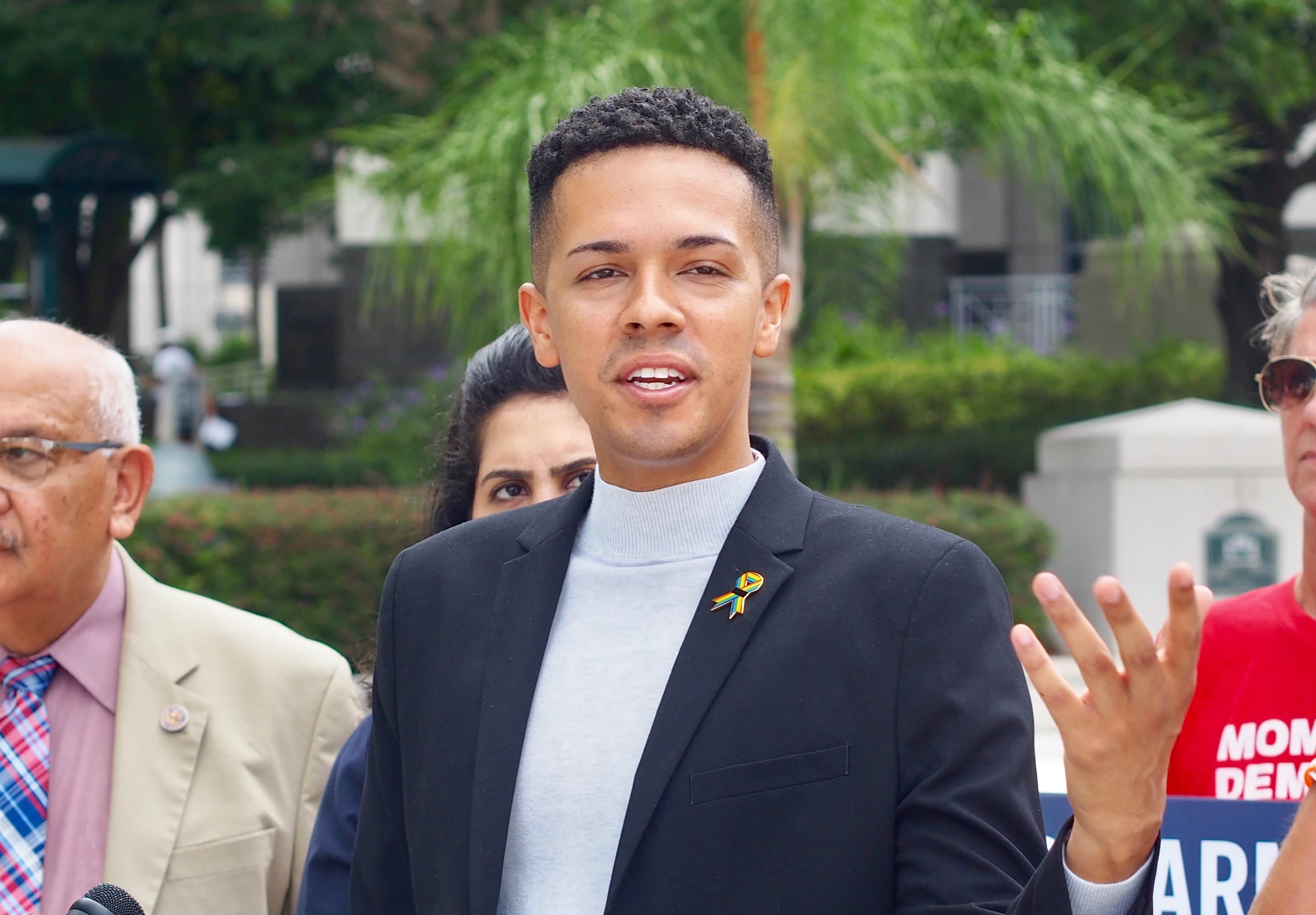 'No amount of book bans or government censorship is going to erase this.'
A group of about 50 LGBTQ rights advocates and Democrats convened in the Capitol to condemn efforts by Republican lawmakers to restrict access to care for transgender children and expand the ban on teaching about sexual orientation and gender identity in the classroom.
"Free states don't throw parents in jail for caring about their children," said Brandon Wolf, a spokesman for Equality Florida.
He was referring to a bill (SB 254) that would require courts to intervene in custody battles between parents over children who seek out medical treatments that would lead to a gender transition.
"A court of this state shall treat as unjustifiable conduct subjecting or attempting to subject a child to the provision of sex-reassignment prescriptions or procedures," the bill states.
The provision appalled LGBTQ rights advocates, who said it amounted to allowing a parent to kidnap a child, taking them away from another parent who sought to allow the child to undergo sex-reassignment procedures or treatments.
Sen. Clay Yarborough, a Jacksonville Republican who is sponsoring the bill, will amend that provision to clarify that courts would only have the ability to intervene in such cases.
"Parents have the right and a responsibility to raise their children as they see fit, and government intervention should be a last resort," Yarborough said in a released statement. "I filed this legislation because I believe as lawmakers, we have to draw the line when drastic, life-altering gender dysphoria therapies and surgeries are mutilating young children."
Democrats supportive of LGBTQ rights are unlikely to be mollified by the change in the bill, however, as evidenced by shocking comments one lawmaker made regarding Gov. Ron DeSantis.
"We are facing a Governor who wants to commit genocide on trans people," asserted Rep. Anna Eskamani, an Orlando Democrat.
While Republican lawmakers have sought to restrict gender-affirming care, and some have used inflammatory language about those procedures, no lawmakers are calling for killing trans people.
Wolf said despite the string of bills aimed at restricting LGBTQ freedom and the lack of ability of Democrats, who are outnumbered in both chambers of the Legislature, advocates and activists will continue to resist those measures during the Regular Session.
"No amount of book bans or government censorship is going to erase this," Wolf said.