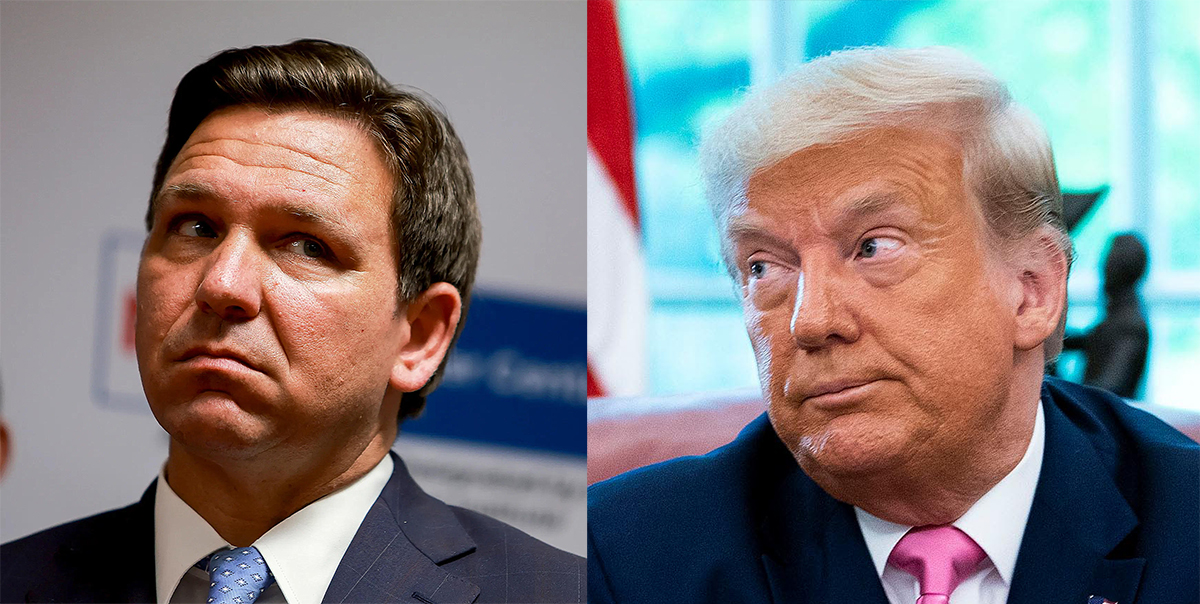 'I don't think you're gonna be doing so well here, but we're gonna find out.'
Former President Donald Trump has found a new line of attack against Ron DeSantis.
On Monday, Trump likened the Florida Governor and likely opponent for the 2024 Presidential nomination to the Republican nominee in 2012.
"To be honest, Ron reminds me a lot of Mitt Romney," Trump said. "So I don't think you're gonna be doing so well here, but we're gonna find out."
Trump rolled out the Romney comparison as part of roughly two minutes of remarks, hammering DeSantis on previous positions on entitlements for senior citizens and ethanol mandates.
Trump contended DeSantis "fought against Social Security. He wanted to decimate it and voted against it three times. Voted against Social Security. That's a bad one."
"A lot of people don't know that, but I think they've been finding out over the last four weeks," Trump contended.
"And on Social Security. Well, while we're at it, he wanted the minimum retirement age to be lifted to people that are 70 years old. A substantial increase over what it is right now. That's a big increase. And he also voted to severely cut Medicare. I will not be cutting Medicare and I will not be cutting Social Security," Trump contended.
"We're leaving the age where it is," Trump said. "But you have to remember Ron was a disciple Paul Ryan, who is a RINO loser who currently is destroying Fox and would constantly vote against entitlements. He would just vote against," Trump remarked, describing Ryan as the man in the "Wheelchair over the Cliff" commercial.
"Very effective. That was about him. Paul Ryan is a big reason that Mitt Romney lost his election," Trump asserted, continuing his ongoing critiques of the former House Speaker and Vice Presidential candidate from Wisconsin.
Trump also offered new material for the Iowa crowd, contending DeSantis was against corn-derived gasoline, anathema to Iowans historically.
DeSantis "strongly opposed ethanol. Do you know that? And we don't even know if he's running, but I might as well tell you if he's not running, I'll say he was fine on ethanol," Trump joked.
"He strongly opposed ethanol and fought against it at every turn and he's going to do that again because people that come out early for something, that's where they go, that's what it is."
"So, you know, he may do something politically but he was very, very bad on ethanol and fought it all the way," Trump noted.