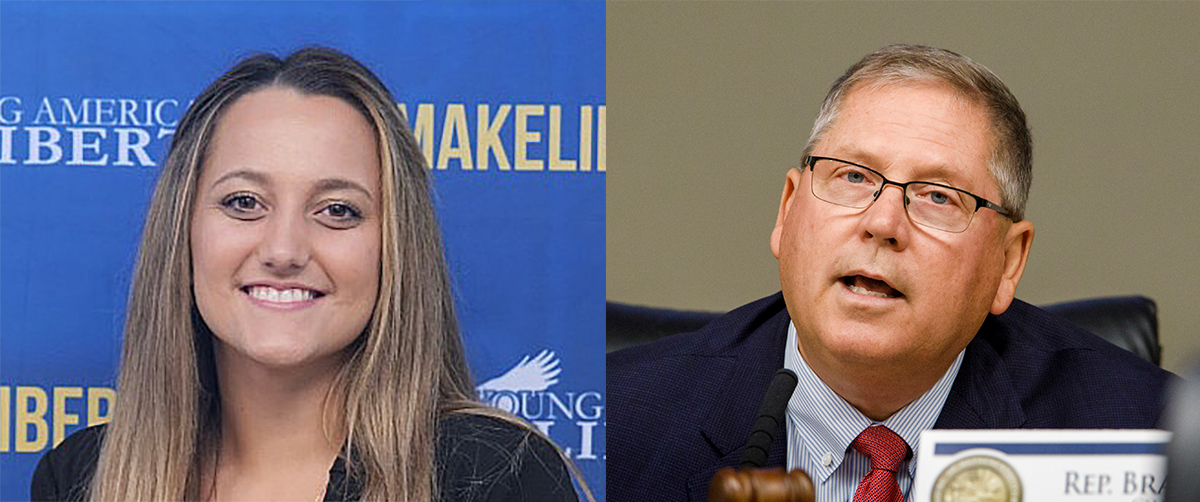 Serena Barker considered knocking on the lawmaker's door a matter of transparency.
An activist said she knocked on the door of a state Representative as a courtesy as she distributed flyers. But soon Serena Barker found herself in a loud confrontation in Rep. Chuck Brannan's driveway.
Barker works as North Florida Director for Young Americans for Liberty (YAL), a conservative group focused on reaching young adults. She led canvassers this weekend through Brannan's House District 10. She distributed a flyer slamming Brannan, the sponsor of a controversial permitless carry bill (HB 543) for not pursuing open carry.
"It was just a routine thing," Barker said. "We do always knock on the Representative's door. I always thought that was about transparency and letting the Representative know what we want and what we spoke to in the constitutional carry issue."
Barker first spoke to Brannan's wife, and said she had a pleasant interaction. But as she left the driveway of the home, Brannan came up the driveway and flagged her down. The two got into an exchange in which Brannan told Barker the right-wing group's tactics threatened the bill from passing at all.
"Maybe we just pull the whole thing," Brannan told Barker. "Then y'all can say, 'Well, we pissed them off and we didn't get nothing this year.' How about that?"
After video of the incident emerged this weekend, Brannan spoke to Florida Politics and said he was angry. That was primarily because the flyer included a digitally altered photo that made it appear Brannan was shaking hands with Democratic President Joe Biden.
Barker said she captured the video exchange on her phone.
"I didn't notify him," she said. "I started filming because I felt intimidated, then felt I couldn't have brought it up. It wasn't as though (I was) hiding it. The phone was in my hand at waist level."
She also told YAL that she recorded the exchange. The organization has shared the video and criticized Brannan for his behavior.
"I would expect an elected official such as Chuck Brannan to behave in a more calm and professional manner," said YAL Hazlitt Action Director Daniel Stuart in a statement. "As an elected official, he needs to have thicker skin."
"As it is currently written, House Bill 543 is not a true Constitutional Carry bill and based on Chuck's action, it is clear that he only cares about getting a cheap win so he can pretend that he is a pro-gun champion, instead of actually advancing 2nd Amendment rights and being a pro-gun champion. I applaud Serena for standing her ground and I certainly hope that Brannan has the courage to apologize for his actions and fix his bill."
Barker said she was surprised Brannan acted in a way she considered "hostile." She said she tried to contact supervisors but they were not on call during the weekend.
"The whole interaction … he didn't care what I had to say or didn't want to listen," she said.
Brannan for his part said he does not believe Barker was intimidated, in part because the entire recorded conversation happened after she returned to his property after an initial exchange. He also noted recording him without permission is a crime under Florida law.
Barker said she understood why he was mad at the flyer, but also thinks he took it a different way than intended.
"I thought it was calling him out as a RINO, and was being done in a very joking way," she said. "He took it as malicious. It wasn't supposed to be that. But it was something showing this wasn't a true Republican bill."
The flyer on the opposite side of the doctored Brannan-Biden image noted Gov. Ron DeSantis has supported open carry legislation.
Barker, a 20-year-old attending Florida State University, isn't old enough yet to obtain a concealed carry permit. When she has one, she said she absolutely prefers open carry. She said that's especially important to young women.
"Clothing for girls isn't made to conceal carry very easily," she said. "Having a gun on us means going without fashion. So do I dress normal like the population at this age, or do I have a gun to defend myself?"
She said with Republicans controlling supermajorities in the House and Senate, and a Republican Governor ready to sign open carry, lawmakers should push as hard on gun rights as they can.