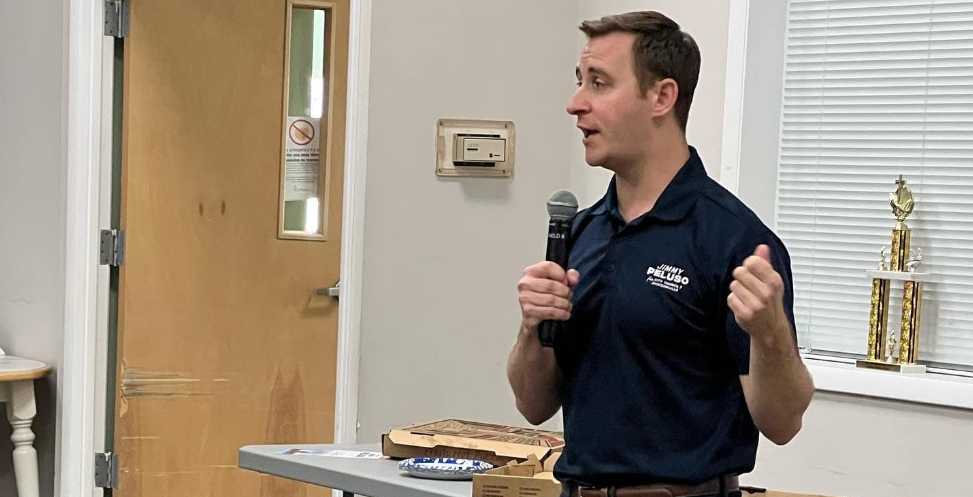 District 7 is one of six City Council district races headed to a May runoff.
A Jacksonville City Council race marred by accusations of dirty campaigning is headed to a runoff, with Democrat Jimmy Peluso and Republican Joseph Hogan left to battle it out. Democrat John Phillips finished third despite dramatically overspending his rivals.
"We proved that (District 7) is a seat that demands a leader who will be attentive, work within our neighborhoods, and fight for equality and equity," Peluso said, thanking his campaign volunteers and district voters. "We heard it from the voters, and we will carry that message and that fight to City Hall."
Peluso, a Navy veteran who manages government affairs for VyStar Credit Union, staked his District 7 campaign on his bona fides as a Democrat who is heavily involved in city matters and who gave his time and effort to support local Democratic efforts in the past. 
He pulled 35% of the vote to 19% for Phillips, a publicly splashy lawyer who leveled serious accusations at Peluso during the race.
Phillips dumped a large amount of his own money into the contest, building a campaign kitty of more than $366,000 while spending more than $343,000. Peluso raised more than $162,800, spending close to $124,000.
"I just congratulated (Hogan) & (Poluso)," Phillips tweeted a little more than an hour after polls closed. "We started this in January wanting murders, corruption & safety to be discussed. They were. I know justice and the law better than most and will be right at home in my chosen career. More to come. Tonight we celebrate love."
Hogan, construction firm owner and son of Duval County Supervisor of Elections Mike Hogan, took second place with 32%. He raised more than $27,500 for the run, but spent less than $5,000 of it.
Rounding out the candidates, historic preservation advocate and Democrat Kim Pryor notched 12%, while independent businessman Parrish King claimed 2% of the vote. Pryor raised more than $18,000 and spent nearly $10,500, and King raised nearly $14,400 while spending nearly $11,700.
District 7 is one of six City Council district races headed to a May runoff.
The District 2 race was an all-Republican affair, with Mike Gay and Lindsey Brock punching their tickets to the runoff, eliminating Jennifer Casey. Gay received 42% to Brock's 33%, while Casey closed out her race with 25%.
Gay brought in nearly $230,000, but spent a little more than $137,000, as of the latest filings. He sports more than three decades as a businessman and received the endorsement of Republican mayoral candidate Al Ferraro.
"I would like to publicly thank Jennifer Casey for running a fair and clean race without going negative. I wish her the best in whatever path she pursues," Gay said, while also thanking district voters and noting he won nine of 13 precincts.
"As for my other opponent who turned negative and flat out lied about my finances and where I stand politically, it was a desperate attempt to win, and many saw through it. It exposed weakness and deceit, and that's exactly what we don't need on City Council."
Brock, a lawyer, received endorsements from
U.S. Rep.
John Rutherford
, Jacksonville Sheriff T.K. Waters and seven City Council members heading into the election. He also previously led the city's Charter Review Commission. Brock raised more than $162,300 while spending nearly $131,000. 
"Thank you to all the voters of District 2 for participating in this election," Brock said. "I am truly honored that you chose me to be on your ballot in the May runoff. I look forward to working to earn everyone's vote again over the next eight weeks."
In District 8, new Democratic City Councilman Reggie Gaffney Jr. is defending the seat he won in a Special Election last year. Third in fundraising with around $56,300, he led spending in the campaign by doling out nearly $48,000.
He'll face Area Agency on Aging for North Florida COO and Democrat Tameka Gaines Holly in the runoff, who received the most votes in a crowded four-person field of Gaffney alternatives. Gaffney led all candidates with 34%, with Holly coming in at 32%. Republican Charles "Scooter" Barr received 27%, with Democrat Solomon Olopade at 5% and Libertarian Ronald Tracy Robinson Jr. at 1%. 
Democratic City Councilwoman Tyrona Clark-Murray is in the same position in District 9, having won her Special Election in August and drawing a field of five opponents. Republican and certified public accountant Mike Muldoon led all candidates with 47%, but Clark-Murray was able to fend off three other Democrats — Shanna Carter, Celestine Mills and TaNita Noisette-Woods — with 15% of the vote to advance to the runoff. Carter drew 11%, while it was around 10% for Mills and 5% for Noisette-Woods.
Clark-Murray raised close to $10,400 for her campaign, spending a little more than $9,000.
In District 11, Republican City Councilman Danny Becton left to pursue the office of Duval County Property Appraiser. Democrat Ramon Day (43%) and Republican Raul Arias (35%) emerged from the three-way race to replace him, eliminating Republican Norman Brewer, who received 22% of the vote.
The District 14 race proved to be a rematch of a 1990s City Council campaign, with Republicans and former City Council members John Draper and Alberta Hipps making another go of it, joined by Democrat Rahman Johnson.
Johnson led voting with 46%. Draper will join him in the runoff, finishing second with 30%. Hipps, who closed out with 24%, beat Draper for a City Council seat in 1995.
Hipps led fundraising with more than $53,500, compared to Johnson's haul of around $21,500 and Draper's $7,700. Hipps spent more than $24,000, followed by Johnson at $16,200 and Draper at nearly $7,600.