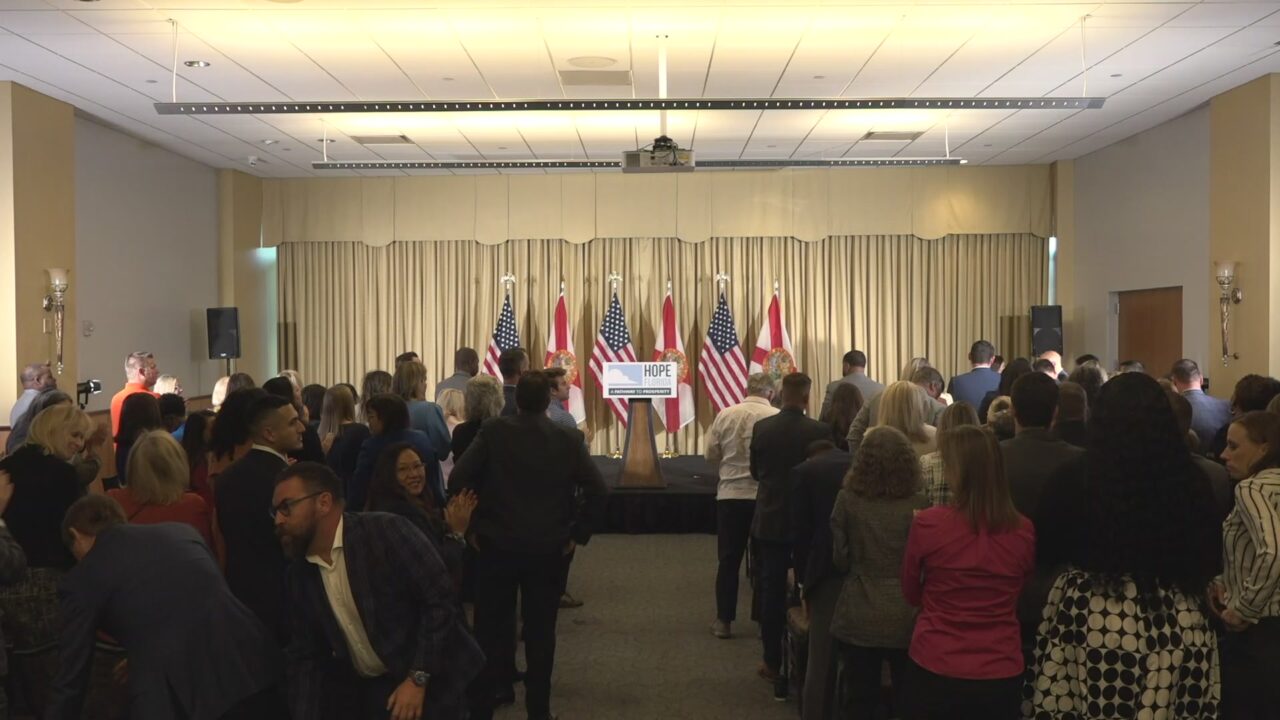 'Hope Florida is really harnessing the horsepower that's always been there.'
After touring the state in 2019, First Lady Casey DeSantis saw a need — and a solution.
There were programs across state agencies to support Floridians who were down and out, but the work was siloed.
"We wanted to find a way to harness the horsepower that's always been there, to maximize the opportunities," said DeSantis at an event today in Tampa.
The Hope Florida initiative was born. Hope Florida utilizes "Hope Navigators" to guide Floridians on an individualized path to prosperity, economic self-sufficiency and hope by focusing on community collaboration between the private sector, faith-based community, nonprofits and government entities to break down traditional community silos, in an effort to maximize resources and uncover opportunities.
The initiative, part of the Florida Department of Children and Families, works with single mothers, kids aging out of the foster system, adoptive families and others to ensure the broad spectrum of available resources is meeting needs.
"What is really neat about this initiative is that if they find that those needs are not being met by the state government or the nonprofits, we're working with a CarePortal to tap into the generosity of the faith-based communities," she said.
Through CarePortal, Hope Florida issues real-time alerts to faith-based organizations about specific needs for individuals and families in their community. Volunteers sign up to fulfill those needs.
Today, DeSantis announced an expansion of Hope Florida to include partnerships with the private sector. Tampa Electric and Walgreens were the first at the table, joining her for the announcement.
"Florida is the first state in the nation to expand the CarePortal to the private sector. Now our partners in the private sector can sign up and see the needs in real time, then deliver on those needs," said DeSantis. "I think you're going to see a lot of people helped as a result."
Tampa Electric is committed to providing job opportunities and upscaling career paths. In addition, CEO Archie Collins announced a $100,000 donation to the Hope Florida fund.
"Hope Florida is a pathway to prosperity, a pathway to economic self-sufficiency. At TECO, we share the First Lady's vision," said Collins. "We want our communities to have hope for a brighter future, and we are answering the First Lady's call to action."
"Walgreens is uniquely positioned and qualified to work with the state to find employment opportunities for individuals in the Hope Florida initiative," said Nivea Santiago, regional vice president for Walgreens. "We're also going to support the effort with the donation of goods and access to health care services."
Shevaun Harris, Secretary of the Department of Children and Families and Michelle Branham, Secretary of the Department of Elder Affairs, were also a part of today's event.
Companies can sign up to participate at myflfamilies.com.