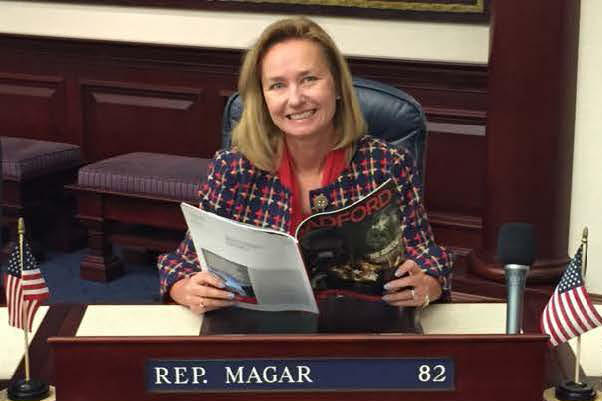 MaryLynn Magar was in the Legislature from 2012 to 2020.
A Republican state Representative who served four terms in the Florida House will serve her first term on the state Board of Education.
Former Rep. MaryLynn Magar, a Tequesta Republican who represented the former HD 82, was appointed Friday to the Board by Gov. Ron DeSantis.
Magar was Speaker pro tempore from 2018-2020. The current Chair of the Martin County Republican Party, Magar also is Vice President at Heart Care Imaging. She received her Bachelors Degree from Virginia's Radford University.
The appointed position comes after a career of electoral success for the South Florida Republican.
In 2020, she defeated Democrat Edward O'Connor by 25 points. In 2014 and 2016, she likewise took more than 60 percent of the vote in back-to-back contests against Democrat Mary Higgins.
The former HD 82 covered nearly all of Martin County and a chunk of northwestern Palm Beach County. It includes the communities of Hobe Sound, Indiantown, Jupiter, Limestone Creek, Port Salerno and Tequesta.
The district was reliably Republican. When Magar left the Martin County Commission to run for HD 82 in 2012, she cruised to a 10-point win in the Republican Primary getting near 100 percent of the vote against a write-in on Election Day.
DeSantis also reappointed two members to the Board of Education.
Tampa's Kelly Garcia, who serves on the Board of Directors of Frameworks of Tampa Bay and is the Chair of the Research and Development Committee, also is on the Florida Virtual School Board of Trustees.
Parkland's Ryan Petty, the Head of Product and Marketing for Blue Rocket, Inc., Gemini division, rose to not just state but national prominence in the wake of the February 2018 mass murder at Marjory Stoneman Douglas High School, which claimed the life of his daughter Alaina.
All appointments are subject to confirmation by the Florida Senate.