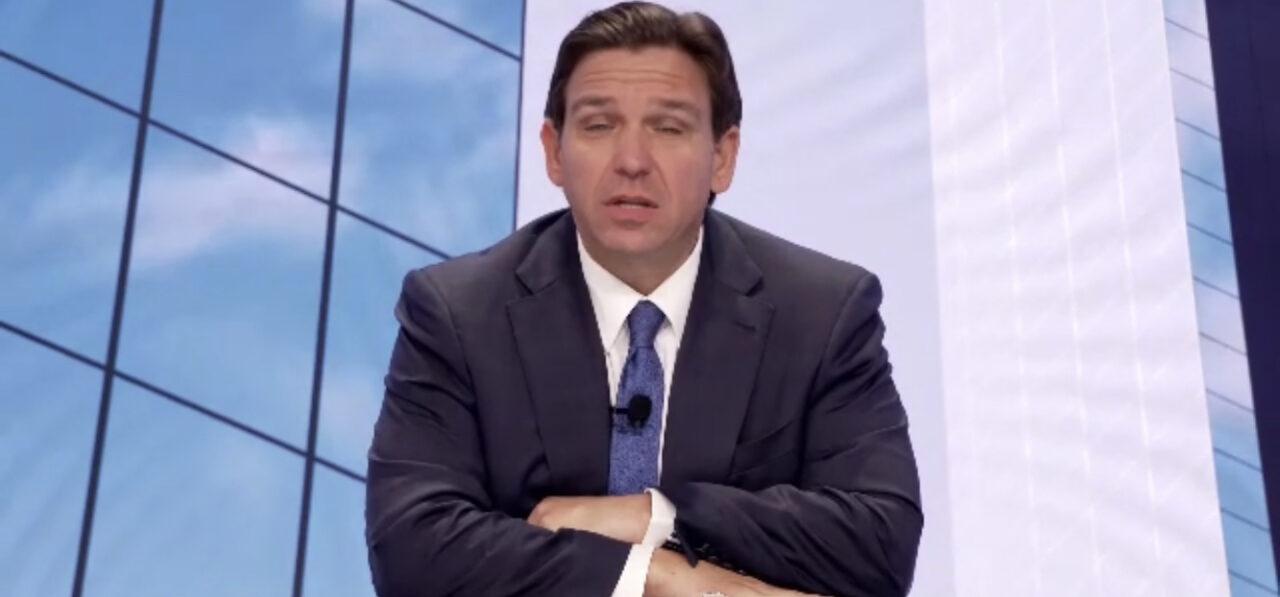 The Governor continues to try to find his foreign policy footing ahead of a 2024 run.
Ron DeSantis continues to explain his position on Ukraine, and his political enemies notice.
The Democratic National Committee's DNC War Room noted Friday that the Florida Governor has given a "FIFTH different answer" on questions related to the Russian invasion of its neighbor.
"Committed to siding with Vladimir Putin over democracy, Ron DeSantis has found a FIFTH different answer to defend his Ukraine stance. DeSantis tripled down on calling Russia's invasion of Ukraine a "territorial dispute" last night after bungling his answer to Piers Morgan just two days prior. No matter how DeSantis chooses to stumble over his Ukraine answer, his decision to be on the same side as Putin makes abundantly clear how far he's in over his head," a media release notes.
The Governor continues to struggle with a consistent answer despite a series of non-adversarial, handpicked interviews.
On Thursday night, he attempted to clarify to Eric Bolling of Newsmax what his position actually is on the conflict.
"So I never changed anything," DeSantis said.
He contended critics are "talking about when President Donald Trump was in. Weapons were sent when I was in Congress and I supported it. But that was to deter Russia from invading and, you know what, they didn't invade for many years."
"And that only broke down when Joe Biden got in. And I think there's a variety of reasons for that. But I think part of the reason was the failure in Afghanistan. I think Vladimir Putin believed he could get away with more because he saw how weak Biden was," DeSantis affirmed.
"That's a much different situation to now being in a situation where you have Ukraine and Russia fighting over kind of the border lands there in the far eastern part of Ukraine and over places like Crimea. And my position on that is, you know, I care more about securing our own border in the United States than I do about the Russia-Ukraine border."
"And it seems like the establishment … they ignore the problems that we have here at home as Americans," DeSantis said, citing the Mexican border as a situation "costing American lives" and allowing "suspected terrorists" to enter the United States.
"You also have to ask if they're constantly talking about this being something that we have to have an open-ended blank check policy for." DeSantis said, suggesting that more gas pipelines and drilling for more oil domestically would "weaken Putin."
The Governor also noted the proxy war in Ukraine, "essentially a stalemate," is depleting "our current weapons stockpiles here in the United States."
"And the fact of the matter is they're declining and so that impacts our ability to respond to threats in other places in the world," DeSantis noted.
That Newsmax interview was the second time this week DeSantis tried to add more context to his position on the Russian invasion of Ukraine, which he originally deemed a "territorial dispute" and not one of America's "vital national interests" in a statement provided to Tucker Carlson.
"Well, I think it's been mischaracterized. Obviously, Russia invaded (last year) — that was wrong. They invaded Crimea and took that in 2014 — that was wrong." DeSantis told Piers Morgan, before seeming to contextualize Russia's claim to Ukrainian territory.
"What I'm referring to is where the fighting is going on now, which is that eastern border region Donbas, and then Crimea, and you have a situation where Russia has had that. I don't think legitimately, but they had. There's a lot of ethnic Russians there. So, that's some difficult fighting and that's what I was referring to and so it wasn't that I thought Russia had a right to that, and so if I should have made that more clear, I could have done it," DeSantis added.
Despite conceding his most recent position was muddled, if only by bad interpretation, the Governor reiterated his stance that conflict essentially is not worth a more active American military presence.
"I just don't think that's a sufficient interest for us to escalate more involvement. I would not want to see American troops involved there. But the idea that I think somehow Russia was justified (in invading) — that's nonsense.
"I think they have the right to that territory," he added, referring to Ukraine. "If I could snap my fingers, I'd give it back to Ukraine 100%. But the reality is what is America's involvement in terms of escalating with more weapons, and certainly ground troops I think would be a mistake. So, that was the point I was trying to make, but Russia was wrong to invade. They were wrong to take Crimea."
These rhetorical recalibrations come after support in Congress for involvement in the conflict.
The U.S. House in 2014, then controlled by Republicans, passed the Ukraine Support Act, which authorized then-President Barack Obama to provide assistance to the nation after Russia occupied Crimea. The bill included sanctions against individuals in the Russian government supporting President Vladimir Putin. The legislation passed overwhelming bipartisan support, with a 399-19 vote. DeSantis voted in support.
A year later, as most Republicans demanded Obama offer stronger support to Ukraine, then-U.S. Rep. DeSantis told conservative radio host Bill Bennett he wanted the administration to do more. CNN unearthed the interview for a report last month.
"We in the Congress have been urging the President, I've been, to provide arms to Ukraine. They want to fight their good fight. They're not asking us to fight it for them. And the President has steadfastly refused. And I think that that's a mistake," DeSantis said at the time.
And in 2017, as Democrats criticized then-President Donald Trump for purported coziness with Putin, DeSantis took to Fox News to defend the President. At that point, he still wanted to pop Obama for appeasement while discussing the Republican President's position.
"I'm dizzy with how Russia is handled by the Democrats," he told host Trish Regan.
"A couple years ago, Obama was refusing to provide lethal aid to Ukraine, they were trying to do a reset. The Democrats lauded that. They viewed guys like me who are more of the (Ronald) Reagan school that's tough on Russia as kind of throwbacks to the Cold War. They criticized Mitt Romney in 2012. Now all of a sudden, because they're using it against Trump, they're so concerned about Russia. I think we should be concerned about them, but I think a lot of this stuff has reaped the politics from the day that election happened."
Finally, DeSantis refused to comment on Russia's invasion of Ukraine last year until it was five days in. When he did, he praised Ukrainian leadership. At the time, he said President Biden needed to act tougher and bring sanctions against Putin and Russia.
"This is a guy who basically is an authoritarian gas station attendant — OK? — with some legacy nuclear weapons from the old Soviet Union," DeSantis said of Putin. "Their whole society is hollowed out except for that energy. Hit him where it counts."
—
A.G. Gancarski and Jacob Ogles contributed reporting.