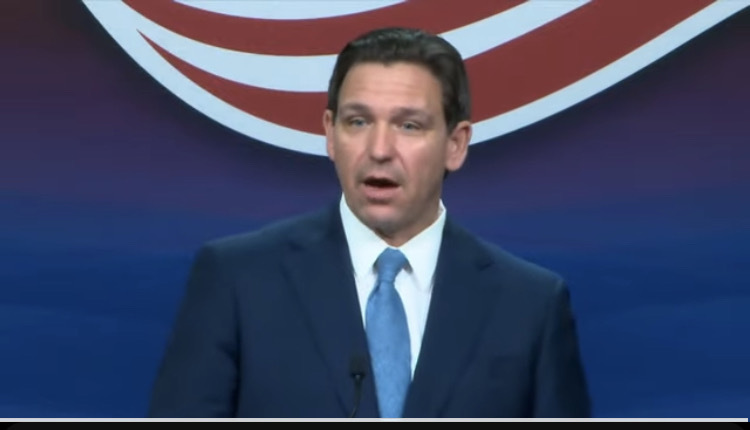 'Even if it's true, it's only a misdemeanor.'
Ron DeSantis continues to calibrate his messaging about the indictment of Donald Trump.
The Governor addressed Republicans at the Pennsylvania Leadership Conference in Harrisburg where he again tweaked his verbiage about the indictment in the only new material in his speech.
DeSantis painted Manhattan District Attorney Alvin Bragg as yet another George Soros prosecutor, while not mentioning Trump by name.
"And now you have this Manhattan District Attorney who, his whole platform when he got elected, was that he was going to downgrade as many felonies as possible to misdemeanors. He was going to keep as many people out of jail … as many habitual criminals as possible. And he was going to go light on all these things as part of criminal justice reform," said DeSantis.
"So that's his posture! He doesn't want to charge people with felonies. So now he turns around, purely for political purposes, and indicts a former President on misdemeanor offenses that they're straining to try to convert into felonies. That is when you know that the law has been weaponized for political purposes," DeSantis added.
"That is when you know that the left is using that to target their political opponents," DeSantis said, drawing applause. "And I can tell you this: these Soros DAs are a menace to society, a menace to the rule of law."
The Governor said similar things in Long Island in the evening, calling the case against Trump "flimsy," without mentioning him by name again. But he added a little shiv.
"Even if it's true, it's only a misdemeanor," DeSantis said, offering some backhanded praise.
DeSantis has struggled with messaging about Trump's impending indictment, falling in line with Republicans in a tweet late Thursday.
"The weaponization of the legal system to advance a political agenda turns the rule of law on its head. It is un-American," DeSantis decried.
"The Soros-backed Manhattan District Attorney has consistently bent the law to downgrade felonies and to excuse criminal misconduct. Yet, now he is stretching the law to target a political opponent. Florida will not assist in an extradition request given the questionable circumstances at issue with this Soros-backed Manhattan prosecutor and his political agenda," DeSantis added.
Trump is expected to surrender voluntarily in New York, so that pledge not to assist may not add up to much.
Earlier this month, DeSantis struck a balance between condemning the expected indictment as spurious and political, while finding a way to drag Trump for "porn star hush money" allegedly paid to Stormy Daniels years ago. That "porn star hush money" trope has not recurred since.
"You're talking about this situation, and like, I don't know what goes into paying hush money to a porn star to secure silence over some type of alleged affair. I just can't speak to that," DeSantis said in Panama City.