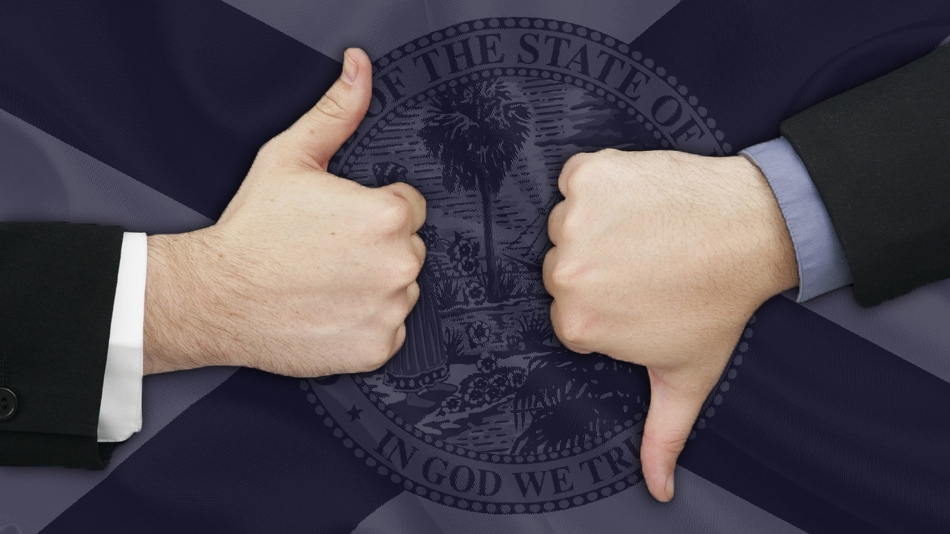 Did Disney just outmaneuver Gov. DeSantis? Trump, meanwhile, has a rocky road ahead after being charged.
Florida's recent fixes for the home insurance market were not supposed to be overnight fixes. For a market that's seen as much turmoil as Florida's has in recent years, it's unclear that anything could have brought solutions overnight.
But this week, that reality was brought into the spotlight as Citizens and several other insurers announced they are requesting significant rate hikes.
Citizens is seeking an average 14.2% rate increase statewide. First Community Insurance Company wants a 44.8% increase in their homeowners' rates. KIN Interinsurance Network is asking for a 61.5% bump.
Regulators must approve those requests, so they aren't set in stone yet. But they represent the difficulties insurers continue to struggle with, even after lawmakers approved reforms to assist insurance companies and stabilize the market.
The question on the minds of Floridians dealing with skyrocketing premiums is: when will relief finally kick in?
That remains hard to say. And those looking for help from the state don't see much hope either. The state's helpline is open just three hours per day now due to overwhelming demand and an underfunded staff to deal with the flood of complaints.
Rep. Hillary Cassel, a Dania Beach Democrat, is pushing lawmakers to fix the hotline with more funding.
"We can't have a part-time insurance consumer hotline when we have a full-time property insurance crisis in Florida," Cassel said.
Lawmakers still have time this Session to come through with additional funding here. But these two data points show that Florida still has a long way to go in controlling this crisis.
Now, it's on to our weekly game of winners and losers.
Winners
Honorable mention: Concealed carry advocates. The Legislature has approved a measure eliminating the need to secure a concealed firearm permit. Gov. Ron DeSantis has signaled he would sign that legislation.
The bill is a win for some gun rights enthusiasts, but not all. We have documented the tension surrounding this bill. Republican lawmakers likely pushed it to throw a piece of red meat to the base. But the most vocal advocates for expanding gun rights were unhappy with this bill.
Even this week, pro-gun advocates — who want full open carry legalized rather than just eliminating the permit requirement for concealed carry — were calling out DeSantis and legislative Republicans for not going far enough with this bill. Sean Themea, Chief of Staff at Young Americans for Liberty, even suggested DeSantis should veto the measure for falling short.
That's not going to happen, and DeSantis is even now signaling he may push for a Special Session to adopt an open carry bill. DeSantis added the caveat that he would only do so if he could get the votes. And with even some Republicans opposed to open carry, it's not clear that would happen.
But those against government involvement in guns won this week, with a hint that more could be coming. Republicans may have miscalculated in playing to the base here. But those who approve of this middle ground, such as the state's Sheriffs, got a win with the measure in its current form.
Almost (but not quite) the biggest winner: Kathleen Passidomo. Senate President Passidomo pushed for a measure addressing the state's affordable housing crisis. This past week, DeSantis signed the legislation after lawmakers in both chambers approved it.
The bill aims to incentivize developers to offer affordable units to Floridians, as the state has had among the highest cost hikes in the country in recent years.
"Under the new law, local governments must approve multifamily housing developments in areas zoned for commercial or mixed-use if the development includes 40% of its units for affordable housing, defined as offering rents within 30% of the local median income. The developments, though, would be required to stick to a city's comprehensive plan, except for density and height restrictions," reported Gray Rohrer of Florida Politics.
"Developments built in the last five years with 70 units or more will be eligible for a property tax exemption if they offer rents at least 10% below the local market rate. Cities and counties can also offer property tax exemptions to developments with at least 50 units that set aside 20% for affordable housing."
The measure also offers more than $700 million for the state's affordable housing programs.
The bill does not institute any rent control measures. In fact, it goes as far as to explicitly ban local governments from doing so. That's a likely shot at Orange County, which sought to institute such an ordinance as a last-ditch effort to deal with skyrocketing prices. Other municipalities have considered similar measures.
The new restrictions didn't play well with some affordable housing advocates. But the state did step in a significant way here, all behind the leadership of Senate President Passidomo.
And among lawmakers, the bill was a bipartisan hit. The Senate approved the bill unanimously and only garnered six "no" votes on the House side.
The biggest winner: Disney. The company brought some of its patented Disney Magic in dealing with the Governor's newly appointed governing Board by proactively stripping those new Board members of much of their power.
The new Board revealed the maneuver at a meeting last week. Apparently, before the former Board members — who largely answered to Disney — were shown the door, they approved several restrictions for the new, DeSantis-loyal members going forward.
The new governing Board can't use the name "Disney," any of its logos, characters, or any other intellectual property without Disney's permission. More substantively, the Board has no say over much of Disney's building plan. That was one of the most significant powers of the former Board.
According to the Orlando Sentinel, the new Board members have threatened to fight the move.
"We're going to have to deal with it and correct it," said Board member Brian Aungst Jr. "It's a subversion of the will of the voters and the Legislature and the Governor. It completely circumvents the authority of this Board to govern."
But Disney released a statement saying all the changes were properly noticed.
"All agreements signed between Disney and the district were appropriate and were discussed and approved in open, noticed public forums in compliance with Florida's Government in the Sunshine law," a company statement said.
The Florida Attorney General's Office is now requesting documents related to the changes. Regardless of how this shakes out, Disney just bought itself some significant time while any legal challenge shakes out. That time could see a new Governor take over, one not so hostile to Disney, and lead to a new Board Disney can work with.
At best, though, Disney just played the Governor's team hard. DeSantis wanted A Whole New World, but he may have to Let It Go if Disney is successful here.
Losers
Dishonorable mention: DeSantis. And this Poor Unfortunate Soul is on the other end of that deal.
DeSantis and his team are doing their best to insinuate they're playing 4-D chess with Disney. DeSantis is promising "more to come" regarding the state's back-and-forth with Disney, and spokesperson Christina Pushaw tried arguing DeSantis "always thinks 10 steps ahead" in cautioning against anyone thinking DeSantis got dunked on here.
Time will tell whether DeSantis has an ace up his sleeve here. But at a minimum, DeSantis' judgment day against the company just got delayed several years due to legal battles. And for a Governor used to "owning" opponents, typically an easy move in a GOP-controlled state, he certainly isn't used to hitting roadblocks like this.
But frankly, the Disney episode isn't the only thing that places DeSantis here this week. As he continues molding his position over the war in Ukraine, he's getting pilloried by the Trump camp, calling him a "neocon" for his recent tough talk against Vladimir Putin and by Democrats arguing DeSantis is appeasing Putin by arguing the war is not a top U.S. priority.
Sometimes, criticism from both sides means you've landed in a reasonable spot.
But with the spotlight shining brightly on DeSantis, Trump continuously bashing the Florida Governor, and DeSantis not having officially entered the race or gone on the offensive, voters, donors and pundits are still very much in a period where they are looking for red flags. We've seen this move in recent years with Jeb Bush, Scott Walker, etc., and if DeSantis gets effectively painted as a waffler here, that could put a dent in his support.
Speaking of which, Fox News had a poll showing Trump up big over DeSantis nationally, with the former President earning majority support in the Primary. Our elections are not held based on a majority vote nationally, and DeSantis may play better in early Primary states.
But the new survey gave even more evidence that the mood is shifting Trump's way. The former President has taken to playing up the swing toward him in the polls, and now his team released its first ad directly targeting DeSantis.
Things are continuing to heat up for the Governor, and while there is still plenty of time, he needs to show he's ready for prime time.
Of course, he also got some good news regarding his top rival for the nomination this week. But more on that in a sec …
Almost (but not quite) the biggest loser: Barney Bishop. The Chair of Tallahassee Classical School courted countless headlines after a principal who showed students Michelangelo's "David" sculpture was forced to resign.
Now, there has been some back-and-forth over whether this story was as simple as the principal being fired for showing the nude sculpture, an iconic piece of artwork. Principal Hope Carrasquilla said she had tension with the Board before the incident, and some have argued that her lack of notifying parents ahead of time led to her forced resignation, not simply showing the statue itself.
Regardless, how Bishop handled the incident led to the school becoming pilloried. This week, even conservative Hillsdale College announced it cut ties with the school.
Tallahassee Classical had used Hillsdale's curriculum. But its handling of the Michelangelo was a bridge too far for Hillsdale.
"To set the record straight: This drama around teaching Michelangelo's 'David' sculpture, one of the most important works of art in existence, has become a distraction from, and a parody of, the actual aims of classical education," read a news release from Hillsdale.
"Of course, Hillsdale's K-12 art curriculum includes Michelangelo's 'David' and other works of art that depict the human form."
That's quite a rebuke coming from the conservative-leaning institution, as conservatives have pushed for a crackdown on materials deemed unsuitable for kids.
But dissing "David" was over the top, even for Hillsdale.
Not a good look for Bishop's tenure atop Tallahassee Classical. One wonders whether he should follow in Carrasquilla's footsteps.
The biggest loser: Donald Trump. I guess District Attorney Alvin Bragg didn't drop those charges, did he?
It's been noted (ad nauseam) that Trump is the first sitting or former President ever to be indicted in the U.S. While that's an interesting historical note, it ignores two far more critical issues.
First, heads of state in other Democratic countries, and other politicians here, routinely get charged when they commit crimes. That leads to the second point: are these charges warranted?
People on both sides of the political aisle have already rushed in with their respective takes. Trump haters are celebrating, while those in Trumpworld already dismiss this as a witch hunt. But folks, as of this writing, we still have not even seen the full indictment. That's a good reason to tone down the hot takes unless you've got a narrative you want to spin, irrespective of the facts.
Still, if Trump does dodge punishment here, it won't be before months (or more) of legal wrangling. That saps time and resources he could otherwise be using on his campaign for President.
And indeed, having his name in the history books this way doesn't look great.
A critical way in which it does matter that the seal has been broken regarding ex-Presidents being charged: there is now one less hang-up for prosecutors in other cases — such as the Georgia election interference probe of the special counsel investigation into Trump's handling of classified documents — to hold off on otherwise-warranted charges for fear of breaking precedent.
Bragg has blown the doors off the stigma of pressing charges in a case like this, which could lead to even more headaches for the former President as he seeks the White House once again.
And, of course, Trump's abhorrent comments in recent weeks surrounding an indictment deserve special notice here.
Trump has a knack for hinting at violence without directly threatening it. That gives him and his defenders enough of an out to defend such remarks, but any honest observer knows what he's doing. Trump's sole focus is himself and his own well-being, no matter how much he cares about loving America. If pushing for violence and tearing this country apart is his last resort to avoiding consequences for his actions, he won't hesitate to do so.
Hopefully, Americans will recognize that no one man is worth destroying this great country and that there are very real and potentially dangerous times going forward, depending on how Trump and his team react to this indictment, and potentially others.
It's up to Trump how he wants to play this. Trump may very well beat back these charges on the merits, and doing so in a dignified way would likely strengthen his standing among the base. But so far, he's chosen to go into the gutter. Now that he's facing charges, that could lower the incentive for mainstream Republicans to defend the former President, making it harder for him to win a General Election even if he does secure the nomination.