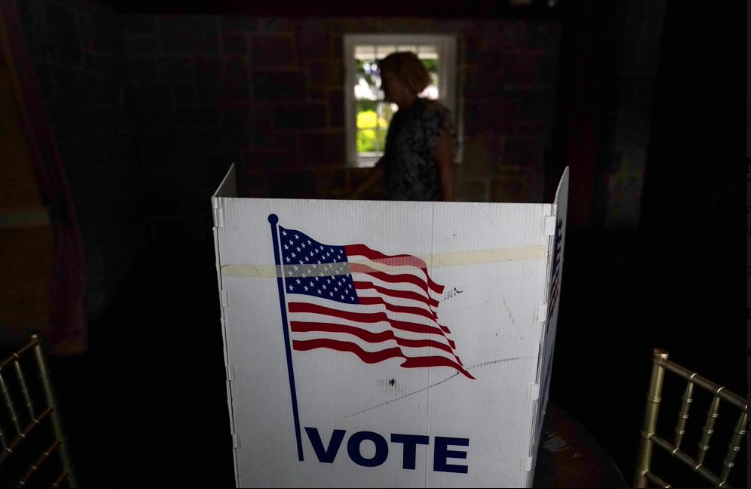 The full bill language dropped less than 24 hours before its first committee hearing.
A voluminous bill tightening Florida's election strictures and easing campaign finance reporting requirements is headed to its first committee hearing — at the panel that filed a shell version of the measure last week.
Contrary to initial conjecture, the bill does not concern Florida's resign-to-run law.
The sweeping, 98-page proposal (SPB 7050) takes aim at many of the state's current rules for candidates, voters and the government entities tasked with regulating them.
Senate President Kathleen Passidomo credited the bill to Zephyrhills Republican Sen. Danny Burgess, who chairs the Senate Ethics and Elections Committee, where it will be up for consideration at 2 p.m. Tuesday.
The full language of the bill dropped at 2:09 p.m. Monday, drawing chides from Orlando Democratic Rep. Anna Eskamani, who called the late notice "absurd."
"Not only is it absurd, but it's undemocratic and clearly designed to avoid public scrutiny," she said in a statement. "We should be introducing election reforms that make it simpler for people to vote and get registered to vote, not policies that make it harder."
One of the many changes included in the bill would help prevent another "ghost candidate" scandal by requiring an incumbent in a race to have "incumbent" written next to their name on a ballot. Current law only requires that designation when two or more candidates running for the same office have the same or similar surnames.
Candidates who wish to run under nicknames would have to file a separate affidavit asking for it, and unless two candidates share the same name, honorary titles like "Dr." and "Mrs." would be barred from appearing on voting forms.
Notably, SPB 7050 would change the frequency with which state and local candidates must report campaign activity from once monthly to every three months, the same as candidates for federal office.
It would also ban county and municipal governments from adopting different reporting schedules for their local races.
The bill would require all polling personnel responsible for signature matching to undergo training through the Secretary of State's office and require new Florida voters to vote in person the first time.
Current law allows new voters to include a copy of a valid ID with their returned mail ballot unless federally excepted.
Supervisors of Elections would only be allowed to honor vote-by-mail requests if made by the voter, a member of his or her immediate family or the voter's legal guardian.
The bill would also require third-party voter registration groups to register with the state for each specific general election cycle, after which the state would purge them. The groups would also have to give receipts to each applicant they sign up and reduces the number of days they have to deliver voter registrations to the Supervisor of Elections from 14 days to 10.
Failure to do so in a timely fashion would carry far steeper penalties under the bill's current language. Rather than fines of $50 to $100 for applications delivered late and a $500 fine for non-delivery, tardy groups would face $50 to $100 fines for each day beyond the 10-day deadline and up to $100,000 in total aggregate fines per year, double the sum under the current rules.
Any person collecting voter registration applications for a third-party group who keeps copies of a registrant's personal information — including their driver's license number, social security number or signature — for nonofficial reasons would face a third-degree felony.
People who "willfully cast" more than one ballot in an election or harass, intimidate or threaten election workers would commit a third-degree felony punishable by up to five years in prison, a $5,000 fine and five years of probation.
The bill would also mandate Supervisors of Elections be proactive in removing inactive or invalid voters from its rolls, including holding at least one annual review focused on finding voters who no longer live at their listed residences.
To avoid a repeat of since-tossed charges from last year against 20 people arrested for election fraud across Florida, the bill calls for Supervisors of Elections and Clerks of Court to identify registered voters in their jurisdiction who have been convicted of a felony and cannot legally vote.
In circumstances where a voter's eligibility is in question and the voter challenges the accuracy of the information, the voter may request a hearing on the matter. The voter would have just seven days to respond to a notice of potential ineligibility. The Supervisor of Elections would then have 30 days to make a final determination.
If the voter does not respond within that time span, the local Supervisor of Elections would have to remove the voter from the statewide voting registration system and notify the person. The removed voter could appeal the decision.
Misleading mailers are also addressed in the bill, which would make circulating false "voter guides" designed to look like they are from a political party — but aren't — a first-degree misdemeanor.
Violators would be on the hook for $25 for each fake "voter guide" distributed, with penalties not exceeding $2,500 per month. If a person or organization manages to rack up three maxed-out monthly fines, their fourth and subsequent violations would be multiplied threefold for each count.