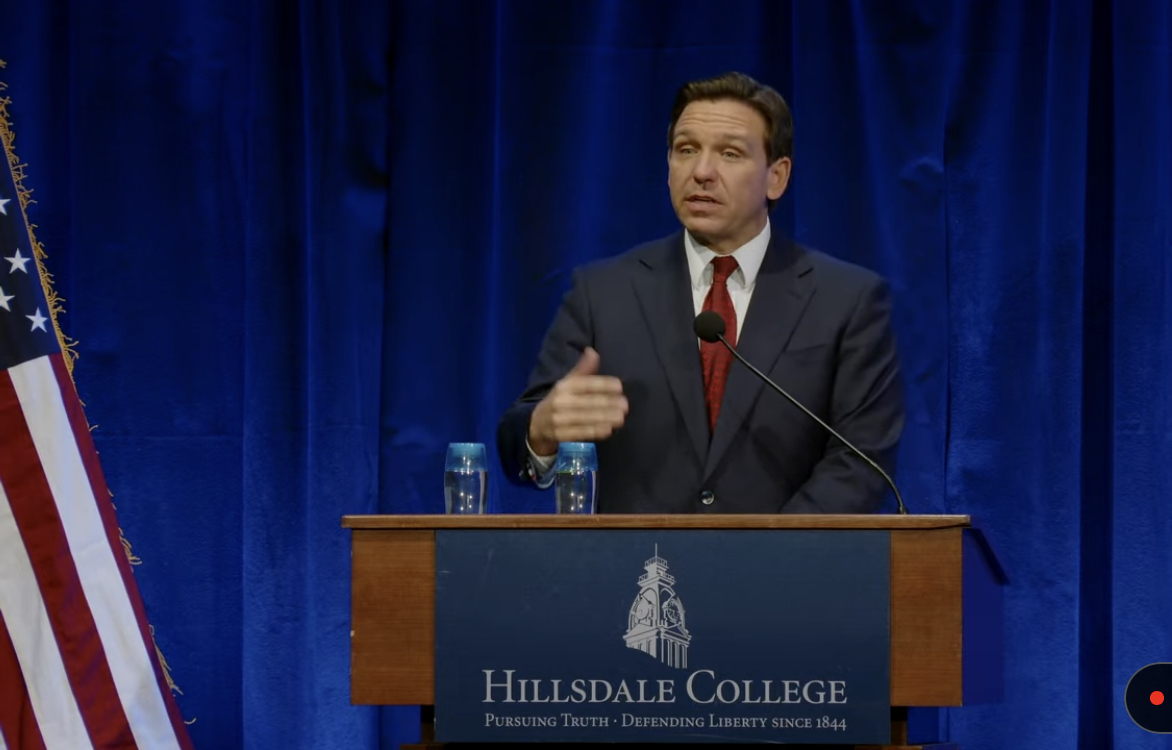 'Can you imagine how good that would be?'
For a second time during his Michigan trip Thursday, Ron DeSantis extolled his own performance in remaking New College of Florida, and found a uniquely receptive audience at Hillsdale College for his pledge to turn it into a "little Hillsdale."
"We put six conservative board members on a small liberal arts college in Sarasota called New College. I put Dr. (Matthew) Spalding on, I put Christopher Rufo from the Manhattan Institute and some other people," DeSantis said. "They came in, got rid of the president, hired a president, eliminated DEI and CRT."
"The President fired the Provost and it's now been a new mission of being a classical liberal arts college. So we're going to be like a little Hillsdale maybe down in Florida. Can you imagine how good that would be?"
These remarks were the second ones he made in Michigan clowning New College.
In remarks at the Midland County Republican Party Spring Breakfast, DeSantis claimed that no one had heard of the school before he made his changes.
"I had a small liberal arts college in Sarasota called New College of Sarasota (sic). I don't think anyone had even heard of it. Very few people had heard of it. It was performing very poorly," DeSantis contended.
"It was supposed to be Florida's top honors college in the entire state under Florida Statute. That's what it says. But what happened is it became an ideological epicenter. It was all about things like gender ideology, (critical race theory) and all that," DeSantis added. "And we don't think that that has a lot of value from the perspective of our taxpayers."
The Governor framed his drastic revision to the college's board of trustees, which installed former Education Commissioner Richard Corcoran as President and gave him a $699,000 salary, as a way to "make sure it aligns with the state's values."
On Jan. 6, 2023 the Governor named six new members (Mark Bauerlein, Debra Jenks, Charles Kesler, Rufo,  Spalding and Eddie Speir) to the board, in a push to make the quirky Southwest Florida school what one senior aide called the "Hillsdale of the South."
Those board members are subject to Senate confirmation, and that process is moving this Legislative Session. On Wednesday, the Senate Education Postsecondary Committee advanced the confirmation of the new trustees on a 5-2 party-line vote.