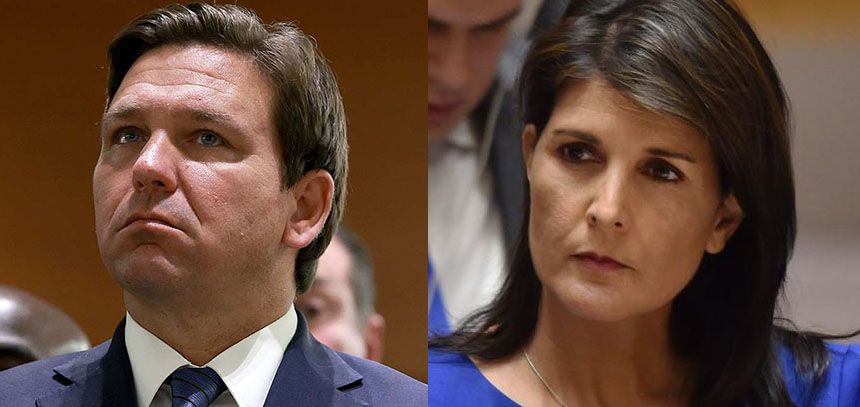 The former UN envoy continues to call the Florida Governor out.
More doubts are being raised about Ron DeSantis' presidential mettle by an already-declared candidate for The White House.
In a memo first reported by the New York Post, the manager of the Nikki Haley campaign snarked that the Florida Governor has proven that he's "not ready for prime time" even before formally launching a 2024 bid.
"Ron DeSantis essentially launched his presidential campaign with a national book tour during this period and made one misstep after another, confirming what many observers have long suspected: he's not ready for prime time," writes Betsy Ankney. "Among other things, he declared Russia's brutal, unprovoked, and illegal invasion of Ukraine a mere 'territorial dispute.'"
The book tour bash is new. Yet Haley herself has been more critical of DeSantis than her staffer, contending that the "weak in the knees" Florida Governor is floundering in the face of the existential threat posed by Vladimir Putin.
"That weak in the knees mentality is exactly what got us in the situation we're in with China is with people saying, 'Oh, they're fine, they can't do anything. We need to leave them alone, we need to stay out of it,'" Haley contended on Fox News' America's Newsroom on March 24.
"Well, now look at what China is doing to us, you know, they're buying up our farmland. We're looking at the sky and we're seeing a Chinese spy. They're sending fentanyl across the border. You know, we're seeing, they gave us COVID, we're continuing to see one threat after the other. You can't have that kind of weak in the knees mentality when it comes to Russia."
Haley previously suggested DeSantis' confusion on the issue stemmed from being an imitator of former President Donald Trump.
"President Trump is right when he says Gov. DeSantis is copying him — first in his style, then on entitlement reform and now on Ukraine … Republicans deserve a choice, not an echo."