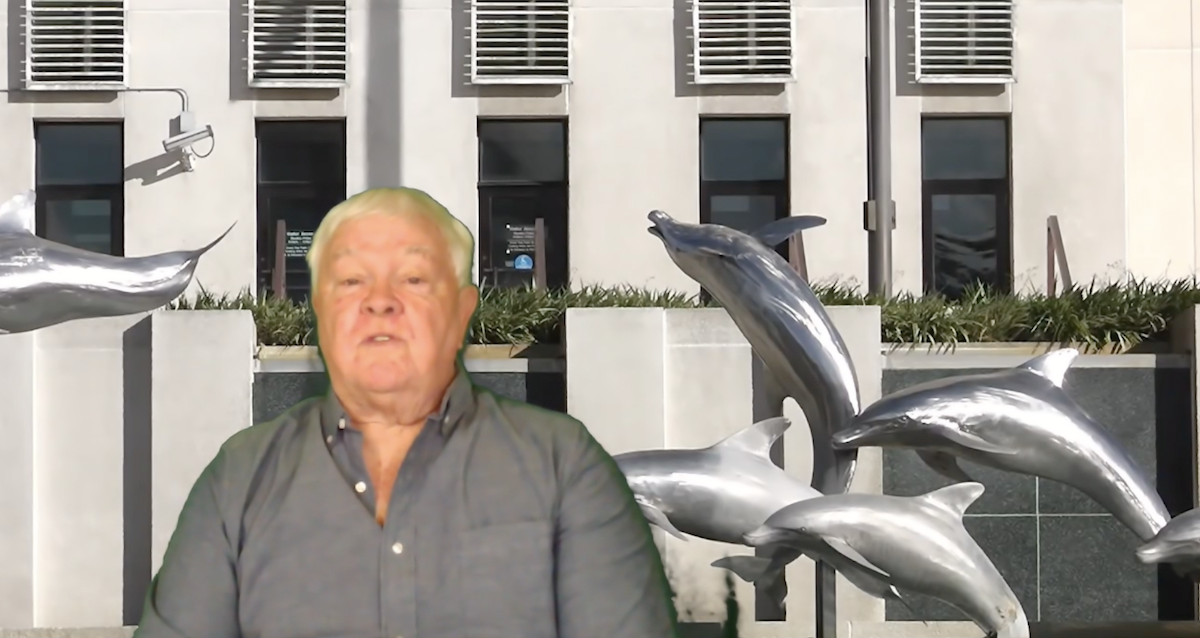 The perennial candidate how gone from concerned to upset about the state of Florida.
When John Houman first ran for the Florida Senate, he ran as a Republican with the moniker "Mr. Manners." Today, his campaign website is topped with advice to Donald Trump not to "drop the soap!"
"I know it's a little crude," Houman said of the joke, an allusion to Trump's criminal indictment in New York. But it's also a sign of Houman's approach as he makes another long shot run for Senate.
Call it a change in personal politics or a shift in the wider political climate. As Houman runs again for the Senate, this time in Senate District 23, he changed his registration to the Independent Party and his tone from mannerly to acerbic.
But while he once ran as a moderating voice in a deep blue district, his platform now takes issue with Republican leadership. Hours ahead of Gov. Ron DeSantis signing a six-week abortion ban, Houman said he can't recognize the modern GOP.
"I was a Republican because my father was a Republican and my grandfather was a Republican," he said. "But within the last three years, the party is not what my dad and grandfather would know as Republicans. They'd turn over in the grave if they knew the people running the Republican Party right now."
He said the party today isn't that of Ronald Reagan. He likewise thinks Robert E. Lee today would be so upset at Southern politics that he would "be a yankee."
But none of this should leave the impression that Mr. Manners has turned mean. He's challenging Sen. Danny Burgess, a Zephyrhills Republican, but remains careful not to make attacks personal.
"He's a really good person," Houman said of Burgess. "But the problem is the two main things he is for, I am against. If it's up to him, there would be zero tolerance on abortions and everybody should have a gun."
In contrast, when Houman moved to Florida in 1980, he left all the guns he owned in Wisconsin. "The only thing guns are good for in the city is to shoot people," Houman said.
Meanwhile, women's rights will be a major plank of the Independent's campaign. The recent legislation shows government intrusion on rights, but Houman noted that's nothing new for the Senate.
His website notes that as far back as the 1970s, the House, then controlled by Democrats, voted to ratify the Equal Rights Amendment three times, but the Senate always refused to take it up.
"The Florida Senate thinks women are second-class citizens," Houman said, "and they treat them that way."
Florida, he said, has turned a blind eye to discrimination based on gender, race, sexual orientation and gender identity. He's no fan of Gov. Ron DeSantis.
Houman knows the challenges in running as an Independent, but at least likely will get a ticket to the General Election. Burgess in 2022 beat Democrat Mike Harvey with more than 63% of the vote.
Houman laments how redistricting has left most Senate districts leaning so far left or right that most contests are decided in party Primaries. He believes all would be better if Senators had to appeal to voters in the middle.
Instead, he said both parties elect extremists unwilling to compromise. Ideally, Houman said he would like a Top 2 runoff system like the one that exists in California.
Houman has run before, as a Republican against Democratic Sen. Darryl Rouson and later as a Primary challenger to Republican Sen. Jim Boyd. He runs now without a major party, unhappy with the main prospects to lead Republicans in 2024.
He considers DeSantis a contrarian more interested in opposing anything Democrats support than in advancing a vision. And then there's Trump.
"I really liked Trump in the beginning," Houman said. "But I thought he would rise to the office and he has done the exact opposite."