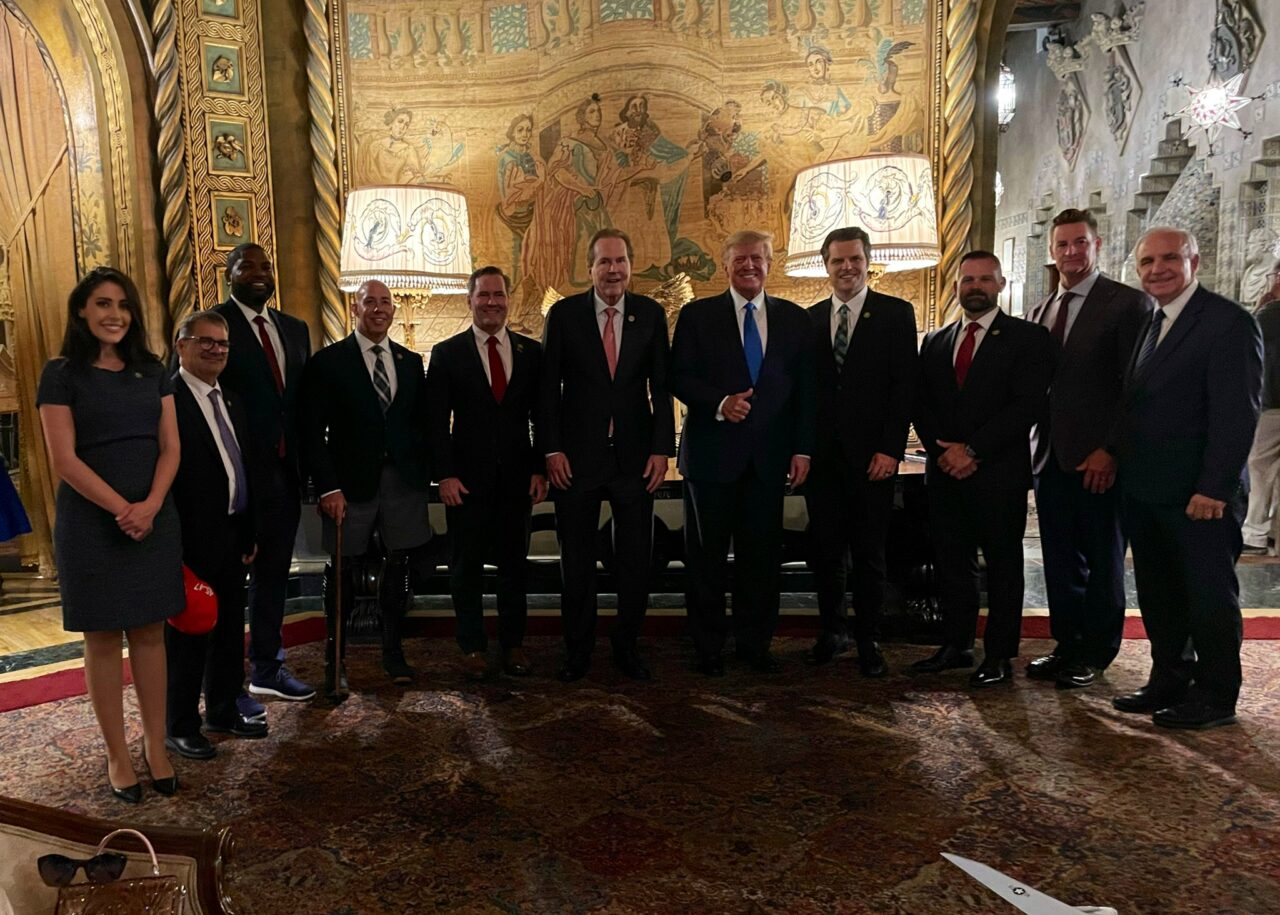 The Miami-Dade Republican is the 11th member of Florida's House delegation backing Trump over Ron DeSantis.
Count U.S. Rep. Carlos Giménez among the Florida congressional delegation members endorsing Donald Trump over Ron DeSantis.
On Friday, he released a statement outlining his support for the former President.
"I was born in Cuba and fled my native homeland shortly after the Communist takeover," Giménez said. "In South Florida, we truly understand the value of freedom first-hand because so many of us know how it feels to live without it.
"Under Joe Biden, America is less safe, less prosperous, and less free. I am proud to endorse President Donald J. Trump to serve as our next Commander-in-Chief to fight socialism both at home and abroad, rebuild our economy, and to secure and protect our nation so that America continues being the freest, most exceptional country in the history of the world."
Photos released of a private dinner at Mar-a-Lago showed the Miami-Dade Republican among the Florida officials attending. Trump had made clear ahead of the event it would serve as a thank you banquet to those endorsing his bid for President.
"A great group of supportive Florida Congressmen and Congresswomen, all who have Endorsed me, will be coming to Mar-a-Lago tonight," Trump posted on Truth Social. "Our support is almost universal in Florida and throughout the USA. They remember fondly all of the incredible things I did while in office, one of the most successful Administrations in History. Will be a great night!"
Photos shared online by U.S. Rep. Anna Paulina Luna, herself a stalwart Trump supporter, show 10 members of the state's delegation made the trip from the Hill to Palm Beach County to dine with Trump. Members of Congress in attendance include: U.S. Reps. Gus Bilirakis, Vern Buchanan, Byron Donalds, Giménez, Matt Gaetz, Luna, Brian Mast, Cory Mills, Greg Steube and Michael Waltz,
While TIME earlier this week speculated Giménez would back Trump, he's the only member of Congress in the photos not to publicly confirm his support before the dinner.
That makes Giménez the 11th member of Florida's congressional delegation to back Trump over DeSantis, who is expected to announce a run for President within a matter of weeks. DeSantis has asked surrogates earlier this month to reach out and encourage Florida members to hold off on issuing an endorsement until after DeSantis entered the race.
Only one member of the state's delegation on the Hill has endorsed DeSantis. U.S. Rep. Laurel Lee, a Thonotosassa Republican, endorsed DeSantis last week the same day he visited Washington and met with a number of sitting members of Congress. Lee previously served as DeSantis' Secretary of State.
With 11 members of the congressional delegation publicly backing him, a majority of the 20 GOP House members representing Florida now have picked which Florida man they support for President. The eight uncommitted Republican members from Florida include U.S. Reps. Aaron Bean, Kat Cammack, Mario Díaz-Balart, Neal Dunn, Scott Franklin, Bill Posey, María Elvira Salazar and Dan Webster.