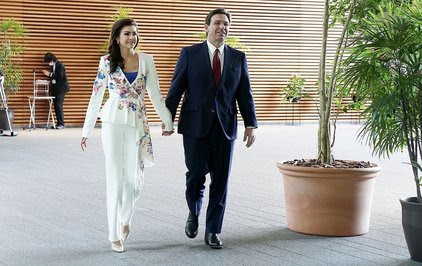 'Chicago used to be one of the greatest cities in America.'
Gov. Ron DeSantis weighed in on a mayoral election in Illinois for the benefit of Japanese businessmen.
During a roundtable discussion with Japanese business leaders from the Japanese Business Federation (KEIDANREN), DeSantis opined about the recent election of Brandon Johnson in Chicago.
"As the Governor of Florida, I watch elections around the country in the United States because if they go one direction, I know more people are going to move to Florida in response to that. And we've seen that just most recently with Chicago and their mayor election," DeSantis said.
Earlier this month, voters elected Brandon Johnson over Paul Vallas, the candidate preferred by the same police union that invited DeSantis to speak earlier this year.
"Chicago used to be one of the greatest cities in America. It's had huge problems and there's really a major need to go a different direction, and they elect someone that's going to keep going in the same bad direction at an accelerated pace," DeSantis lamented.
"People will start moving out of Chicago and they'll move to places like Naples and other parts of Florida. That will happen."
Earlier this month, DeSantis predicted that "refugees" would be bound for the Sunshine State after the majority of Chicago voters elected a Mayor.
"We are going to get more refugees as a result of that because it's like, you know, you see what's not working and you go even further in that direction. You just wonder, like, what is going on? But there's no question that, I think, you're going to continue to see a downward (trend) there," DeSantis added, predicting "probably more residents" would come to the Sunshine State.
He offered similar comments during a political speech in New Hampshire.
"You have a city going down the tubes and they elect somebody that's going to put it down the tubes even faster. I can tell you this, Naples property values are going to be going up in the state of Florida," the Florida Governor told the New Hampshire Republican Party.
He said the same thing to the Heritage Foundation while still stateside: "They just elected someone even more left. I can tell you, I'm going to see more people moving to Naples as a result of that election. That's just the way it works."