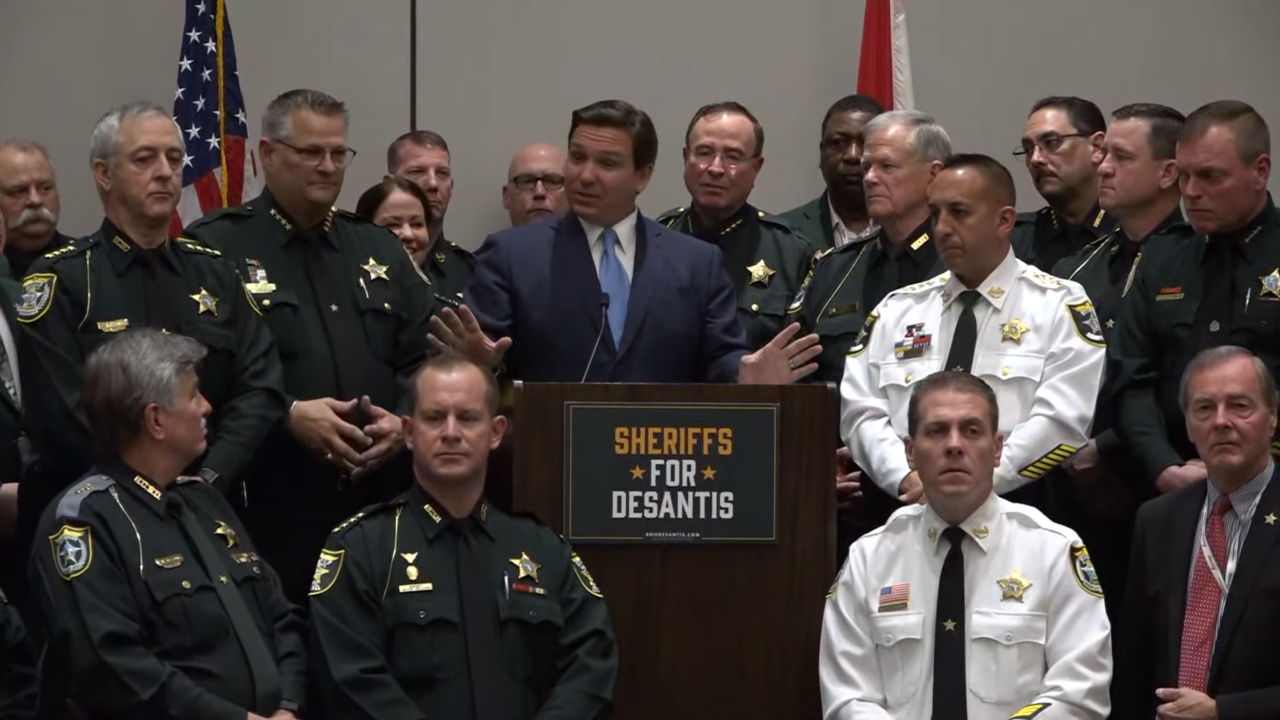 Presidents' Day is a travel day for America's Governor.
Gov. Ron DeSantis is on the road Monday, and reports are he will be Backing the Blue.
DeSantis is slated to speak in New York and Chicago, as part of what the New York Post describes as a "multi-city tour where he'll showcase his pro-cop bona fides."
The New York stop will be for the early birds: a 7:30 a.m speech at a catering hall in Staten Island.
"On Staten Island, we are proud to support our law enforcement. We know how difficult their responsibilities are day in and day out and I'm happy that our law enforcement community will get some recognition and support," said Assemblyman Mike Tannousis, the Staten Island GOP chairman, to the Post.
DeSantis has at least one more stop to speak with out-of-state cops planned, with a speech scheduled in Elmhurst in the Chicago area, to be delivered to the Chicago Fraternal Order of Police.
The speech apparently is causing consternation to the mayoral candidate endorsed by the FOP.
Paul Vallas told the Chicago Sun-Times "that there is simply no place in Chicago for a right-wing extremist like Ron DeSantis, and I am disappointed in FOP leadership for inviting him to speak to officers.
The Governor is prioritizing criminal justice reforms in the 2023 Legislative Session, with perhaps the most provocative proposal being to impose a supermajority threshold on capital punishment verdicts, meaning that eight of twelve jurors would suffice for a death penalty.
DeSantis leveraged law enforcement backing in his 2018 race against Democrat Andrew Gillum, citing the former Tallahassee Mayor's backing from the Dream Defenders and other left-of-center groups on his way to a narrow victory. In 2022, police backing was a given. And if 2024 is in fact on DeSantis' radar, he will want to leverage police union backing as well.