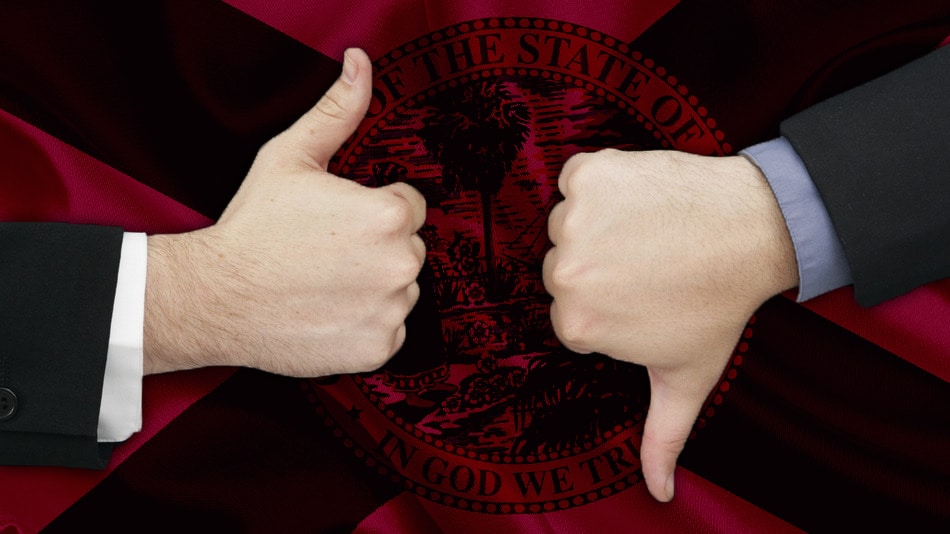 Matt Gaetz is dodging trafficking charges, giving him a big relief and a big win this week.
Well, we finally have a serious race for the next sacrificial lamb leader looking to lead the Florida Democratic Party.
Former Democratic state Sen. Annette Taddeo appeared to be the favorite, with a history of involvement with the party and a bevy of endorsements to go along with her candidacy.
Enter former Agriculture Commissioner Nikki Fried, who on Monday decided to join the contest despite previously saying she would not run.
"Appreciate the love, but I am NOT running to be Chair of (the Florida Democratic Party)," she said shortly after former Chair Manny Diaz resigned following a dismal Midterm performance by Florida Democrats. "A lot of things need to change to restore our winning coalition from 2018 — and I will continue fighting for that — just not by taking over the party."
Well, a few months later, Fried is indeed looking to take over the party.
Progressive Caucus Chair Carolina Ampudia andBroward County Democratic Chair Rick Hoye are also seeking the position. Alex Berrios, a co-founder of voter-engagement group Mi Vecino dropped from consideration and backed Fried after she jumped in.
But this will likely turn out to be a two-woman race. Taddeo started the week by adding supporters, such as former U.S. Rep. Donna Shalala and former Lieutenant Governor candidate Karla Hernández-Mats. But late last week, Fried announced a new round of endorsements of her own, and floated a vote count amassed by her camp, arguing Fried is in the lead among voting members.
So why the push to lead a party that lost to Gov. Ron DeSantis by nearly 20 points last November — despite Democrats outperforming expectations in most of the country?
Most prognosticators assume the next Chair is likely a thankless position. It's unlikely the next Chair will be the savior who leads Democrats to becoming competitive once again. A "successful" tenure may simply be building the infrastructure that can eventually bring Democrats back from the depths years down the line. But if 2024 ends with another shellacking, they'll likely meet the same fate as Diaz either way.
That may have led Fried to pass on the position when pushed in November.
However, after months of the media and political insiders discussing just how hopeless this job is at the moment, perhaps Fried realized that the bar is so low that there's not much to lose by stepping in. The bar is so low for Florida Democrats — currently sitting in the earth's outer core — that perhaps just outperforming expectations could let the next Chair keep their job and build their brand further.
Whether Fried can catch up to Taddeo's head start before the Feb. 25 vote is anyone's guess. But either woman has a tall task in front of them, both in terms of media and voter expectations, as well as in keeping a party together which may be in store for more big losses before things get better.
Now, it's on to our weekly game of winners and losers.
Winners
Honorable mention: Dana Young, tourism industry. Under Young's leadership as president and CEO of VISIT FLORIDA, the state set a tourism record in 2022, with 137.6 million visitors.
Gov. Ron DeSantis announced the milestone this week, emphasizing his push to free the state of restrictive COVID-19 regulations.
"People continue to make Florida their vacation destination because they know that in the Free State of Florida, they can enjoy all that we have to offer without mandates or restrictions," DeSantis said.
"Despite the federal government's attempts to keep our economy stagnant, Florida's freedom first approach has created an environment that attracts new visitors, fosters new businesses and drives our economy forward."
This comes as international travel continues to grow, but has not yet fully recovered following the pandemic. That could send the state on another record-breaking path once international visitors are more able and willing to travel the state.
Young took over her role in the early days of DeSantis' first term, in the beginning of 2019. She got that job amid a period of tumult for the agency, as lawmakers weighed whether to continue funding VISIT FLORIDA.
But state legislators eventually agreed to keep putting cash into the agency, and Young has now delivered record numbers for the state.
"We could not be more excited with the incredibly impressive record-breaking visitation seen in 2022. Quarter after quarter, Florida continues to dominate the travel market and our competition, which could not be achieved without the hard work of our local tourism partners," Young said in a statement.
"At Visit Florida, we are committed to building on this growth to ensure Florida continues to be the No. 1 vacation destination in the world."
Almost (but not quite) biggest winner: Universal workers. Universal Orlando employees will see their minimum pay rise from $15 per hour to $17 per hour per a new agreement, making them the highest-paid theme park workers in Orlando.
The new pay scale will go into effect this summer, and will help ease some concerns regarding inflation levels and surging rent prices in the state. The good news: that level of pay will last beyond the current economic difficulties.
"Wages are just one part of our continued focus on building an even better Universal Orlando work experience," said Universal Orlando spokesman Tom Schroder, in a statement announcing the pay bump. "We aspire to be the employer of choice in this market, providing an inclusive environment where team members are proud to work, have opportunity to grow and feel a real sense of purpose and belonging."
Universal Orlando Resort has around 25,000 employees. And while the company is raising its minimum pay across the board, Universal Orlando Resort President Karen Irwin said some other employees making more than the minimum wage will also see their pay raise.
"We are not only increasing our starting base rate to $17 per hour, but we are increasing many of our starting rates across the business. In addition, many Team Members will receive an increase based on the new rates and their time with the company," Irwin said.
The news comes as Disney World continues negotiating a minimum wage bump with its employees, but the two sides have been unable to agree on how fast that number should rise.
The biggest winner: Matt Gaetz. After more than a year of potential sex trafficking charges hanging over Gaetz's head, prosecutors have formally decided no charges will be filed over allegations Gaetz paid a 17-year-old for sex.
The problem for prosecutors was that those allegations came primarily from disgraced former Seminole County Tax Collector Joel Greenberg. Greenberg earned himself an 11-year prison sentence in December stemming from a laundry list of crimes, which surely didn't bode well for the credibility of a main witness.
More to the point, Greenberg had previously spun a false sexual assault story about a political opponent, opening the door for a potential Gaetz defense to argue Greenberg was telling tales about Gaetz's sexual escapades to seek a reduced sentence.
Details surrounding Gaetz's past escapades remain murky. Why was he funneling money to women through apps, money which the women reportedly said at the time was for sex? Did Gaetz ask former President Trump for a blanket pardon before Trump left office? If so, for what?
Many of those questions will remain unanswered now that a prosecution is off the table. Declining to prosecute someone doesn't mean they were acting on the up-and-up at all times. But without clarity as to what exactly Gaetz did or didn't do, a decision that he'll dodge charges is no doubt a win for the Congressman.
Losers
Dishonorable mention: TikTok. Florida lawmakers are already backing a push to limit or ban TikTok at the federal level. As that debate continues, Gov. DeSantis is stepping in to float a ban of the app on public K-12 school and university networks.
He is also looking to put into law language from an executive order blocking the use of TikTok on government devices.
DeSantis pitched the proposal at a press conference this week, which could lead to action by the Legislature during next month's Regular Session.
"In China it's all very wholesome and patriotic, in the U.S. they're trying to inject as much garbage as possible," DeSantis said of TikTok.
The plan would be wrapped into what DeSantis is calling a "Digital Bill of Rights," accomplishing dual missions of continuing DeSantis' battle against Big Tech, as well as his desire to more strictly control how the state's schools operate.
The pitch came the same week lawmakers on the House Education and Employment Committee heard a presentation on the dangers of screen addiction among Florida's children.
But it's still early, and that larger "Digital Bill of Rights" could still be adjusted during Session — with or without the TikTok ban in place. DeSantis and GOP lawmakers, in fact, have encountered legal trouble regarding a previous Big Tech crackdown. But Attorney General Ashley Moody is backing the Governor's new efforts regarding the social media giant.
"We don't want to wait here in Florida until we're all trapped in a digital dungeon," Moody said.
Almost (but not quite) biggest loser: Tort lawyers. Another DeSantis proposal is getting more clear support for legislative leadership: a measure aimed at tort lawyers.
The Governor wants legislation limiting frivolous lawsuits and placing tighter caps on damages awarded in court. Details remain vague, but DeSantis described his goals in a news conference this week.
"You have a lot of use of the legal system that's been put toward not benefiting someone in the system," DeSantis said. "We don't want cases that are brought where we know there's no real liability but nevertheless it adds to the cost."
Both Senate President Kathleen Passidomo, and House Speaker Paul Renner gave their support in comments released this week, signaling action this upcoming Session is all but guaranteed.
"This is really about bringing things into balance," Renner said. "You should never have a situation where the client gets $200 and the lawyer gets $100,000. That's not about the client, it's about the lawyer."
"The Florida Bar regulates them and has done nothing to stop the practices that they have employed," Passidomo added. "If the Florida Bar doesn't do it, we're going to do it."
Pro-business organizations are already praising the plan.
"Gov. DeSantis and our legislative leaders recently made great progress on this issue related to property insurance, and we are grateful they remain dedicated to reforming the system in its entirety to bring Florida's tort climate from a judicial hellhole to one that supports both businesses and consumers," said Associated Industries of Florida President Brewster Bevis.
"We are excited to see Gov. DeSantis, Senate President Passidomo, and House Speaker Renner come together to announce their focus on meaningful judicial reform this year," Americans for Prosperity-Florida State Director Skylar Zander added.
"In order for Florida to have a thriving economy, it must also have a judicial system that keeps frivolous lawsuits from bogging down the innovative and entrepreneurial spirit of job creators. We look forward to working with state leadership on this important issue and are confident that, together, we will keep Florida's economy booming."
The biggest loser: The Daily Beast. Now, the flip side of the Gaetz news: those who floated fantastical stories about Gaetz getting got by the feds.
Look, the reporting throughout the last year-plus certainly sounded bad! There's nothing wrong with reporting the facts about the investigation as is, but several outlets let their hatred of Gaetz's antics and his support for President Trump allow them to start living in a dream world where the walls were closing in on the Congressman once and for all.
The Daily Beast was not the only example of this type of reporting, but was arguably the leader in reveling in what they thought was Gaetz's surefire downfall.
The outlet's thirstiest headline may have come in August 2022, just a month before stories began surfacing that charges were unlikely against Gaetz. It read: "Eight Sources Say Feds Are Not Done With Matt Gaetz."
Narrator: The feds are indeed done with Matt Gaetz.
Again, accurate reports that someone is under this type of investigation already looked bad. If your editorial outlook is "Matt Gaetz evil," why the need to hype up the issue so as to mislead your readers about the likelihood the roof would come crashing down on the Congressman?
Well, because it gets clicks, that's why. But clicks at the risk of credibility is a fine line to walk. We've called out Gaetz where appropriate in this space, and will continue to do so. But he came out on the winning side this week, while The Daily Beast was left holding a bag of empty promises to its readers.