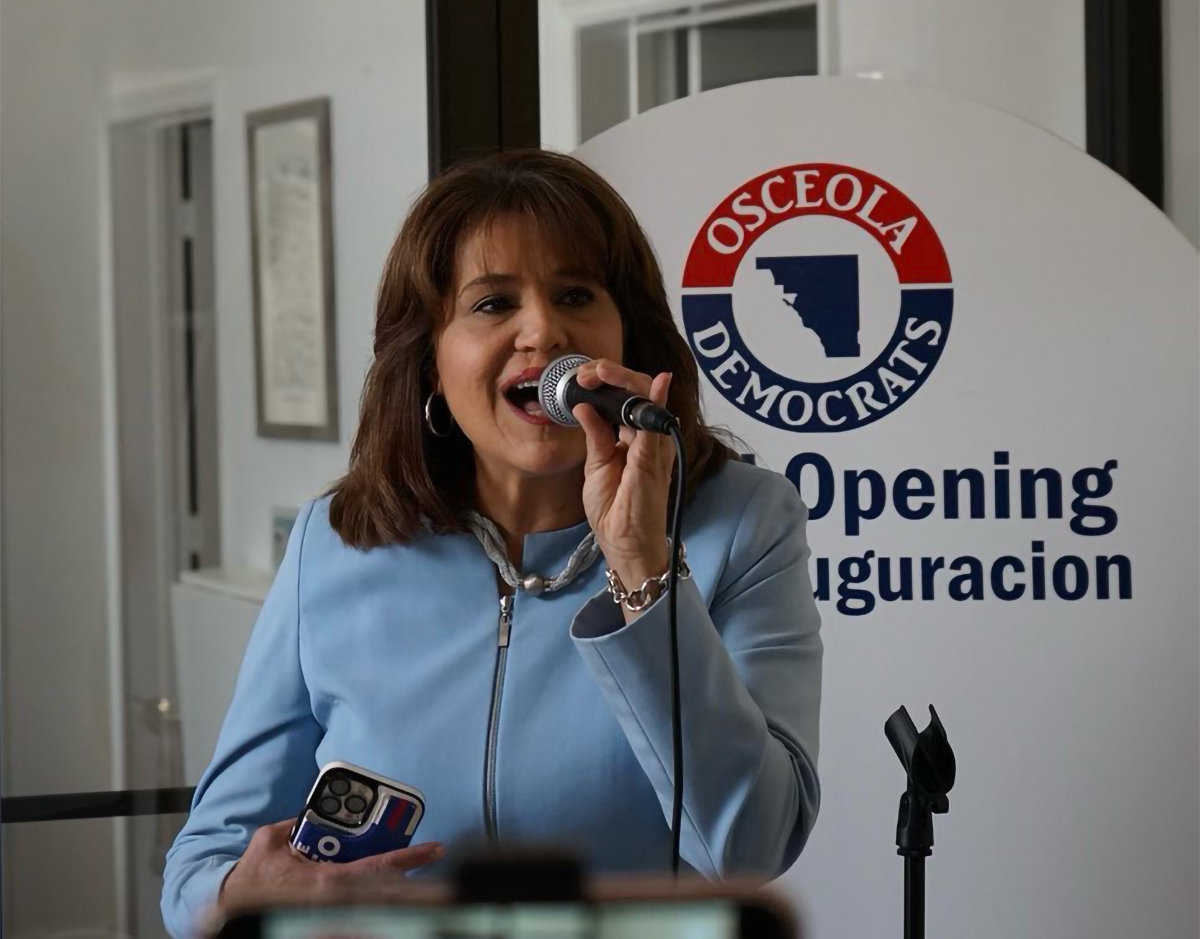 The former Senator from Miami has spent time on the statewide stage before.
Former Democratic state Sen. Annette Taddeo is emerging as the clear choice of her recent Senate colleagues to lead the Florida Democratic Party.
Taddeo is rolling out a slate of state Senators who want to see the Miamian lead the party out of the doldrums. She wants to succeed former Democratic Party Chairman Manny Diaz, who resigned after Florida Democrats took a drubbing in last November's election.
Nine out of the 12 Democrats in the Senate are endorsing Taddeo for the role, according to a news release from her campaign. The list starts with Senate Democratic Leader Lauren Book and Senate Democratic Leader Pro Tempore Jason Pizzo.
Taddeo, who flipped a Republican Senate seat in a 2017 Special Election, is perhaps the most widely known among three contenders. In her bid for party Chairwoman, she's facing Rick Hoye, Chairman of the Broward County Democratic Executive Committee, and Alex Berrios, a West Palm Beach political consultant who founded a voter-registration effort, Mi Vecino.
Tallahassee City Commissioner Jeremy Matlow dropped out of contention for the role, the Florida Phoenix reported Wednesday.
Book called Taddeo "the best person for the job."
"Annette is a strong and extremely capable fighter for our shared Democratic values, and she has experienced firsthand the successes and shortcomings of the FDP," Book sai in a prepared statement. "I look forward to working alongside her to help rebuild what has been lost, so that Democrats can effectively defend the rights and freedoms of Floridians all across our state."
Taddeo, who first emerged as a party Chair contender after Generation Z activists urged her on, has experienced a statewide campaign before. She was Charlie Crist's Lieutenant Governor candidate in his 2014 bid against Gov. Rick Scott. She ran for the Democratic gubernatorial nomination in 2022, before dropping out to challenge U.S. Rep. María Elvira Salazar to represent Florida's 27th Congressional District.
Other Democratic state Senators, who represent districts from Miami-Dade County to Duval, supporting Taddeo are:
— State Sen. Lori Berman of Palm Beach County.
— State Sen. Tracie Davis of Duval County.
— State Sen. Tina Polsky of Broward and Palm Beach counties.
— State Sen. Darryl Rouson of Hillsborough and Pinellas counties.
— State Sen. Geraldine Thompson of Orange County.
— State Sen. Victor Torres of Osceola and Orange counties.
State Sen. Shevrin Jones, who was a fellow Miami-Dade delegate with Taddeo and considered a rising star with national political connections, is notably absent from the list of Democratic Senators endorsing Taddeo. Also, state Sen. Rosalind Osgood of Broward County and state Sen. Bobby Powell of Palm Beach are not on the list of her endorsers.
Democratic state Rep. Anna Eskamani of the Orlando area this week threw her support to Taddeo in her bid for state party leadership.
By any measure, the Democrats faced a historic defeat in the last Midterm Elections. At the top of the ticket, Republican Gov. Ron DeSantis beat Crist by the largest margin of any gubernatorial candidate in modern state history. Areas considered Democratic strongholds turned red.
State Sen. Thompson acknowledged the uphill battle in a prepared statement:
"As Democrats work to rebuild our state party, we need a steady hand at the helm that will help bring together grassroots activists, volunteers, elected officials and donors," Thompson said.