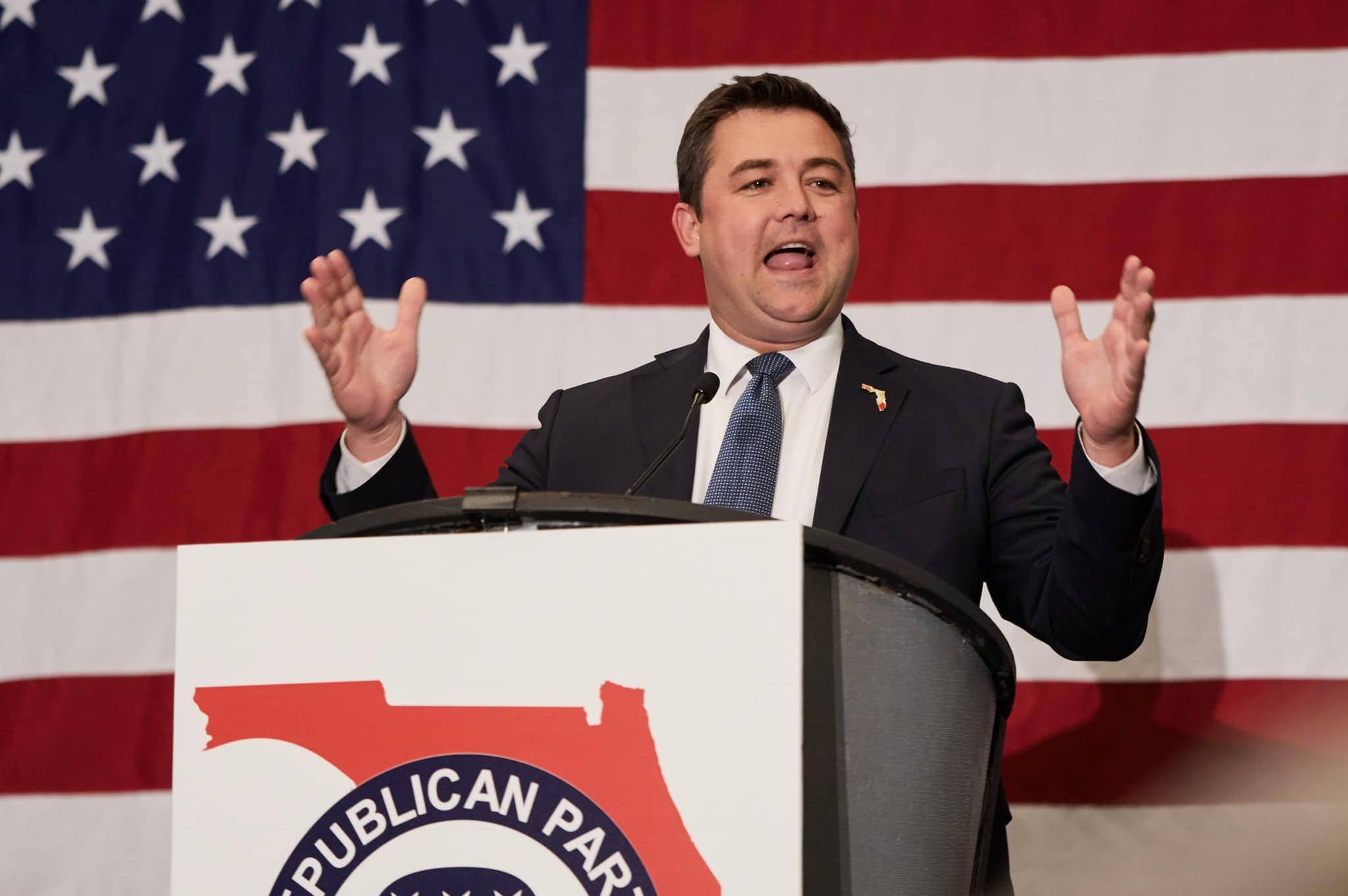 A close ally of outgoing Chair Joe Gruters, Ziegler defeated Leon County GOP Chair Evan Power.
Christian Ziegler will lead the Republican Party of Florida into the 2024 elections. The Sarasota County State Committeeman won election to the post Saturday.
He faced Leon County GOP Chair Evan Power, prevailing in a vote of 126-100 at the annual meeting held in Orlando.
"Florida is the winning model. Let's show the nation how it's done!," asserted the RPOF in a congratulatory tweet.
A second RPOF Tweet congratulated Power for being elevated to Vice Chair, suggesting that the party is unified after a close election that was seen by some as a proxy battle between forces loyal to Gov. Ron DeSantis and former President Donald Trump.
The new GOP State Chair succeeds Joe Gruters, who had led the party since 2019. Gruters, a Sarasota Republican, remains a member of the Florida Senate.
Among other things, the victory for Ziegler means Sarasota County will have produced two consecutive party leaders. Gruters and Ziegler were close allies throughout his reign as State Chair, and well before.
After forgoing another term as chairman of the state party of the Sarasota County Republican Executive Committee, this marks the first time Gruters has not had a formal leadership role in party politics for over a decade. There's already speculation he could run for Chief Financial Officer or for Congress.
Both Ziegler and Power had effectively been campaigning for the job for years and had run in 2018 before Gov. Ron DeSantis blessed Gruters' entry into the race.
Ziegler most recently served as Republican Party of Florida Vice Chair. Power has served as the Chair of Chairs.
Leading into the vote, Ziegler had announced support from a number of members of Florida's congressional delegation. He also touted support from public figures like online commenter Rogan O'Handley, better known as DC Draino.
Power stressed on-the-ground successes even in tough parts of the state to win like the Tallahassee area. Despite Leon County's blue tilt, the local GOP enjoyed successes including Corey Simon's win for a state Senate seat not held by Republicans since reconstruction. Simon endorsed Power, as did GOP U.S. Rep. Neal Dunn, who defeated Democratic U.S. Rep. Al Lawson in the only congressional race pitting two incumbents against one another.
Many saw the battle as a proxy battle between forces loyal to former President Donald Trump and DeSantis, two Florida men likely to face one another in the 2024 Republican Primary for President.
Ziegler had done political consulting for political committees tied to Trump, and is well-connected through Gruters, who ran the Florida arm for Trump's 2016 presidential campaign.
Ziegler also attended the infamous rally Trump help on Jan. 6, 2021, shortly before his supporters breached to Capitol and disrupted certification of Joe Biden's electoral college win, something progressive critics quickly pounced on through social media posts after Ziegler's election. Ziegler never entered the Capitol and immediately left as protesters became violent and began trespassing.
Power, a Tallahassee lobbyist, has long been seen as a loyalist to DeSantis and someone deeply connected to state politics.
Ziegler recently wrapped a single term as Sarasota County Commissioner and did not seek re-election to that post. Wife Bridget Ziegler chairs the Sarasota County School Board.
Ziegler also works in digital marketing, with his firm Microtargeted Media providing services for campaigns across the country.
He was elected to a two-year term.
Congrats @FloridaGOP Chair Christian Ziegler & Vice Chair Evan Power.

Great to celebrate historic achievements:

-1.5M vote victory margin
-400K+ voter reg. advantage
-Won 62 counties, including Miami-Dade & Palm Beach
-Super majorities in the House & Senate
-School board wins pic.twitter.com/BuEEF9Tur0

— Ron DeSantis (@RonDeSantisFL) February 18, 2023