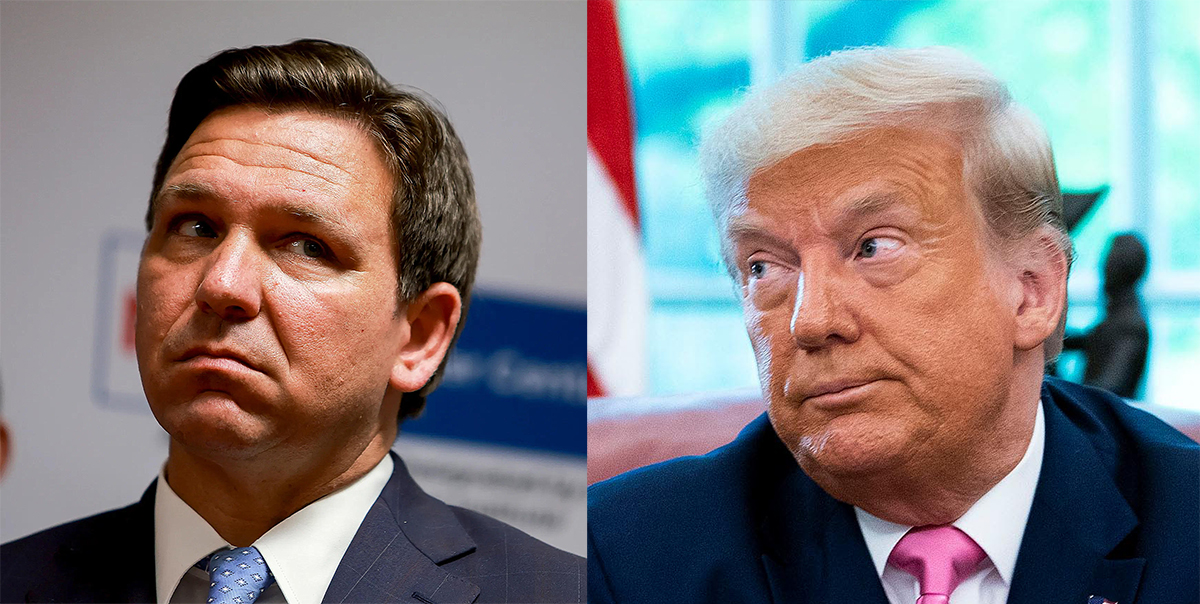 The Trump camp claims DeSantis has 'spent half his time campaigning for President outside of Florida.'
The Donald Trump campaign is contending Ron DeSantis is an absentee Governor.
In a new graphic, the Trump camp argues DeSantis has "spent half his time campaigning for President outside of Florida … while taxpayers pick up the tab."
To underscore that point, Team Trump offers a convenient calendar image.
Under the auspices of a book tour, March included six days on the road, in which the Governor was in Texas, California, Alabama, Iowa, Las Vegas and Georgia.
In April, the travel schedule has been more robust, accounting for 15 days in the 30-day month.
The Governor has gone to New York, Pennsylvania, Michigan, Ohio, Virginia, New Hampshire, "The Swamp" (Washington, D.C.), South Carolina, Utah, Texas and Japan. He plans to go to South Korea, the United Kingdom and Israel as well.
The Governor's Office released a statement to Florida Politics in response to the dig from Trump's team.
"The state does not coordinate or plan political travel, nor does the taxpayer fund political travel. As for the current trip, it is a trade mission through Enterprise Florida and, just like the last one, is not paid for at the taxpayers' expense," asserted DeSantis spokesperson Jeremy Redfern.
Trump has cast a shadow over DeSantis in the Land of the Rising Sun, meanwhile, with the Governor grappling with questions about the former President.
On Tuesday in Japan (Monday night in the U.S.), the Florida Governor attempted to take the high road when asked on Sean Hannity's program why the former President had gone sour on him.
"Once the Midterm Election happened, he started taking shots at me," DeSantis said. "I didn't really do anything to do it except do a good job."
DeSantis was also asked about his poll weakness against Trump.
DeSantis said he's "not a candidate."
"We'll see if and when that changes," he added.
Trump continues to pillory DeSantis from Florida, including mocking the Governor's international travel as desperate.
"The 'Consultants' are sending DeSanctus, and demanding he go immediately, on an emergency Round the World tour of U.S representative population countries, like South Korea, Japan, the United Kingdom, and Israel, in order to up his game and see if he can remove the stain from his failing campaign. Bad poll numbers!"
It remains to be seen how else Trump will take advantage of the Governor's absence during the penultimate week of Session. But it's clear he has Florida all to himself at a time when all previous Governors were ensuring their legislative agenda was completed.