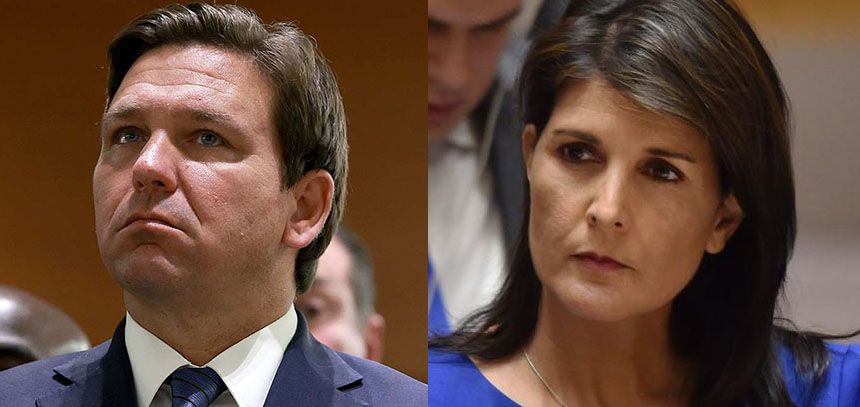 'Mickey Haley' will get a six-figure digital buy in South Carolina.
Never Back Down is down on Nikki Haley pitching Disney to consider relocating to South Carolina.
A new six-figure digital ad buy slams "Mickey Haley" in the wake of the former Palmetto State Governor's pitch to the company, made Wednesday on Fox News, to move to the state given ongoing conflicts with Ron DeSantis' Florida.
"If Disney would like to move their hundreds of thousands of jobs to South Carolina and bring their billions of dollars with them, I'll let them know," Haley said. "I'll be happy to meet them in South Carolina and introduce them to the Governor and the Legislature. They would welcome it."
The 45-second spot shows Disney officials discussing "canonical trans characters," moves to "add queerness" to narratives, targeting "kids who are transitioning," "LGBTQIA characters," a creator's "gay agenda" and "adding queerness," and so on.
Then the spot cuts to Haley making her recruitment.
The Disney/DeSantis beef is headed toward federal court, with the company seeking legal recourse for the state's moves to invalidate its development deal struck in the final days of the Reedy Creek Improvement District that governed the park's business from 1967 until this year.
During an interview on the Fox Business Network, Never Back Down PAC founder Ken Cuccinelli suggested the Governor's ongoing feud with the The Walt Disney Co. will prove potent with Republican Primary voters in 2024.
"Only one candidate, only one Governor has ever protected America against the scourge that Disney has become in the last couple of decades," Cuccinelli told host Neil Cavuto.
From there, the PAC head went on to question the entertainment company's Americanism.
"The fond memories people have, that you refer to, of Disney are from a long time ago, and Disney has become more of a force to undermine good, healthy, positive, patriotic American culture than it is a supporter of it," Cuccinelli said.
The ad buy comes as Haley and DeSantis are in a tight race for second place to Donald Trump in South Carolina polling, meanwhile.
In a survey released this month by National Public Affairs, Trump took 43% support, with DeSantis' 21% good for a distant second, with Haley at 19%.
This is the second recent survey showing Trump with more than twice the support DeSantis has. A survey from Winthrop University shows Trump is the choice of 41% of poll respondents, doubling up both DeSantis (20%) and Haley (18%).
See the Never Back Down ad below.
This is part of a six figure digital spend in South Carolina https://t.co/qovX1KULJl

— Erin Perrine (@ErinMPerrine) April 26, 2023