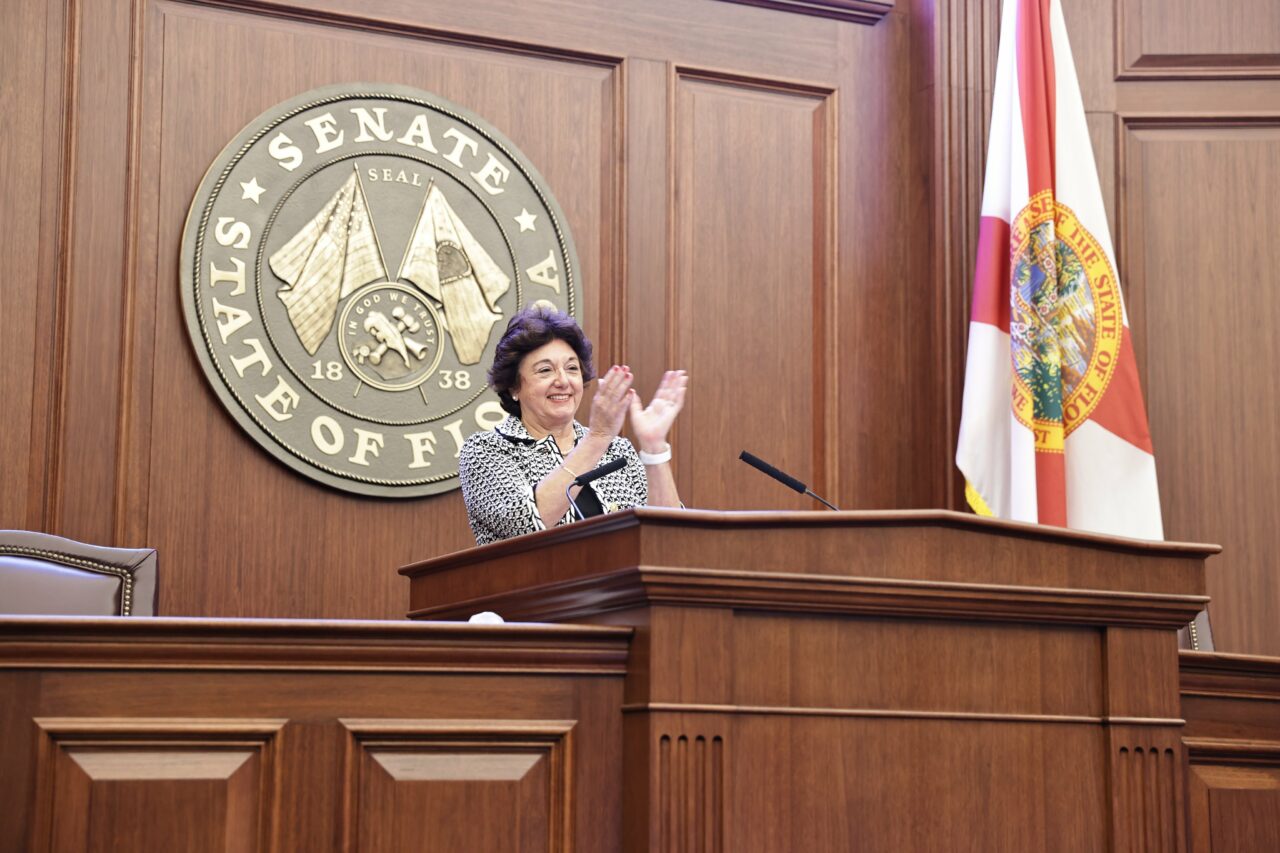 The Naples Republican said conservative priorities advanced, but so did kitchen table issues.
The stakes were personal this year for Senate President Senate Passidomo. Representing a community with an affordable housing problem, she'd already planned to focus on that crisis. Then a hurricane flooded structures through Naples, including her own home.
At the close of the Legislative Session, the Naples Republican touted successes in providing relief and recovery during her first year as a Presiding Officer.
"We began Session in the aftermath of a destructive hurricane season on the heels of two Special Sessions needed to help stabilize Florida's free-falling property insurance market," Passidomo said at a ceremony marking the end of Session.
"While these issues alone could have easily monopolized the last 60 days, I am proud that with the tireless work of our Senators, and strong partnerships with the Florida House and Gov. (Ron) DeSantis, we are concluding today having passed significant legislation in nearly every area of public policy, along with a balanced budget, meaningful tax relief for families and seniors, and historic reserves."
The Session may be remembered for strident advances on social issues from abortion restrictions to school choice expansions. But Passidomo stressed the accomplishments in the budget arena.
She cheered $4 billion in state investments in hurricane recovery, after both Hurricane Ian's landfall in her Southwest Florida home region and Hurricane Nicole's strike on Florida's Atlantic Coast.
She noted a $1.3 billion tax cut package passed in the final days of Session.
And she celebrated a balanced budget, the only constitutionally required action by the Legislature each year. The budget included investments in bridges and schools while leaving historic reserves.
"From workforce housing, to school choice, to insurer accountability, to public safety, we listened to our constituents, incorporated ideas and feedback from our communities, and made our mark with historic reforms to keep our state affordable and her people free," she said.
Passidomo asserted the achievements on social issues did not distract from addressing the issues most impacting the everyday lives of Floridians.
"This was truly the Session of the Florida family as we tackled kitchen-table issues important to growing families and seniors," she said. "School choice is now a reality for every child, in every family. Education dollars follow the child, and the parents — not the government — decide where they are spent. With our Live Local Act, more Floridians can afford to live close to good jobs, where they can raise their families in the heart of the communities they serve.
"Insurance and litigation reforms with strong protections for consumers, coupled with permanent tax relief on key items will help eliminate hidden costs that increase the price of goods and services, keeping Florida affordable for those at every income level and stage of life. We passed strong legislation to support unborn babies and parents, with safeguards to protect the innocence of childhood and let kids be kids. And, by expanding Florida's iconic wildlife corridor, current and future generations of Florida families will have the opportunity to experience the wonder and beauty of Florida's heartland."
Top Passidomo achievements that passed this year included the Live Local Statewide Workforce Housing Strategy (SB 102). Assigned to Sen. Alexis Calatayud, the bill aimed to ease Florida's affordable and attainable housing shortage.
"As I travel the state, availability of workforce housing is a top issue on the minds of hardworking Floridians and retirees in every community I visit," Passadomo said. "With this comprehensive legislation, we are shutting down affordable housing stereotypes and creating attainable housing options needed by the majority of our workforce, the backbone of Florida's economy."
She celebrated expanding public access through Florida's Wildlife Corridor through a shared-use nonmotorized trail network.
"Our wildlife corridor provides a unique opportunity to experience the wonder and beauty of Florida's heartland. With this legislation we have the chance not only to preserve this natural resource for future generations, but to expand access so more Floridians can walk, run, and bike from trail town to trail town, taking in all our great state has to offer," Passidomo said.
"I envision Florida's Wildlife Corridor as a top destination for recreational tourists from across the country and around the world. As I have said before, I believe this will be Florida's Central Park — a legacy we can be proud to leave for future generations of Floridians and visitors to enjoy."
She was happy to list a six-week abortion ban and a universal voucher bill already signed by the Governor. Sen. Corey Simon carried a massive investment in vouchers, while Rep. Kaylee Tuck carried the bill in the House. Sen. Erin Grall carried the abortion ban.
"The goal of making school choice a reality for every child across our great state has been a long time coming, and with the steadfast resolve and leadership of Gov. DeSantis, Speaker (Paul) Renner, Sen. Simon, Rep. Tuck, and many others, school choice is here for every Florida family," Passidomo said.
"Additionally, this bill reduces some of the outdated, unnecessary and quite frankly, burdensome regulations public schools have to abide by. By reducing red tape that burdens our traditional public schools, these institutions, which have served our communities for generations, will have a meaningful chance to compete right alongside other school choice options."
Passidomo heralded a lawsuit abuse package many saw as a win for insurers against trial attorneys.
"When a horrible accident or incident occurs and people suffer a loss, they should be compensated quickly and fairly. The vast majority of attorneys work very hard to provide sound legal representation for Floridians in these difficult circumstances," Passidomo said.
"Unfortunately, there are a few bad actors who are in the business to draw out civil cases as long as possible, collecting more and more fees from insurance companies. Litigation drives up the basic costs of goods and services for everyone across all areas of industry and commerce. Under the leadership of Gov. DeSantis, we have taken many steps to help keep Florida affordable for growing families and seniors. This legislation further those efforts striking the right balance and protect the rights of Floridians who suffer a loss, while at the same time safeguarding everyone else against the hidden costs of prolonged litigation."
And she supported a spate of views seen by many as attacks on the LGBTQ community but which she presented as protections for Florida's children. Those included punishments for businesses letting minors into drag shows, prohibition in instruction about sexual orientation or gender identity through eighth grade, and in the final days of Session, a ban on gender-affirming care for minors.
"Last Session we defended and expanded parental rights in education, and the feedback from parents and teachers who appreciate appropriate guardrails on social issues being taught in schools is overwhelmingly positive," Passidomo said.
"This year, we expanded on that good work. Parents have the right to raise their children as they see fit, and government intervention should be a last resort. Unfortunately, all too often we are hearing about treatments for gender dysphoria being administered to children, often very young children. That's just wrong, and we need to step in and make sure it isn't happening in our state."