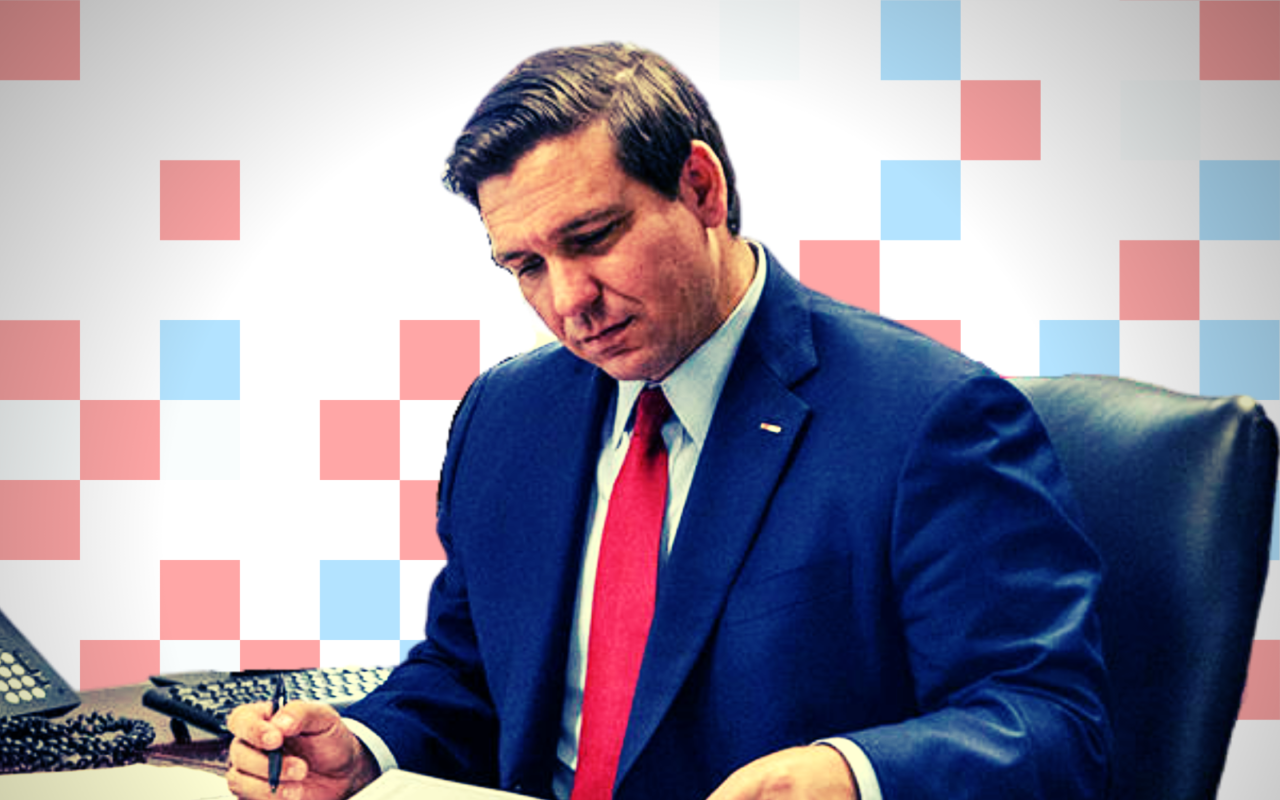 The measures aim to punish human traffickers and establishments that enable them, and help victims escape and gain restitution from their abusers.
Florida has the third-most human trafficking cases nationwide. That distinction could change, thanks to legislation Gov. Ron DeSantis just approved.
Surrounded by members of the Florida Cabinet, Senate, House and others, the Governor signed three bills to curb illicit activity — after blasting the federal government's immigration policy.
"Last year, 72% of all human trafficking victims were illegal aliens, many coming across the southern border," he said. "Clearly, (through) this border policy, the (Joe) Biden administration has wrought huge damage to society, and we see that here in Florida and throughout the country."
While none of the bills signed Tuesday deal with illegal immigration — DeSantis signed a measure last week to clamp down on border crossings — each would help people either trafficked or at risk of being trafficked.
One sweeping measure (SB 7064), effective July 1, will establish a legal route for victims to sue their traffickers and recover damages from adult entertainment establishments that facilitate their abuse.

The new law will enable victims to receive restitution from the sale of their traffickers' seized property and increase the penalty for adult establishments that exploit minors from a misdemeanor to a felony.
The measure will also require people arrested for prostitution to attend an educational program to direct them away from traffickers and toward supportive resources. Further, it mandates that every law enforcement recruit must receive training in identifying and investigating human trafficking and requires the University of South Florida to house a data repository for anonymous human trafficking data to evaluate trends and the effectiveness of state programs.
"Today's legislation … gives those victims of human trafficking the ability to go after these organizations and venues that are profiting from their pain," Attorney General Ashley Moody said. "That is how we will stop this in Florida, if they know that we mean business, if traffickers don't have operational support to traffic their victims."
Another bill (SB 1690), sponsored by Sen. Blaise Ingoglia and Rep. Michelle Salzman, who attended the signing, concerns lodging establishments and shelters. It will also go into effect on July 1.
The measure requires human trafficking information signs to be displayed in sheltering facilities for victims and children, as required for numerous other sites, including strip clubs, massage parlors, emergency rooms, highway rest stops, transit stations and airports.
It will also require staff at each child-sheltering facility to include at least one person trained to detect human trafficking activity and locate missing children.
"A lot of times, these group homes can be recruiting grounds for human trafficking," said Sergeant Thomas McInerney of the Broward Sheriff's Office.
Such was the case for Savannah Parvu, who spoke Tuesday of the 15-year nightmare she endured beginning at age 11 when her mother sold her to a drug dealer for a $10 rock of crack. Parvu continued to be abused even after being placed in a residential treatment center for kids, where she found out that staff members were friends with her trafficker.
"Off and on, between the ages of 11 and 26, I was trafficked," she said. "I didn't get help until I learned what human trafficking was and that … I wouldn't be in trouble for it, because that was what I was always told, that it was my fault, and I would be in trouble."
SB 1690 also includes an amendment from Miami Sen. Ileana Garcia, who attended the signing, adding the language of a separate measure (SB 692) Senate Democratic Leader Lauren Book sponsored to close loopholes in state statutes that have allowed thousands of hotels, motels and other such businesses to avoid paying fines for noncompliance with human trafficking signage and training requirements.
A November investigation by the Sun-Sentinel found nearly 6,700 lodging establishments have racked up 14,000 combined violations since the original law was enacted in 2019. Each violation carried a $2,000-per-day fine, with the money meant to support organizations for trafficking survivors.
However, none of the hotels paid a cent since the law gave businesses up to 90 days to fix any problem.
Parvu said one of the hotels found to be in repeat violation was one of the establishments where she was trafficked.
"It's still happening in the same place," she said.
The new law will punish repeat offenders and reduce the window for compliance to 45 days. Hotels could correct one violation without paying a fine but would be on the hook for all subsequent violations.
"Under current law, they … get a slap on the wrist," DeSantis said. "We're done with that."
The third bill the Governor signed (HB 1465) will, beginning Oct. 1, impose mandatory minimum sentences on human traffickers who possess or discharge a firearm during the course of their crimes.
"So, if you violently perform human trafficking in this state, you are going to pay a very stiff penalty," he said.
DeSantis also signed SB 1210, which provides confidentiality to victims of human trafficking who seek to expunge their public records.
Others attending the signing included Lt. Gov. Jeanette Nuñez, for whom curtailing human trafficking is a priority issue, Senate President Kathleen Passidomo, House Speaker Paul Renner, Department of Children and Families Secretary Shevaun Harris, and Reps. Chip LaMarca and Toby Overdorf.
Since its inception, the National Human Trafficking Hotline has identified 6,168 cases of human trafficking in Florida comprising 15,063 victims. McInerney said law enforcement is "absolutely overwhelmed" in handling the issue.
But conditions are improving, Moody added, noting that since she, DeSantis and Nuñez took office in January 2019, "not a year has gone by that we have not strengthened or added laws in Florida to go after traffickers and better protect the victims."