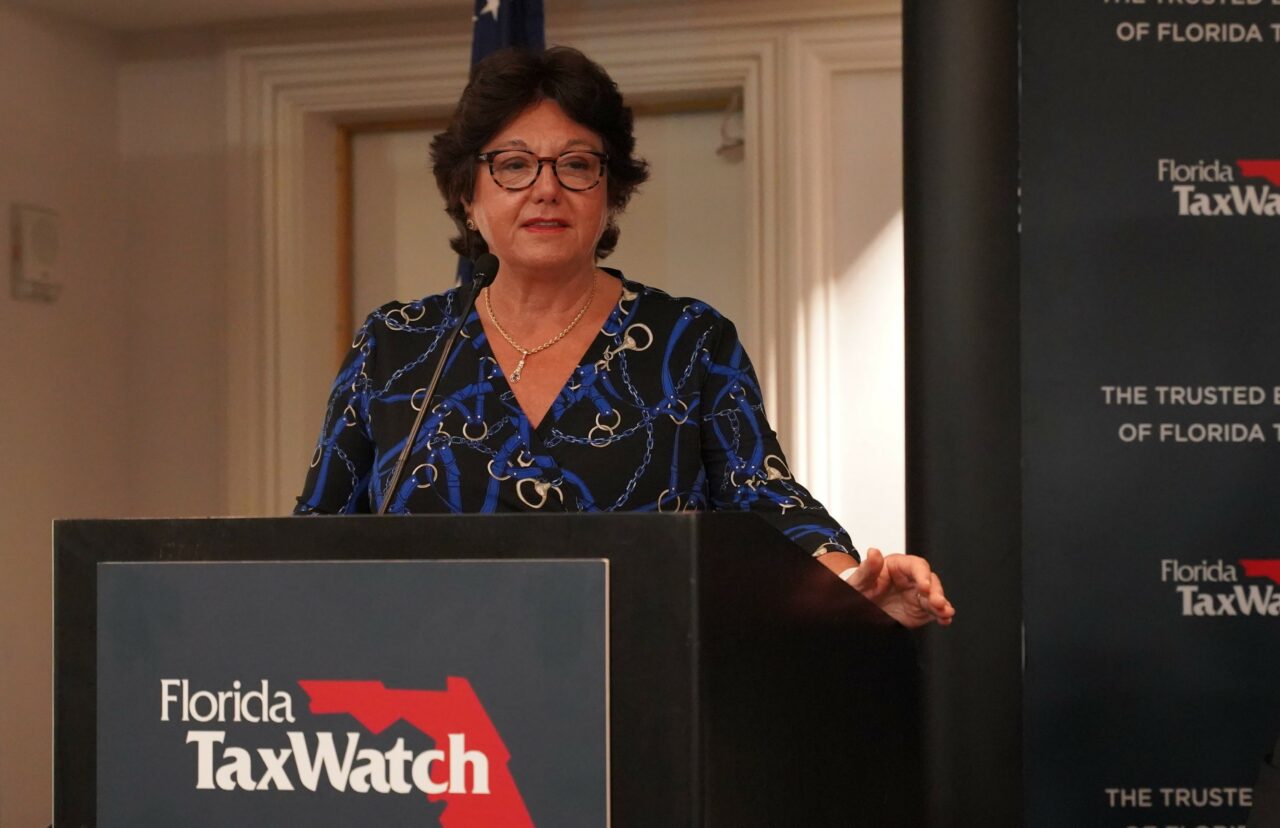 'I can't recall a Session where we've had virtual 100% agreement, amongst the two branches and with the executive branch.'
Senate President Kathleen Passidomo called the 2023 Legislative Session a success because of the legislative and executive branches being in lockstep.
"Some of it was controversial," she said. "But when you think about it, a lot of the things we did this Session were things that people were thinking about, but because of political correctness, didn't have the capacity — or the cojones for that matter — to do it."
The Naples Republican gave her assessment at an Orlando meeting of Florida TaxWatch. She joked it was in her best interest to make a surprise visit and speak to the group.
"There is a budget coming out in a couple days, and I don't want any of my projects to be called turkeys," she said.
She referenced the organization's notorious "budget turkey" list of projects the group recommends the Governor veto. While no lawmaker proclaims their own priorities worthy of such a mark, Passidomo feels especially emphatic about her own priorities this go-around. Representing a region devastated by Hurricane Ian, she pushed for some $4 billion in resilience and relief spending.
She told Florida Politics she understands Gov. Ron DeSantis inevitably will find spending to veto in the budget.
"I agree with his philosophy, which is, 'Does the project have statewide significance? Is it more than just parochial?'" Passidomo said. "Because he's the Governor in the entire state. I understand that and I accept that."
She strongly believes funding to help recover from storms deserves to stay in the budget. Hurricane Ian was a personally impactful event for the Senate President. Her own home was destroyed by flooding and she could only move back in mid-Session.
She acknowledged that amid the push to prepare for the next storm, many localities took the opportunity to request funding for emergency operations.
"What I would look at is, where do you need emergency operation centers and how many do you need?" she said. "Do you need one in every city? Do you need one big one in a county? So that's not my call, and I assume the Governor is looking at it holistically."
She told TaxWatch attendees about some projects that took heavy legislative lifting this year that she believes will have generational impact. In particular, Passidomo touted mass investment in the Florida Wildlife Corridor.
"Fifty years from now, our great-grandkids will say the best thing we did in the 2020s was the Wildlife Corridor," she said. "It will be our Central Park because it will preserve and protect the center of our state forever."
She said negotiations during this year went smoothly in large part because of cooperation between her office and that of House Speaker Paul Renner. She also praised Gov. DeSantis as a leader of principle. Notably, Passidomo and Renner just endorsed DeSantis for President in 2024.
Talks also went fairly well on policy matters. She spoke of how items like permitless carry weren't major priorities to her, but she supported legislation so long as it contained strong school safety investment. She spoke at length about that included training for ammunition-sniffing police dogs.
"These criminals, the shooters, are not afraid of people; they are of the dogs," Passidomo said. "So that's a hidden gem."
But with GOP supermajorities in the House and Senate, and a Republican Governor awaiting bills to sign, policy battles simply moved quickly this year, she said.
"I can't recall a Session where we've had virtual 100% agreement, amongst the two branches and with the executive branch," she said.