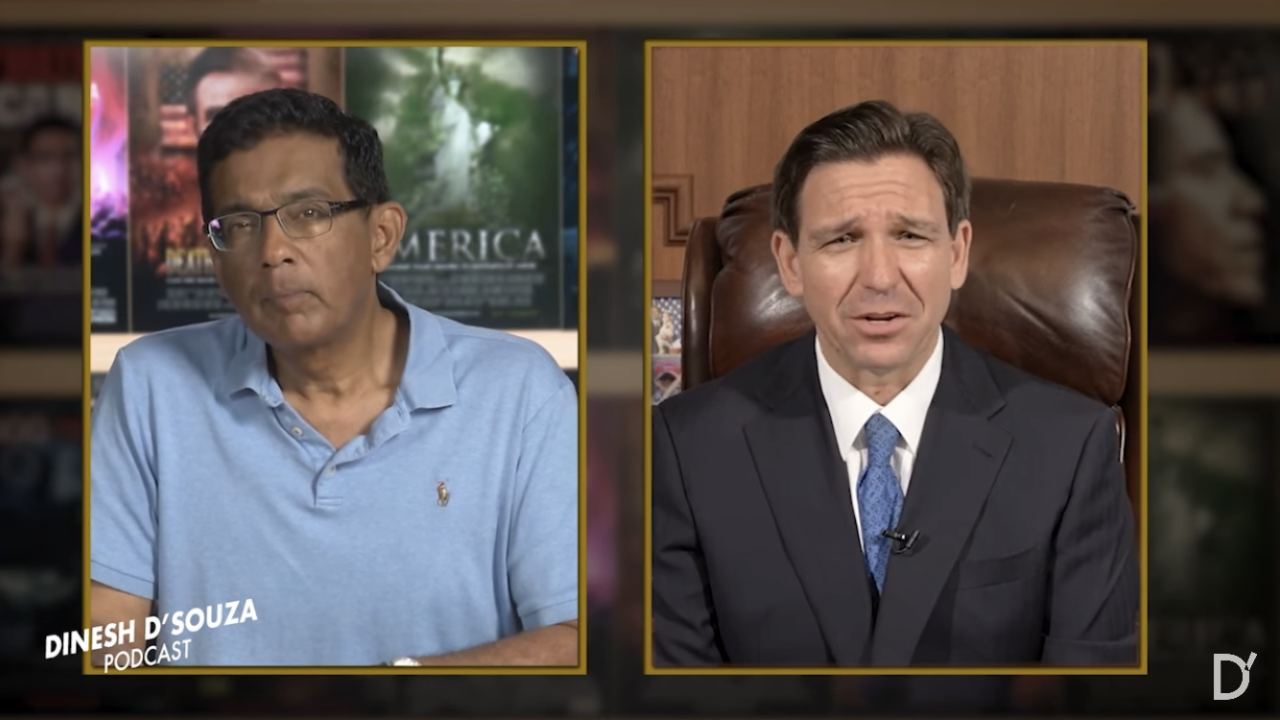 'That's part of the main reason recruiting is so low.'
Gov. Ron DeSantis continues to explore the issue of military readiness, laying the blame for force shortfalls at the feet of "drag queens" and a problematic part of speech.
"You see them recruiting with, like, using drag queens and doing stuff with the pronouns and all this other stuff. That's part of the main reason recruiting is so low," DeSantis told podcaster Dinesh D'Souza this week.
While DeSantis hasn't blamed "doing stuff with the pronouns" for military recruitment issues, he did discuss "drag queens" and other social trends troubling him last weekend in an Iowa stump speech.
"When you see videos of folks recruiting for the military services using things like drag queens, you know, that is just fundamentally wrong," DeSantis said in Sioux Center at the Feenstra Family Picnic, a major confab of Iowa Republicans.
The U.S. Navy, which DeSantis was a member of, used a female impersonator as a "digital ambassador." The service member, named Joshua Kelley, performs as "Harpy Daniels."
DeSantis has signed legislation dealing with both "drag queens" and "pronouns" in recent days.
The bill cracking down on drag shows authorizes state government officials within the Department of Business and Professional Regulation (DBPR) to suspend or revoke the liquor license of any establishment that admits minors to a live, adult performance, which could include "lewd conduct, or the lewd exposure of prosthetic or imitation genitals or breasts," meant to appeal to "prurient, shameful, or morbid interests … without serious literary, artistic, political, or scientific value for the age of the child present."
DeSantis has also signed legislation (HB 1069) that he says "ensures Florida students and teachers will never be forced to declare pronouns in school or be forced to use pronouns not based on biological sex."
"We never did this through all of human history until like, what, two weeks ago," DeSantis said, as transcribed by Fox News. "Now this is something they're having third graders declare pronouns? We're not doing the pronoun Olympics in Florida. It's not happening here."
DeSantis doesn't just blame "pronouns" and "drag queens" for military recruitment issues.
As he said in Iowa last weekend, "embracing concepts like (diversity, equity, and inclusion)" and "gender ideology" are problems for him. DeSantis believes "we need to get the military focused on what it's supposed to be."
"I don't want to run into any more veterans saying, 'You know, Governor, I don't think that I would want my son or daughter to join the military anymore,'" DeSantis said last weekend.
See more of the D'Souza interview below.