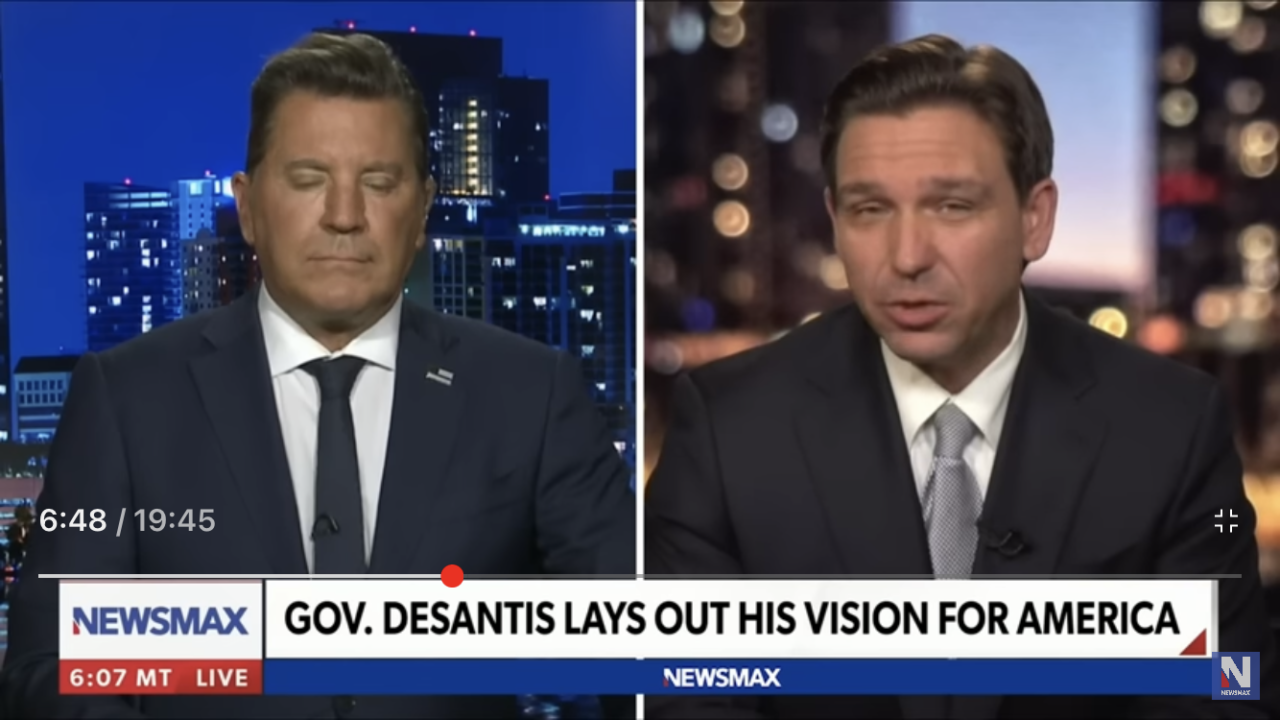 'I do think that that's the right instinct.'
There is not much daylight between the top two Republican presidential candidates on the question of Ukraine. Both want a cessation of hostilities. Neither seems to care much about the terms.
During an interview on Newsmax, Gov. Ron DeSantis once again stayed close to the Donald Trump position on the ongoing Russian war, even as he distanced himself from the former President's "rhetorical flourishes" that the war could be ended within 24 hours of a Republican taking office.
"I don't know that it can be done in 24 hours. I mean, he's prone to rhetorical flourishes. But I do think that his instinct of trying to get a settlement — rather than have this thing become a war of attrition or, heaven forbid, escalate with Russia having the largest nuclear arsenal in the world — I do think that that's the right instinct," DeSantis said.
The Governor, who has called the Ukraine war a simple "territorial dispute," has embraced the "settlement" language this week.
DeSantis hopes the war will be over before a new President takes over.
"I would hope that by January of 2025 that this would be finished. But Joe Biden obviously, I think, has taken a position that he wants this to go on," DeSantis said.
The Governor also believes it is Europe's fight, arguing again that Trump's position regarding the continent handling its own defense is the right one.
"Europeans, we have allies there. Not all of them agree with us on a lot of these core issues anymore, but the bottom line is they need to do more to be responsible for their own security," DeSantis said.
"And I think Donald Trump was right, he was really the first leader to call them out on making their NATO dues. So I think Europe needs to do more on that continent."
The Governor's position continues to evolve with each interview. He had previously called for a "ceasefire."
In comments made to Nikkei Asia, he warned against a repeat of the entrenched bloodshed in World War I, "like a Verdun situation, where you just have mass casualties, mass expense, and end up with a stalemate."
DeSantis originally deemed the war a "territorial dispute" and not one of America's "vital national interests" in a statement provided to Tucker Carlson, in a seeming effort to curry favor with the now-former Fox News host.
He soon enough walked that position back, telling Piers Morgan "it wasn't that I thought Russia had a right to that, and so if I should have made that more clear, I could have done it."
No matter where DeSantis goes on the Ukraine issue, Trump's criticisms of the Governor and his rhetorical pivots are documented.
"Fundamentally, it shows a lack of depth, a lack of seriousness and a lack of sophistication on the subtleties and complexities of foreign policy," Trump charged in March. "This is not the time for on-the-job training as we face the possibility of nuclear war and our leaders, if you call them, that got us there."
Taking Trump's position won't earn him plaudits from hawks running for President either.
"President Trump is right when he says Gov. DeSantis is copying him — first in his style, then on entitlement reform and now on Ukraine. I have a different style than President Trump, and while I agree with him on most policies, I do not on those. Republicans deserve a choice, not an echo," Nikki Haley said.