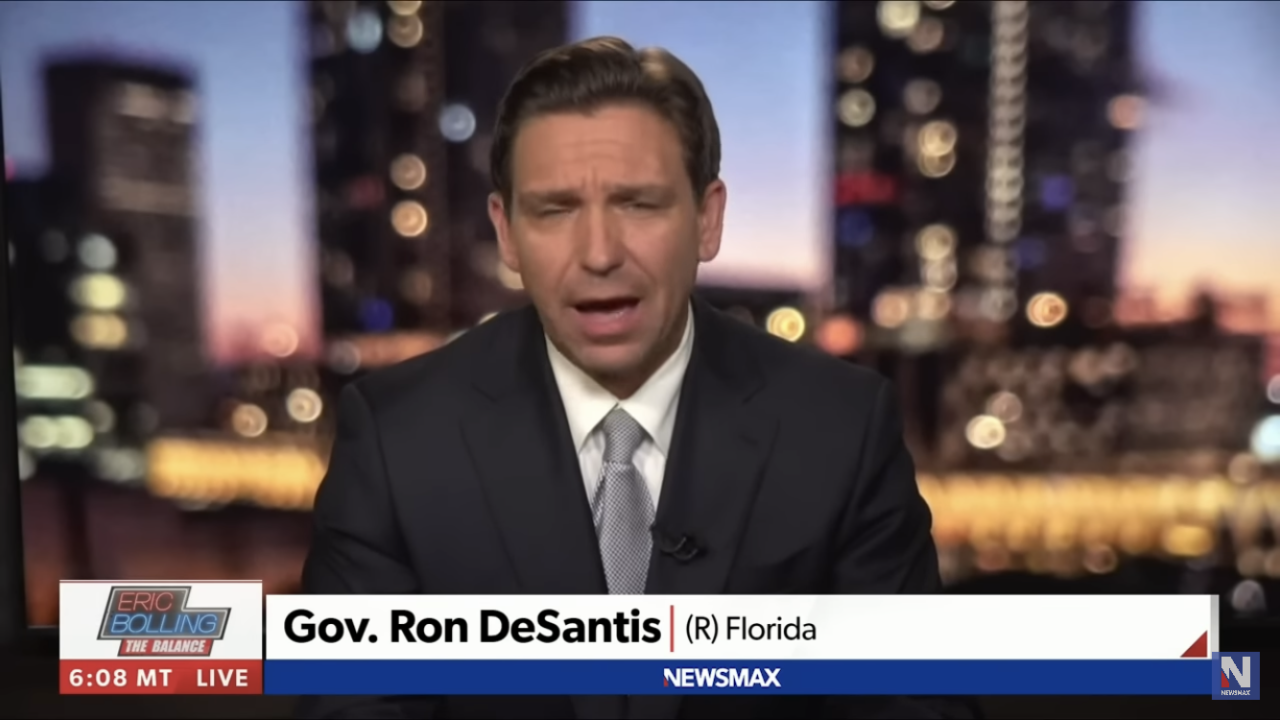 'He's taking positions that are a little bit different than 4 or 5 years ago.'
Gov. Ron DeSantis is arguing that Donald Trump is not the conservative he once was, outlining an attack Republican voters will hear a lot of in the coming months.
During a Newsmax interview, the Florida Governor and freshly minted presidential candidate expressed surprise and dismay over the former President "attacking" DeSantis "from the Left."
"I mean, I think that some of the things he's been attacking me on, I've been a little surprised at because he's attacking me from the Left. And that really wasn't the Donald Trump from 2015 and 2016," DeSantis said.
The Governor went on to describe Trump's seeming evolution.
"I mean, he was a hard charger leaning in on all the issues, very edgy on conservative issues, and it was part of the reason he did so well. But when he's taken Disney's side against me, I just kind of wonder, like, 'OK, I get, he wants to hit me, but don't take the side of a multinational corporation that wants to sexualize kids.'"
The former President has suggested that The Walt Disney Co. could stop investing in Florida because of the ongoing back-and-forth with the Governor in the wake of 2022's Parental Rights in Education law, which Disney opposed.
"He's also hitting me against voting against immigration amnesty," DeSantis noted. He referred to legislation sponsored by U.S. Rep. Bob Goodlatte in 2018 that didn't get full Republican support in the House.
"And he said that is akin to voting against the wall (at the Mexican Border). But that bill was a 2-million-person amnesty for illegal aliens, very little money for any border security. All conservatives opposed it," DeSantis said. "(Trump) did support it as President, which a lot of us were upset about."
The Governor closed the answer, which was a response to a question about whether he could share a ticket with Trump, by again accusing the former President of policy apostasy.
"To hit me for taking the America first position I just think is a little strange, so I'm not sure what his strategy is. But I think he's taking positions that are a little bit different than four or five years ago."
DeSantis also rejected claims from Trump that he is an "establishment Republican" in thrall to former House Speaker Paul Ryan and political consultant Karl Rove.
"I have not spoken to Paul Ryan since I've been Governor, I've met Karl Rove once in my life. They are not involved in my political operation. So that's just manufactured garbage that people put out there online," DeSantis argued.
"Look at my record. How many establishment Republicans would have sent illegal aliens to Martha's Vineyard? How many establishment Republicans would have stood up against Disney? How many establishment Republicans would have signed the bill that I just signed to ban land purchases from people affiliated with the CCP in the state of Florida?"
The Governor continued in this vein.
"How many establishment Republicans would have leaned in to support our children against the pronoun Olympics? We banned the pronoun Olympics and our schools were the first state to do that. How many establishment Republicans would have banned gender transition surgeries for minors?"
The Governor closed with a flourish.
"So, on every issue that kind of the old guard of the Republican Party would have shied away from in a New York minute, I'm not only leaning into them, I'm winning against the media and against the Left."