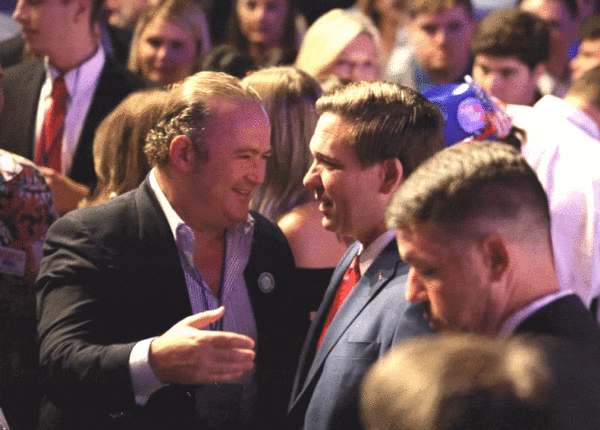 'I would be open to thinking differently about cannabis if you were to give me Trump's support.'
A man who says he was involved with Ron DeSantis' 2018 campaign claims to have spurred the Governor's policy evolution on cannabis.
Lev Parnas, who served time in prison for campaign finance crimes, is talking about text messages that show Parnas' unique role as a sherpa for the 2018 campaign for the Florida Governor.
And he's contending that part of the bargain of moving Donald Trump and the former President's donors to DeSantis included moving the candidate on the issue of medical marijuana.
"I was a very big cannabis supporter, and I knew Ron at the time was not, he was anti-cannabis," Parnas told Jim DeFede. "And I made it clear to him, I said to him, `Listen, Ron, it's very difficult for me to support somebody that is going to go against things that I'm going to need, want in the state of Florida."
"And that's when Ron turned around to me and said, `You know what? I would be open to thinking differently about cannabis if you were to give me Trump's support.'"
DeFede notes that DeSantis evolved soon thereafter on medical marijuana, coming out in support of the substance by August of that year.
But the real evolution came soon after he was elected, when he came out against the smokable marijuana ban backed by former Gov. Rick Scott.
"I look at someone who has Lou Gehrig's disease or terminal cancer or multiple sclerosis … I think the Florida voters who voted for that wanted them to have access to medical marijuana under the supervision of a physician.
"Whether they have to smoke it or not, who am I to judge that?" DeSantis said. "I want people to have their suffering relieved. I don't think this law is up to snuff."
While DeSantis sounded reform notes in those early days, Parnas' legal troubles came soon thereafter, and he started to sound more like a drug warrior.
"If you look at some of the stuff that's now coming down, there's a lot of really bad things in it. It's not necessarily what you would've had 30 years ago when someone's in college and they're doing something. You have some really, really bad stuff in there, so I think having the ability to identify that, I think, that's safety, and quite frankly when you get into some of that stuff, it's not medicinal at that point for sure," DeSantis said, in response to a reporter's question in 2021.
It is uncertain how medical marijuana changed in the few years since he embraced Parnas' position during his 2018 campaign. But in 2022, the Governor firmed up his position against so-called "recreational" use.
"What I don't like about it is if you go to some of these places that have done it, the stench when you're out there, I mean, it smells so putrid," he told reporters.
"I could not believe the pungent odor that you would see in some of these places," the Republican Governor added. "I don't want to see that here. I want people to be able to breathe freely."