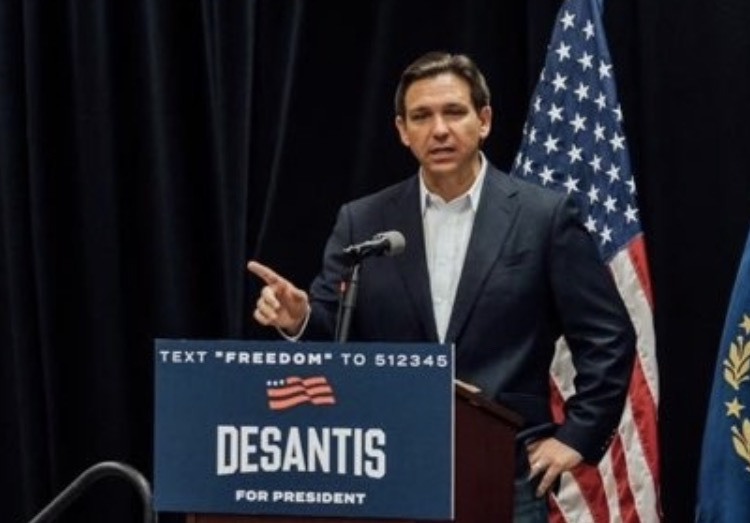 The Governor addressed the President's latest tumble during a campaign speech.
Gov. Ron DeSantis has stuck to a script during his New Hampshire swing Thursday, but events involving the current President compelled a deviation from routine.
In his final speech of the day in Manchester, the Governor addressed President Joe Biden's tumble at the U.S. Air Force Academy at the beginning of his remarks.
"We hope and wish Joe Biden a swift recovery from any injuries he may have sustained, but we also wish the USA a swift recovery from the injuries it sustained because of Joe Biden and his policies," DeSantis said to applause.
Former President Donald Trump also addressed the issue in Iowa.
"I hope he wasn't hurt." Trump said. "Look, the whole thing is crazy. You gotta be careful about that."
Though the visual of the President's tumble on stage was concerning,  White House Communications Director Ben Labolt says the President is "fine" after having "tripped over a sandbag" on stage.
DeSantis has had an oppositional relationship to the President with the exception of recovery efforts after the Surfside condo collapse and Hurricane Ian last year. But he has had occasion to offer condolences to Biden before, specifically when the President contracted COVID-19.
"I want to wish the President a speedy recovery from COVID, and America a speedy recovery from Biden," DeSantis quipped in July 2022 at the Turning Point USA Student Action Summit.
While the initial reaction and language was similar in both instances, DeSantis got more rhetorically interesting in the days after Biden's diagnosis.
"We just saw Joe Biden test positive for COVID, right? And I've said we obviously wish him well on that, but you know, this is a guy that's taken how many booster shots? I mean, seriously, (he's) done all this stuff and gets it."