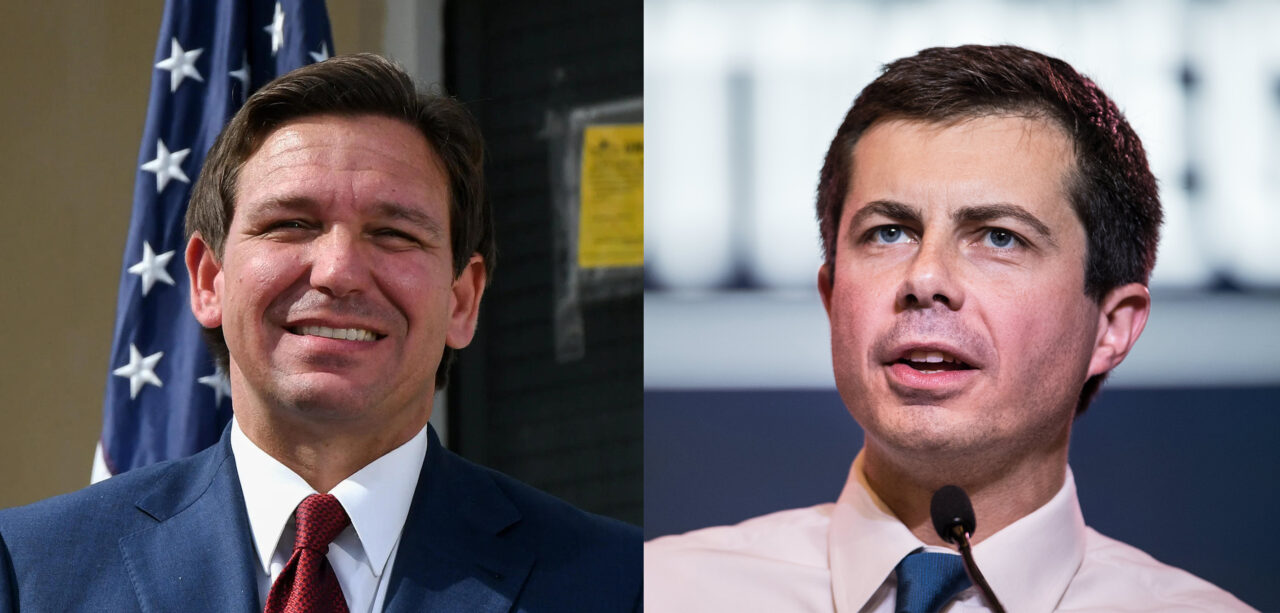 Chris Christie also criticized the video, originally distributed by the Proud Elephant account.
U.S. Transportation Secretary Pete Buttigieg savaged a bizarre video promoted by Gov. Ron DeSantis' presidential campaign.
"I'm going to leave aside the strangeness of trying to prove your manhood by putting up a video that splices images of you in between oiled-up shirtless bodybuilders," Buttigieg told CNN's State of the Union.
The station played a video distributed on social media by DeSantis' official campaign. Initially released by the third-party Proud Elephant account, the video attacks former President Donald Trump for promising to defend LGBTQ people from terrorists. Trump made that commitment during his nomination speech at the Republican National Convention months after the Pulse shooting left 49 dead at an Orlando gay nightclub.
The video has drawn wide-ranging criticism, including for the peculiar use of video of Christian Bale portraying Patrick Bateman in American Psycho and Brad Pitt playing Achilles in Troy. It also uses the Giga Chad meme, black-and-white photos of muscular bodybuilders, popular among right-wing social media influencers.
As of Sunday afternoon, the video had nearly 19 million views two days after the DeSantis campaign posted it.
Buttigieg, the first gay member of a presidential Cabinet, appeared on the Sunday talk show in his capacity as leading the Department of Transportation. He said that required him to refrain from too much political commentary.
But Buttigieg suggested the video did highlight a significant difference between President Joe Biden's approach to the presidency and that promised by DeSantis. He called that the bigger issue exposed by the odd video.
"Who are you trying to help, who are you trying to make better off, and what public policy problems do you get up in the morning thinking about how to solve?" Buttigieg asked.
He said the Biden administration is focused on making Americans better off and cited several projects funded by the infrastructure package Biden made a priority. He noted he visited rural Kentucky this week to kick off a dam project in flood-prone Appalachia.
Most in politics, Buttigieg said, got into the process to find ways like this to make life easier for Americans.
"I just don't understand the mentality of someone who gets up in the morning thinking that he's going to prove his worth by competing over who can make life hardest for a hard-hit community that is already so vulnerable in America," he said.
On the same show, former New Jersey Gov. Chris Christie, who faces Trump and DeSantis in the 2024 GOP presidential primary, also said he wasn't comfortable with the video.
"It certainly doesn't make me feel inspired, as an American, on the Fourth of July weekend, to have this type of back and forth going on," Christie said.