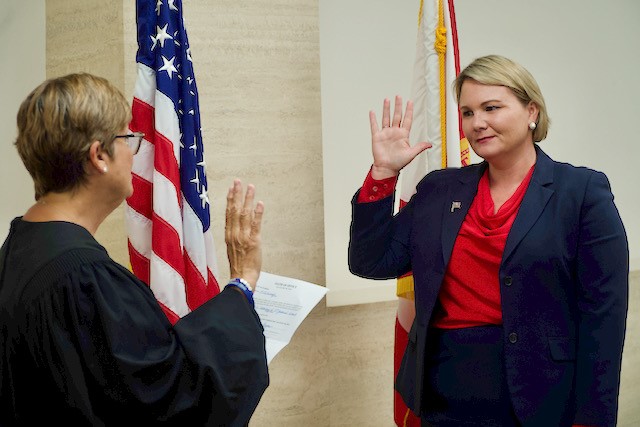 Gov. Ron DeSantis appointed her last year after suspending Democrat Andrew Warren.
Months after Gov. Ron DeSantis appointed Suzy Lopez as Hillsborough State Attorney, the Tampa Republican filed to seek a full term.
Lopez took over the office after DeSantis controversially suspended Democratic State Attorney Andrew Warren. While her release makes no mention of Warren, Lopez tried to differentiate her approach to the job from her predecessor.
"I'm a prosecutor, not a politician, and this office will stay focused on prosecuting criminals, not partisan politics, as long as I'm in charge," Lopez said in a statement.
"The community needs to know that their State Attorney is only interested in finding justice and making certain those guilty of committing crimes pay their debt to our community. Victims of crime know Hillsborough County is safer today than it used to be in just under one year."
Warren, for his part, criticized Lopez and asserted she does not bring the right leadership to the office.
"We have had tremendous success making our community safer and our system better," Warren said in a statement. "I'm confident our community doesn't want to go backwards with someone who supports biking while Black."
But Lopez she has been the one restoring a system of justice in the wake of Warren.
"Over the last year, as State Attorney I have spent countless hours rebuilding trust with the community and within the courthouse — a trust that was shattered by my predecessor," she told Florida Politics. "The suspension has led him to be very hyper-partisan, reactionary and inaccurate. Our office has and will always be focused on prosecuting rapists, murderers and real criminals — not made-up scenarios dreamed up as political attacks."
Lopez served as a county judge before her appointment, and had been appointed to that post in December 2021. She previously worked as an Assistant State Attorney in the 13th Judicial Circuit for 17 years. Before that, Lopez worked as a lawyer at the 2nd District Court of Appeal.
Her appointment made Lopez Hillsborough County's the first female State Attorney.
DeSantis removed Warren after he signed a pledge not to prosecute abortion-related crimes. The former State Attorney challenged his suspension, suing first in federal court. There, U.S. District Judge Robert Hinkle said DeSantis illegally violated Warren's First Amendment rights with the suspension, but that federal courts had no authority to reinstate him.
Last month, the Florida Supreme Court rebuffed Warren's pursuit of reinstatement in state courts, saying he failed to petition the state in a timely fashion.
Lopez said her office handles about 50,000 cases each year. She said her focus has been on advocating for crime victims and pursuing justice.
She is a member of the Hillsborough County Bar Association, the Goldberg-Cacciatore and Tampa Bay Inns of Court, the Hillsborough Association for Women Lawyers, Hillsborough County Bar Association Professionalism Award Committee and the Gold Shield Foundation. Lopez is on the Executive Council of Safe and Sound Hillsborough and board chair for Self Reliance, The Center for Independent Living.
Warren hasn't announced political plans.
"My focus remains on fighting the unlawful suspension to protect democracy across Florida. Depending on what happens, there's always the option of going back to the people of Hillsborough to seek re-election for a third term," he told Florida Politics in an email.