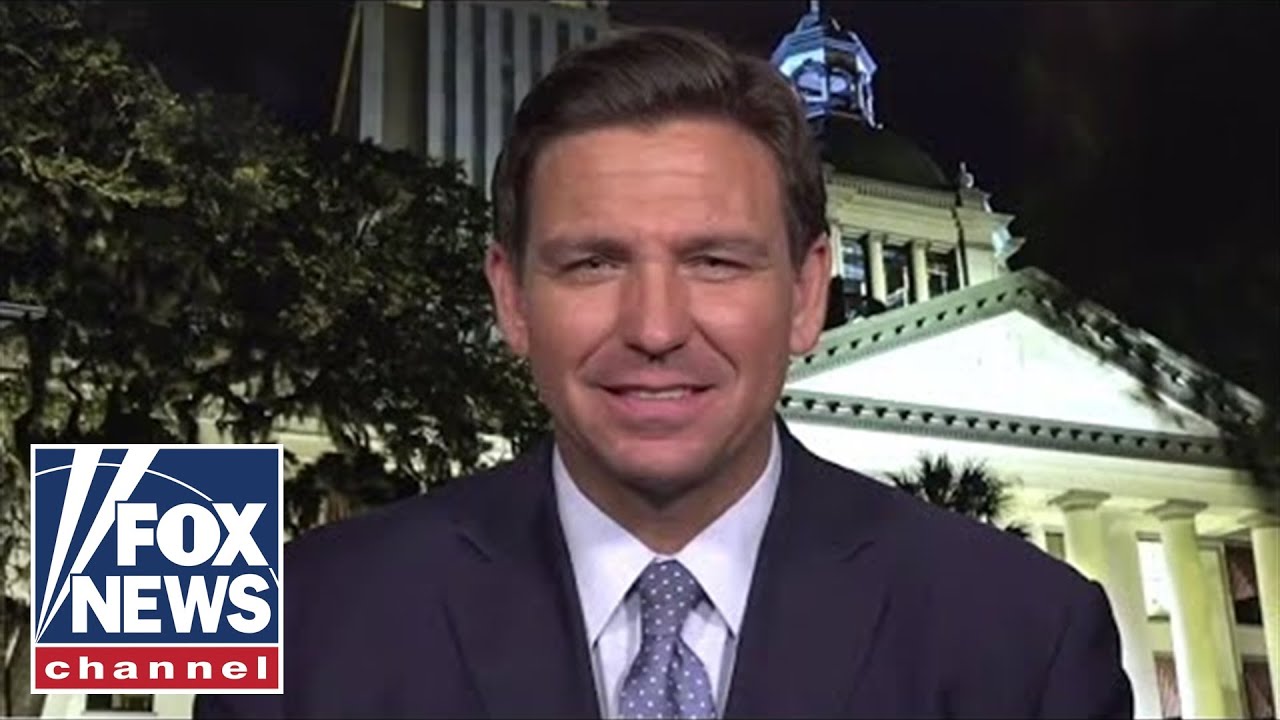 'I am not going to let anyone impugn me in that way and we will fight back.'
Florida's Governor is taking to the national airwaves to augment his response to a tough question in Jacksonville.
During a hit on the Fox News Channel, Ron DeSantis said it was "outrageous" to blame him for the killing of three Black people by a White gunman with swastikas drawn on his AR-15 last month at a Dollar General in New Town.
"It's just outrageous to take an incident that's really been a gut punch to our state as well as to the Jacksonville community and to try to leverage that as a political cudgel to use against somebody that you disagree with politically," DeSantis said.
"I am not going to sit there and stand for that. I am not going to let anyone impugn me in that way and we will fight back."
The Governor made the comments on "America's Newsroom" Friday, just one day after the spirited confrontation.
"I think it shows, you know, part of the problem with our society that people would stoop to that level. We can have disagreements on issues, we can even be heated on issues, but to take some nutjob and to try to act like we were a part of that is absolutely absurd."
The questioner, reported by Jacksonville Today to be a military veteran named Tim Robinson from Orange Park, asked DeSantis about policies that allowed guns to be used by "immature, hateful people (such as the man) that had caused the deaths of the people who were murdered a couple weeks ago."
"You have allowed people to hunt people like me in broad daylight," the questioner said.
"Well, listen, excuse me, I'm not going to let you accuse me of committing criminal activity. I am not going to take that," DeSantis said.
The back-and-forth continued while the speaker was being escorted out of the brew pub.
"You don't get to come here and blame me for some madman," DeSantis said. "That is not appropriate and I'm not going to accept it."
After the event wrapped, Surgeon General Joseph Ladapo had his say, contending the speaker had mental problems that overshadowed his message, while extolling the Governor's "wonderful heart" and saying DeSantis was only blamed because he was "not the same color as these people."
"What happened here was tragic and, you know, unfortunately the guy, the gentleman was obviously … I shouldn't call him a gentleman. He was obviously crazy. Right? He was completely disconnected and he was insane, he was insane," the state's lead doctor said, seemingly referring to the shooter.
Ladapo said "there's politics with trying to connect that," adding that he believes that's "just totally crazy as the Governor was saying," and that DeSantis is a "good man."
"My wife and I would never have left our state of California to come to the state if we didn't, if he wasn't a good man," Ladapo said.
The Surgeon General called it "terrible that people take advantage of the fact that he's a different color from the poor victims of that tragedy to try and tie him into something."
"It's immoral and unfortunately it's reflective of what we've been seeing for, you know, for many years, but certainly during the pandemic where people hide reality and they spin it and they try and make you buy what they're trying to sell you. And it's not true. It's a total lie, and they try and take advantage of the Governor just because he's not the same color as these people," Ladapo said.
Ladapo added that DeSantis "has a wonderful heart" and said "it's terrible that they do that and it's terrible that they get to get away with it so often just because he's not the same color as the people who were harmed."
"That's the truth," he concluded. "That's the truth."
The Governor came to Jacksonville for a vigil last month after the racist murder. He was jeered by some members of the crowd, before City Council member Ju'Coby Pittman urged the crowd to quiet down. DeSantis vowed to offer financial help to boost the security of Edward Waters College, where the "scumbag" gunman tried to go before he went to the store.