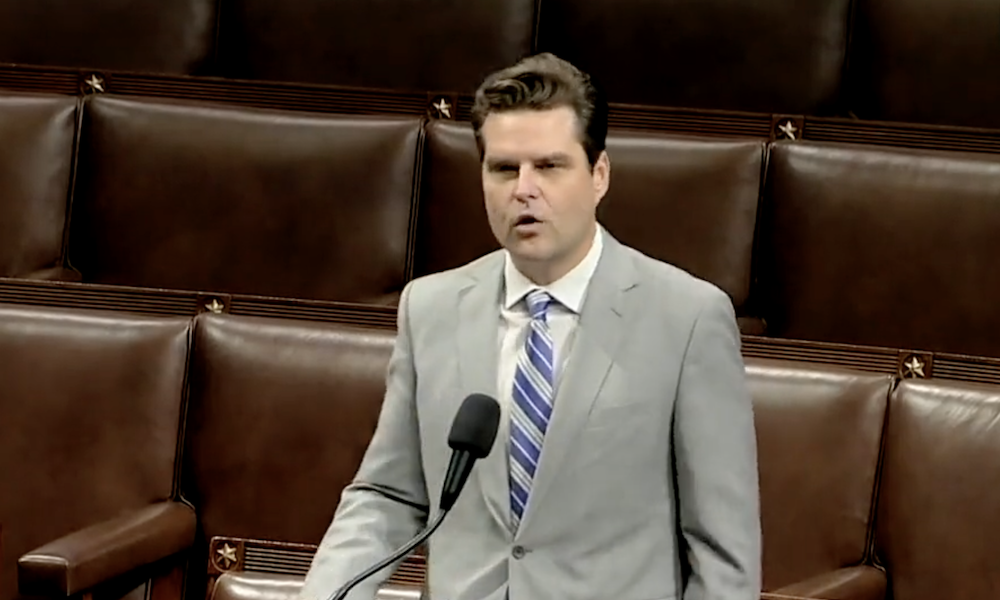 The Florida Republican said an impeachment inquiry regarding Joe Biden doesn't go far enough.
U.S. Rep. Matt Gaetz is threatening to force a vote on whether to remove U.S. House Speaker Kevin McCarthy from his position.
In a speech on the House floor, the Fort Walton Beach Republican dismissed announcements of an impeachment inquiry on President Joe Biden as a "baby step." But he said McCarthy isn't complying with the agreement cut with Freedom Caucus members to secure the gavel.
"We've had no vote on term limits or on balanced budgets, as the agreement demanded and required," Gaetz said. "There's been no full release of the Jan. 6 tapes, as you promised. There has been insufficient accountability for the Biden crime family. And instead of cutting spending to raise the debt limit, you relied on budgetary gimmicks and rescissions."
Notably, Gaetz never signed off on the original Speaker deal. McCarthy won the Speakership on the 15th ballot, but Gaetz was among a half dozen Republican representatives who agreed only to vote "present" to allow the 216 McCarthy votes to constitute a majority.
McCarthy announced on Tuesday he would direct the House Oversight Committee, on which Gaetz sits, to launch an impeachment inquiry on Biden. The move was widely seen as an effort to assuage dissenters within the caucus who want the Republican House to act as an investigatory tool against the Democratic administration full time.

Gaetz said impeachment proceedings come too late. The Oversight Committee has raised numerous questions about financial dealings by Biden's son, Hunter Biden, and brother, Jim Biden. But Gaetz said investigations have moved too slowly.
"Here we are eight months later, and we haven't even sent the first subpoena to Hunter Biden," Gaetz said. "That's how you know that the rushed and, you know, somewhat rattled performance you just saw from the Speaker isn't real. At this point during Democratic control over the House of Representatives, they had already brought in Don (Trump) Jr. three times."
Former President Donald Trump's son answered subpoenas from the Democratic House first in 2019 during an investigation of alleged election meddling by Russia.
But Gaetz also said McCarthy failed to uphold agreements on the handling of appropriations matters in the House.
"Power of the purse?" Gaetz said. "Our leadership right now is asking us to vote for a continuing resolution. A vote for a continuing resolution is a vote to continue the Green New Deal, a vote to continue inflationary spending."
The Green New Deal, a proposal championed by the most liberal members of Congress, never passed even in a Democrat-controlled Congress.
Gaetz said McCarthy had agreed to force individual votes on budget items, but with Congress returning from a recess weeks before a budget deadline, it's now impossible to uphold that promise.
Now Gaetz said it's time members consider employing the most significant concession McCarthy made, exposing him to a motion to vacate. Any member of the House majority can call for a vote of confidence in the Speaker and force the full House to take up whether to retain McCarthy as presiding officer.
"A motion to vacate might not pass at first, but it might before the 15th vote," Gaetz said. "And if Democrats bail out McCarthy, as they may do, then I will lead the resistance to this uni-party."