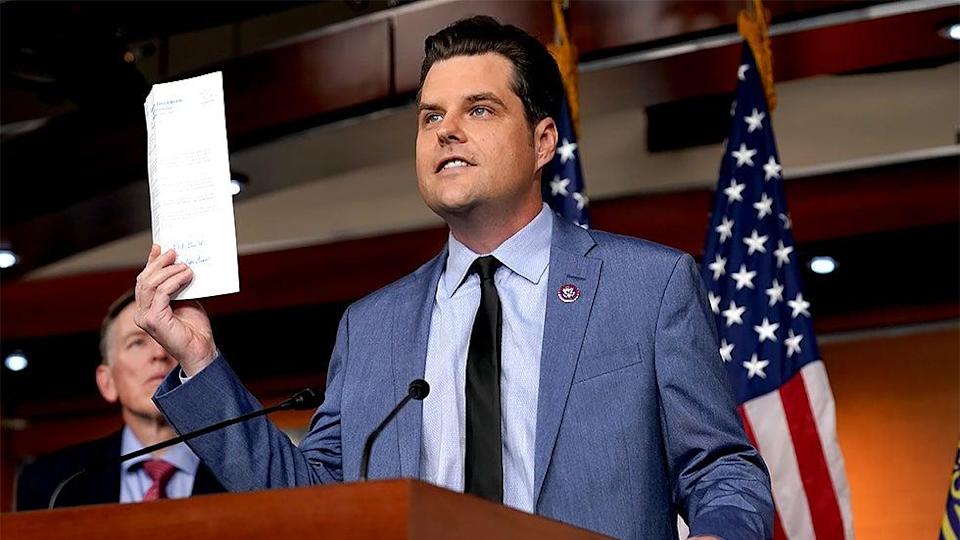 The House will need to go to a 15th ballot.
U.S. Rep.-elect Matt Gaetz through Friday was still a holdout unwilling to support California Republican Kevin McCarthy for Speaker of the House.
Even as an apparent deal had been reached Friday evening, Gaetz could only stomach voting "present," along with Rep.-elect Lauren Boebert of Colorado. While that lowered the threshold for a majority, McCarthy still could not exceed 50%, and the House prepared to adjourn. But then Republican leadership calculated some new math and prepared for another vote.
(Note: All House members currently bear the title of "Rep.-elect" until a new Speaker is chosen and members are sworn in).
Ahead of a historic 12th vote on Speaker, the Fort Walton Beach Republican instead nominated U.S. Rep.-elect Jim Jordan as a choice.
In a nominating speech, Gaetz spent as much time criticizing McCarthy, the outgoing Minority Leader, as praising Jordan.
"We do not trust Mr. McCarthy with power because we know who he will use it for, and we are concerned it will not be for the American people," Gaetz said. "We trust Jim Jordan. I nominate him, and I'm going to vote for him."
The resistance from Gaetz comes despite negotiations with House Freedom Caucus leaders dissolving much of the opposition to McCarthy within the Republican caucus. Changes won over fellow Floridians like U.S. Reps.-elect Byron Donalds of Naples and Anna Paulina Luna of St. Petersburg.
Still, three other members of the House joined with Gaetz in supporting Jordan. Another three Republicans backed U.S. Rep.-elect Kevin Hern, an Oklahoma Republican just named as Chair of the conservative Republican Study Committee. Notably, both Jordan and Hern have consistently voted for McCarthy.
The seven Republican votes for candidates besides McCarthy meant a 12th ballot did not produce a majority winner. McCarthy won 213 votes, while U.S. Rep.-elect Hakeem Jeffries, the Democratic nominee for Speaker, won 211 votes. That's at least the first time McCarthy won more votes than Jeffries, though protest voters have clarified they never intended to provide a window for Democrats to seize power.
On a 13th ballot, McCarthy grew his votes to 214, but remained shy of a majority as Gaetz and five others continued to cast protest votes for Jordan, even without nominating him.
Gaetz, for years, has had an acrimonious relationship with McCarthy and has maintained as negotiations continued that his prime demand is for McCarthy to drop out of the race.
On the floor, Gaetz laid out why he feels negotiations with the House Freedom Caucus were in bad faith, despite members, including caucus Chair Scott Perry, going along with McCarthy on the latest ballot.
"I want all of my colleagues to know, regardless of your perspective on me, how impure some of those negotiations have gone," Gaetz said. "I want the country to know, the principal goal of the people who are objecting to Mr. McCarthy on the Republican side is that we don't believe the rules of this place unlock the potential of all members to be able to cast the votes on individual bills and to offer amendments on appropriations acts."
He said when those concerns were raised to McCarthy; he asked if people wanted spots on more appropriations committees. Then, Gaetz said, McCarthy went to the press and claimed protest votes were trying to extort the leader for personal gain.
This week, McCarthy accused Gaetz by name of being willing to throw the vote to Democrats while demanding subcommittee appointments or chairmanships. Gaetz called that a "lie."
The Friday speech ballot marked the second time Gaetz nominated Jordan in four days. He also on Thursday nominated former President Donald Trump.
Gaetz and Boebert signaled late Friday they would vote present and effectively remove themselves from a voting pool. McCarthy won enough prior holdouts to tally 216 votes, exactly half the voting members in the chamber on the 15th ballot. Four other protest votes split between Jordan and U.S. Rep-elect Andy Biggs of Arizona.
In dramatic fashion, Gaetz waited to vote until near the end of the ballot, and voted present. But absent one more vote — or one more House member from either side of the aisle skipping the vote — McCarthy could not exceed a majority as required.