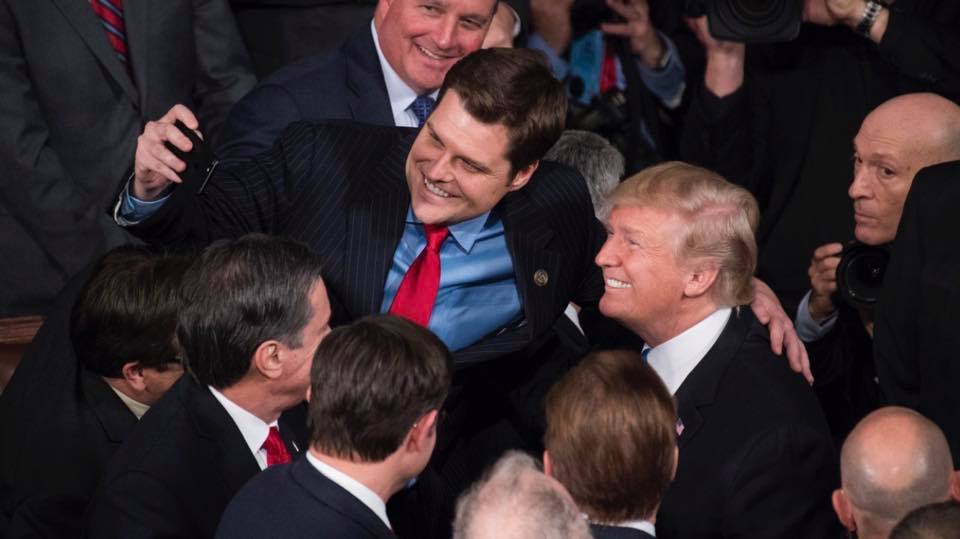 After voting for him earlier in the day, Gaetz made the nomination ahead of an 11th ballot.
U.S. Rep.-elect Matt Gaetz has switched his vote for Speaker. He nominated former President Donald Trump to lead the House.
(Note: All House members currently bear the title of "Rep.-elect" until a new Speaker is chosen and members are sworn in).
"I nominate President Trump because we must make our country great again," Gaetz said. "And you can start by making the House of Representatives great again."
He supported Trump on multiple ballots earlier in the day. It was ahead of an 11th consecutive vote on House Speaker that he took to the floor to formally nominate the Mar-a-Lago resident.
Shortly before that, Trump on his Truth Social platform posted a mock photo rendering of President Joe Biden delivering a State of the Union address with the former President in the Speaker's seat making wild hand and face motions.
Gaetz, a Fort Walton Beach Republican, was elected to the House in 2016, the same year Trump won a term as President. He was among the Republican Commander-in-Chief's staunchest supporters.
While few political figures in America are as divisive as Trump, who was impeached twice and recently referred for criminal charges by the House Jan. 6 Committee, Gaetz said Trump was a more unifying figure than many admit.
"For all of the vitriol that we hear from the media and, at times, the Left, there were great moments of bipartisanship under the Trump presidency," Gaetz said.
He suggested U.S. Rep.-elect Hakeem Jeffries, the Democratic nominee for Speaker, knows that well because of progress on sentencing reform.
"He led valiantly on the efforts for criminal justice reform, and I was honored to join him, and I know no matter who sits in that Speaker chair, we have got a lot of work to do on that very issue," Gaetz said.
The Congressman also praised Trump for starting any wars during his presidency. He said the nation still needs an outsider to fix problems.
"This government for far too long has been deeply corrupt," Gaetz said.
It was on the seventh ballot for Speaker that Gaetz for the first time broke from a pattern of voting with a block for a single alternative to U.S. Rep.-elect Kevin McCarthy.
In three separate votes Wednesday, Gaetz supported U.S. Rep.-elect Byron Donalds, a Naples Republican, along with 19 other members.
The day prior, he supported U.S. Rep.-elect Jim Jordan, an Ohio Republican, on three votes for the job, one time after nominating the unwilling vote-getter in a speech on the floor.
House rules allow the nomination of anybody for the job of Speaker, though at no point in history has the chamber been placed in charge of someone who wasn't elected to serve in the body.
Frequently, protest votes have gone to outsiders, including for Trump. On Tuesday, U.S. Rep.-elect Andy Harris, a Maryland Republican, cast a lone vote for former U.S. Rep. Lee Zeldin, a New York Republican.
This marked the first vote in seven ballots for Speaker in the 118th Congress that went to someone never elected to the House. U.S. Rep. Lauren Boebert, a Colorado Republican, suggested in a Fox News interview she may nominate Trump.
Of note, there has been a theory pushed in far-right media since the 2020 election that Trump could become Speaker, a position third in line to the presidency, and then could return to the White House if President Joe Biden and Vice President Kamala Harris were to vacate their respective offices.
With all votes in on the seventh ballot, Gaetz was the only person to vote for Trump for Speaker.
The seventh vote for Speaker went similar to prior ones, with all Democrats supporting U.S. Rep.-elect Jeffries of New York. Most of the GOP caucus supported McCarthy, with one member voting present and 19 voting for Donalds.
While McCarthy has negotiated heavily with members of the House Freedom Caucus in recent days, his relationship with Gaetz has been particularly acrimonious. Gaetz has repeatedly insisted McCarthy should drop out of the race, even calling for the Architect of the Capitol office to stop the California Republican from operating out of the office.