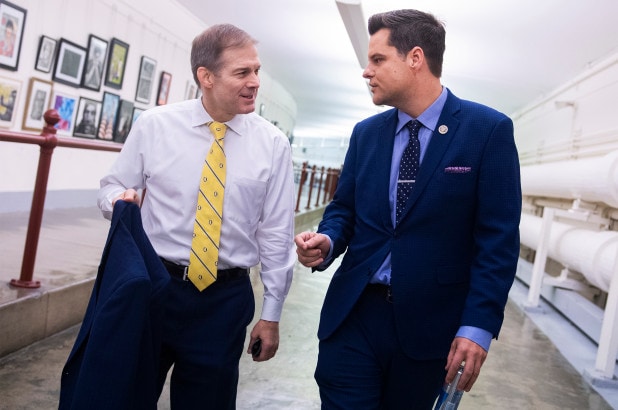 But Jordan nominated Kevin McCarthy.
U.S. Rep. Matt Gaetz nominated a close ally, U.S. Rep. Jim Jordan, for Speaker of the House. The Panhandle Republican offered Jordan's name despite the Ohio Republican openly supporting outgoing Minority Leader Kevin McCarthy for the job.
"Sometimes we have to do the job we are called to do," Gaetz said.
Gaetz nominated Jordan after a first vote for Speaker of the new 118th Congress failed to produce a majority winner.
Jordan picked up six votes for Speaker in the first round of voting. Notably, that total did not include Gaetz, who supported U.S. Rep. Andy Biggs of Arizona in the first round. It also did not include Jordan, who supported McCarthy.
The relationship between Gaetz and McCarthy has grown increasingly frayed, with the Republican leader calling Gaetz out by name at a press conference minutes before Representatives gathered on the floor to elect a new Speaker.
Meanwhile, Jordan has held a close relationship with Gaetz for years, dating back to his time leading the House Freedom Caucus. He was among few members to vocally defend Gaetz when accusations of sex trafficking surfaced against Gaetz in 2021. It has appeared unlikely recently that the investigation will ever lead to charges.
But Jordan on the second Speaker vote actually nominated McCarthy on behalf of the GOP Caucus.
"The differences between (David) Joyce and Jordan or Biggs and (Don) Bacon, they pale in comparison to the differences between us and the Left," Jordan said, citing the names of several representatives who have been on different sides of the Speaker race.
Gaetz was ultimately one of 19 votes for Jordan for Speaker on the second vote. Rep.-elect Anna Paulina Luna, a St. Petersburg Republican, also cast a vote for Jordan on both the first and second ballot.
Unlike on the first vote, all votes that did not go for McCarthy or Democratic nominee U.S. Rep. Hakeem Jeffries went for Jordan.
A third ballot will take place. It's clear how any candidate gets to a majority at the moment.