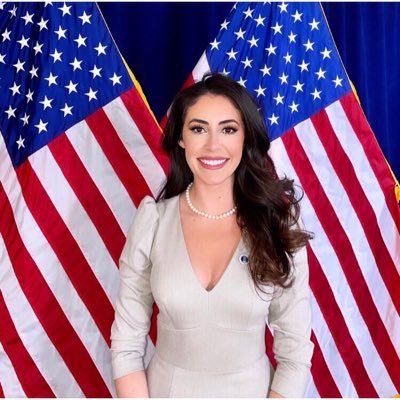 The St. Petersburg Democrat praised the Naples Republican.
Anna Paulina Luna has yet to be sworn into Congress, but the Representative-elect has now presented on the House floor.
(Note: All House members currently bear the title of "Rep.-elect" until a new Speaker is chosen and members are sworn in).
The St. Petersburg Republican nominated U.S. Rep.-elect Byron Donalds ahead of a 10th round of votes for Speaker of the House.
"Byron has done something that I think most leaders should do more of," Luna said, "and that is listen."
She cited a long friendship with Donalds, a fellow Floridian who supported her campaign.
Luna offered Donalds' name Thursday evening, marking the seventh time the Naples Republican was nominated for Speaker in two days. Over three days of ballots for Speaker, Luna has remained firmly within a set of Republican protest votes refusing to support U.S. Rep.-elect Kevin McCarthy, the California Republican who led House Republicans through the 2022 Midterms to secure a slim majority.
Donalds notably cast his vote for McCarthy on the first two ballots, but on the third ballot joined with the protest vote. He has since joined with other members of the House Freedom Caucus in extensive negotiations over House rules.
In the first three votes for Speaker, Luna supported U.S. Rep.-elect Jim Jordan, an Ohio Republican, but Jordan consistently has supported McCarthy. Those opposing McCarthy's ascension on Wednesday nominated Donalds, and Luna has supported his candidacy every vote since.
She earlier this week slammed speculation any of the talks would result in Democrats usurping control of the House. She reiterated that on the floor.
"I want to clarify something real quick to my colleagues across the aisle," she said. "What you're seeing with this discussion does not mean that we are dysfunctional, and in no way shape or form will a Democrat ever hold the gavel to a Republican-controlled House."
The extended process is unprecedented in the modern era. It hasn't taken more than one ballot to elect a Speaker since 1923. But Luna defended the extensive debate as democracy at work.
"These discussions and dialogues have actually been good for the American people," Luna said. "And although the media tries to pit us against each other, I can tell you that it's been something that we need as a country."
Luna won election in November to an open seat representing Florida's 13th Congressional District.